If you have an impressive tractor or vintage motor, this weekend is your time to shine!
A charity run will be setting off from Churchill this Sunday 20th March at 1pm – and all are welcome to take part or enjoy the spectacle.
The event is in aid of the three charities connected with this year's North West 10K – Donegal Diabetes Parents Support Group, The No Barriers Foundation, Donegal Branch of Spinda Bifida & Hydrocephalus.
It promises to be a great day out for all. Registration takes place from 12noon at Wilkin's Bar Churchill (€20 per vehicle), and there will be soup and rolls provided on return. Come along and round off the bumper Bank Holiday weekend for a great cause!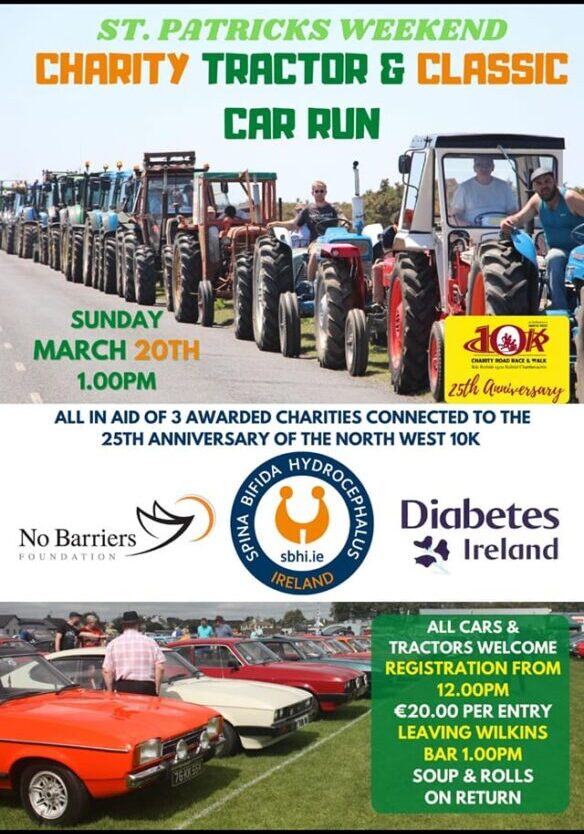 All proceeds from the event will support:
SBHI: The Donegal Branch for Spina Bifida & Hydrocephalus was formed in 2010 due to local families finding a lack of support and information. The purpose of the national association is to provide information, advice and support to people with Spina Bifida and or Hydrocephalus their parents and carers, as well as to promote social inclusion and equality for people with these conditions in our society. The group is made up of families and carers supporting one another through life's journey.

NO BARRIERS FOUNDATION: The No Barriers Foundation operates an inclusive health facility in Letterkenny and is equipped with specialist neurological equipment allowing anyone with a disability to exercise and improve their current level of physical and mental health, regardless of their current baseline. No Barriers are a highly innovative social enterprise, thanks in large part to their use of an Ekso Bionics Robotic Exoskeleton – the only suit of its kind in the North West for revolutionary rehabilitation.
DONEGAL DIABETES PARENT SUPPORT GROUP: Donegal Diabetes Parents Group is dedicated to helping families of children with Diabetes. They achieve this by providing support, education and motivation. They also raise public awareness of diabetes and its symptoms and challenges and fund research into finding a cure.
The 25th North West 10k takes place on Monday 2nd of May in Letterkenny at 11 a.m. The online entry fee is €15.  To enter online click on this link https://www.njuko.net/nw_10k_2022