A great family day out is promised at a charity horse and pony ride out around Dunfanaghy this Sunday.
Horse owners are invited to saddle up and join a scenic trek around one of the most beautiful corners of Donegal, and all for three great causes.
The event is in aid of the three charities connected with this year's North West 10K – Donegal Diabetes Parents Support Group, The No Barriers Foundation, Donegal Branch of Spinda Bifida & Hydrocephalus.
The route will take in Horn Head, Glenveagh and the beautiful Killahoey beach, totalling approx 1hr 45mins.
So why not rein in a few rider friends and enjoy a great day out! Experienced riders only please, and all participants will be responsible for their own gear during the trot.
Meeting Point: The unfinished road before the Ozanam Community Centre (not Ozanam car park) on the far side of Dunfanaghy town. Registration from 11am.
See the poster below for more details.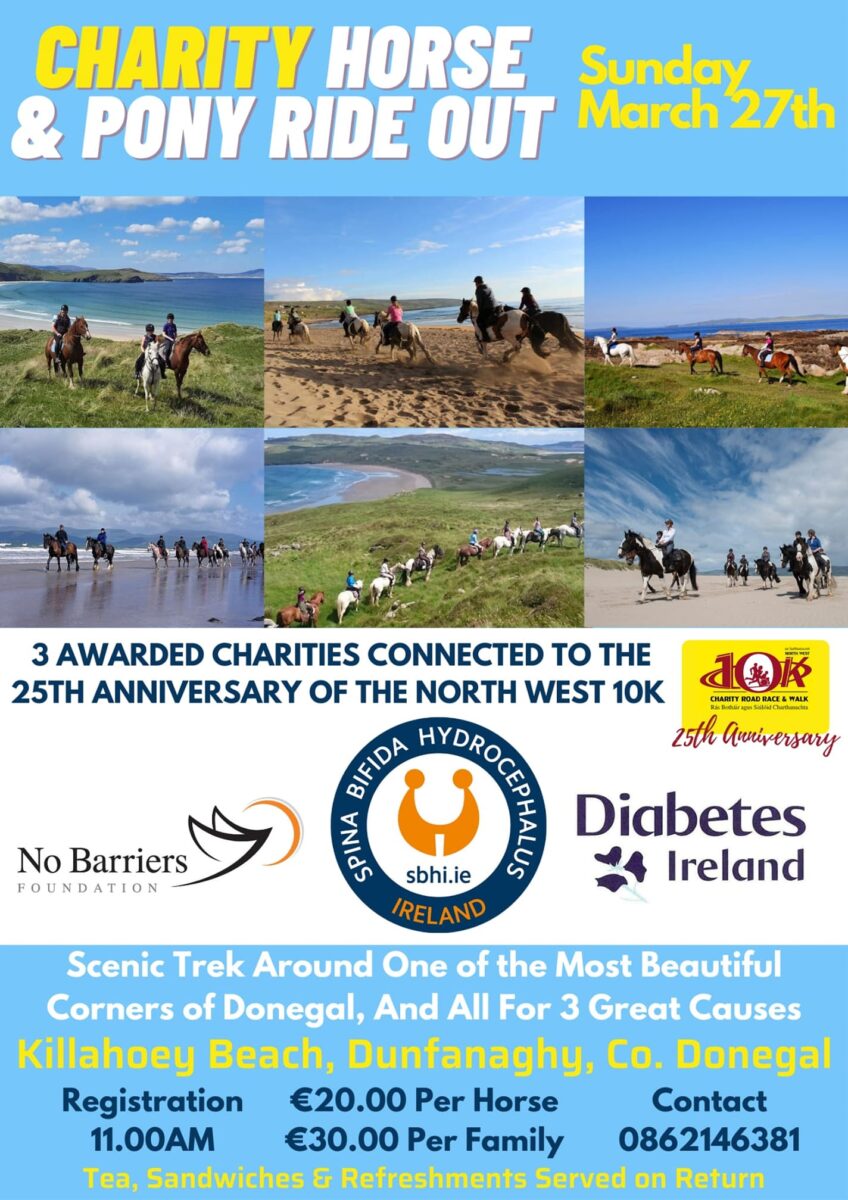 All proceeds from the event will support:
SBHI: The Donegal Branch for Spina Bifida & Hydrocephalus was formed in 2010 due to local families finding a lack of support and information. The purpose of the national association is to provide information, advice and support to people with Spina Bifida and or Hydrocephalus their parents and carers, as well as to promote social inclusion and equality for people with these conditions in our society. The group is made up of families and carers supporting one another through life's journey.

NO BARRIERS FOUNDATION: The No Barriers Foundation operates an inclusive health facility in Letterkenny and is equipped with specialist neurological equipment allowing anyone with a disability to exercise and improve their current level of physical and mental health, regardless of their current baseline. No Barriers are a highly innovative social enterprise, thanks in large part to their use of an Ekso Bionics Robotic Exoskeleton – the only suit of its kind in the North West for revolutionary rehabilitation.
DONEGAL DIABETES PARENT SUPPORT GROUP: Donegal Diabetes Parents Group is dedicated to helping families of children with Diabetes. They achieve this by providing support, education and motivation. They also raise public awareness of diabetes and its symptoms and challenges and fund research into finding a cure.
The 25th North West 10k takes place on Monday 2nd of May in Letterkenny at 11 a.m. The online entry fee is €15.  To enter online click on this link https://www.njuko.net/nw_10k_2022