A big charity raffle is giving away a luxury 14-day holiday to Lanzarote – OR any destination of your choice – with a €2,500 voucher up for grabs!
There are just hours left to get your name in the SULT Competitions draw in support of the three North West 10K charities – The No Barriers Foundation, Donegal Branch for Spina Bifida & Hydrocephalus and the Donegal Diabetes Support Group.
Tickets are only €10, with just 999 available.
Only 70% of the tickets are sold, but there's still time to enter before 6.30pm: www.sultcompetitions.com
Draw takes place on 28th March 2022 at 7pm.
The winner gets to choose their own dates AND destination within the next three years.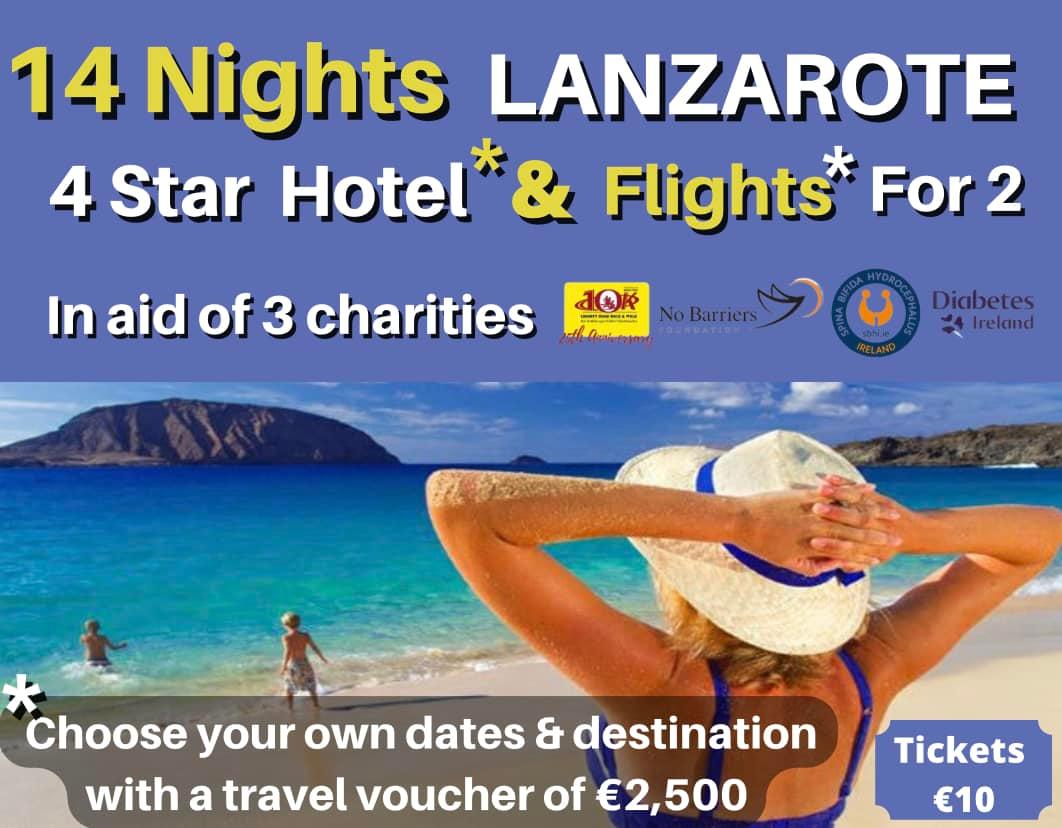 All proceeds from the holiday draw will be divided between the three causes to help them with their crucial work supporting people in Donegal.
SULT Competitions in Gaoth Dobhair is a not-for-profit organisation which was established in 2021 as a fundraising entity for the SULT Féile Music Festival. It is the only not-for-profit competition page operating in Ireland. Run by the SULT Committee, the initiative builds on the charity and community outreach efforts of the festival.
The Spring 2022 raffle will support: 
SBHI: The Donegal Branch for Spina Bifida & Hydrocephalus was formed in 2010 due to local families finding a lack of support and information. The purpose of the national association is to provide information, advice and support to people with Spina Bifida and or Hydrocephalus their parents and carers, as well as to promote social inclusion and equality for people with these conditions in our society. The group is made up of families and carers supporting one another through life's journey.

NO BARRIERS FOUNDATION: The No Barriers Foundation operates an inclusive health facility in Letterkenny and is equipped with specialist neurological equipment allowing anyone with a disability to exercise and improve their current level of physical and mental health, regardless of their current baseline. No Barriers are a highly innovative social enterprise, thanks in large part to their use of an Ekso Bionics Robotic Exoskeleton – the only suit of its kind in the North West for revolutionary rehabilitation.
DONEGAL DIABETES PARENT SUPPORT GROUP: Donegal Diabetes Parents Group is dedicated to helping families of children with Diabetes. They achieve this by providing support, education and motivation. They also raise public awareness of diabetes and its symptoms and challenges and fund research into finding a cure.
The 25th North West 10k takes place on Monday 2nd of May in Letterkenny at 11 a.m. The online entry fee is €15.  To enter online click on this link https://www.njuko.net/nw_10k_2022