A group of Architectural Technology and Construction Management students from Atlantic Technological University, Donegal recently visited South West College' Erne Campus which opened in Enniskillen, Co. Fermanagh.
The campus is the world's largest building to achieve the Passive House Premium design rating and is the first educational building with the accreditation.
The students were given an in-depth talk by the Erne Campus project and estates' teams who explained the process behind the design, construction and launch of the innovative campus building.
The visit included a guided tour of the award-winning facilities and students were given access to the building's mechanical and ventilation systems to support their learnings around sustainable construction.
Accompanying the students on their visit to the Erne Campus, Anna Meehan, lecturer at ATU-Donegal said "The Erne Campus showcases what can be achieved when sustainability is placed at the heart of the design and construction process.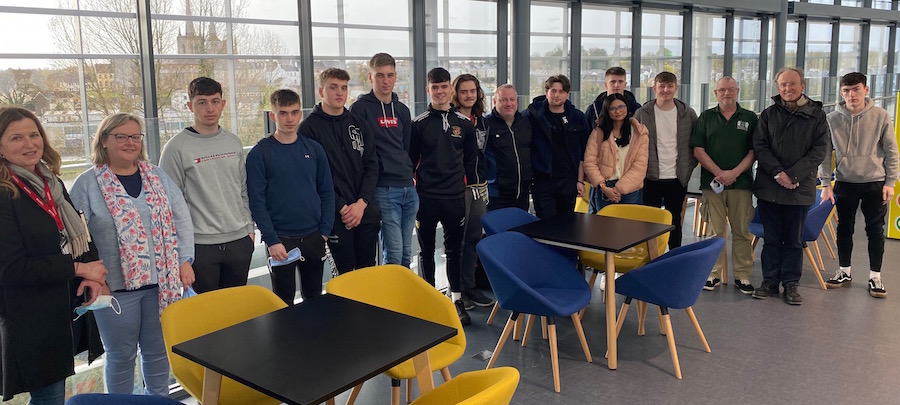 "The attainment of the Passive House Premium standard for a building of this nature is something to be celebrated and we congratulate the team at South West College for their vision in launching this fantastic campus building which will be an asset for the region for many years to come.
"Our students appreciated the opportunity to talk to the project team members and to see for themselves a world-class building right on their doorstep.'
Eimear Grugan, Project Sponsor, Erne Campus said it was a pleasure to welcome the students from Atlantic Technical University to the Erne Campus.
She added "The entire team at South West College is immensely proud of this building and the resource that it provides for the whole region. The Erne Campus is a facility that will not only support the learning and development prospects of our own students but has been designed to provide learning to the wider construction industry and those with a professional or academic interest in building sustainability."
Public guided tours of the Erne Campus will be available on selected dates this summer and further information about the campus and the courses on offer is now available from the South West College website https://swc.ac.uk/about/explore/erne-campus