Sponsored Post
Now in its 18th year, ATU Donegal Sport Centre is delighted to announce that its annual Kool Kats Summer Kamp returns in July, promising summer fun for the young ones.     
Details are as follows:
For: 5–13 year-olds
Dates: Week 1 July 4-8th, Week 2 July 11-15th
Times: 9.30am-3pm
Price: €90 per child, €80 for subsequent siblings
To Book: Search 'Children's Activity Programme – ATU' or click HERE.
Contact: sportscentre@lyit.ie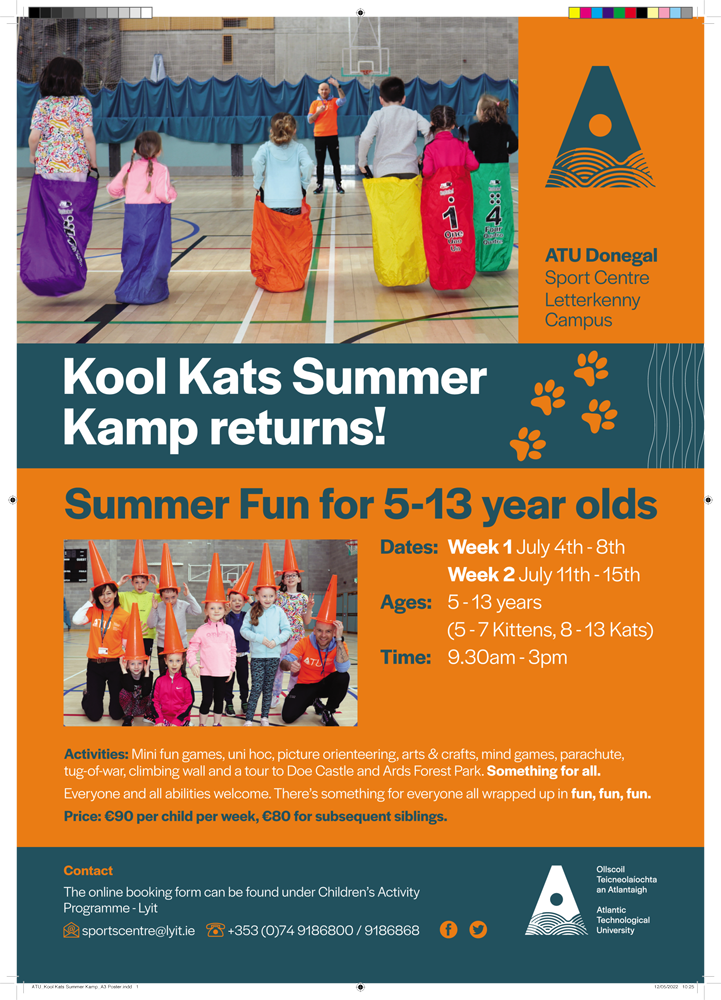 The emphasis is on enjoyment through varied physical and mental activity, such as unihoc and picture orienteering, arts & crafts and novel games all in a non-competitive environment. A mystery tour to one of Donegal's beautiful nature spots and historical areas is also included. In addition, climbing on our indoor wall is included for the older 'Kats'.
Everyone and all abilities are welcome. Good fun and healthy exercise is guaranteed.
Helen Kennedy, ATU Sports Centre Manager states, "We are delighted to host our Kool Kats Kamp again in July, our 18th year. Kool Kats Kamp is an all inclusive week of fun activity with quality activities and attentive supervision. It's a week of fun and games while providing healthy exercise to children. It's all wrapped up in fun with the children's inclusion and enjoyment the main focus."
For further information and to book your child's place, please email sportscentre@lyit.ie