Carndonagh is hosting a Volunteer Fair on Thursday 16th June from 7-9pm in the Colgan Hall.
The fair will provide an opportunity for individuals to meet and chat face-to-face with local groups and clubs in Carndonagh.
Áine McLaughlin, Development Officer of Inishowen Development Partnership said: "Whether you're a student, retired, business owner, or are simply curious about volunteering or want to find out more about what's on offer in Carndonagh, this event is ideal for you."
The Volunteer Fair expects to showcase 20 plus Carndonagh clubs, groups and charities representing a wide range of organisations- from sports clubs to community groups and the arts, and more. Everyone is welcome to come and stroll around the many stalls that will be exhibiting on the night and learn about volunteer opportunities and general information about the work non-profits are doing in Carndonagh.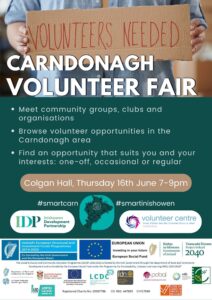 Helen Nolan, Co-Founder and CEO of Spraoi agus Spórt says that the fair is "a great opportunity for members of the community, both young and old, who would like to consider volunteering their time to see the variety of opportunities that are available locally in Carndonagh."
"Volunteers make a real difference to the lives of others, and I would encourage anyone who has an hour to spare be it weekly, monthly or annually to come along and meet the great organisations who will be there on the night," she added.
This event has come about through Smart Village training, run by Inishowen Development Partnership.
"It's a great opportunity to listen to what are the needs of communities, and the solutions and ideas that they share with each other and IDP. Communities know best what they need and how to work together locally," said joint CEO Andrew Ward.
The fair is an informal and informative event. People can pick up information, chat to volunteer groups, find out what is going on and then consider options, if any, that suit on the night.
Groups and clubs from the wider Carndonagh area interested in showcasing their organisations at the fair can contact Áine McLaughlin, Inishowen Development Partnership on Tel: (074) 9362218 / 086 1028846 or email: aine@inishowen.ie