Noel Diver was the winner of the Letterkenny Gaels 5k road race as it returned for the first time since 2019.
The Rosses AC athlete came home in a time of 16:50, 13 seconds ahead of Milford AC's Joe Gibbons, while Stephen Robinson was third in 17:09.
Another Rosses AC member was the first woman home, as Helen McCready finished with a time of 18:19, two minutes ahead of her fellow Rosses athlete Martina Mulhern who had a time of 20:28, two seconds ahead of Milford AC's Danielle McNamee.
Joe Boland of North West Newspix was on hand to snap pictures of the participants during the race, with the full race results below.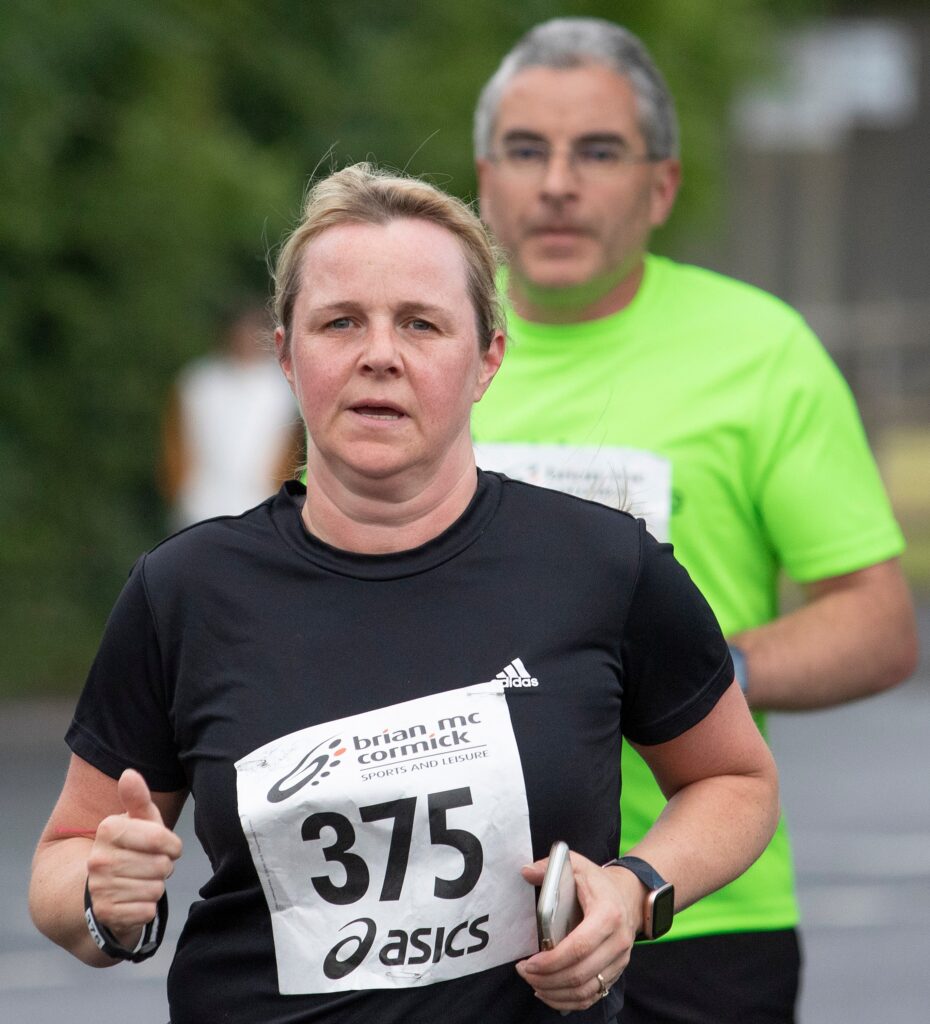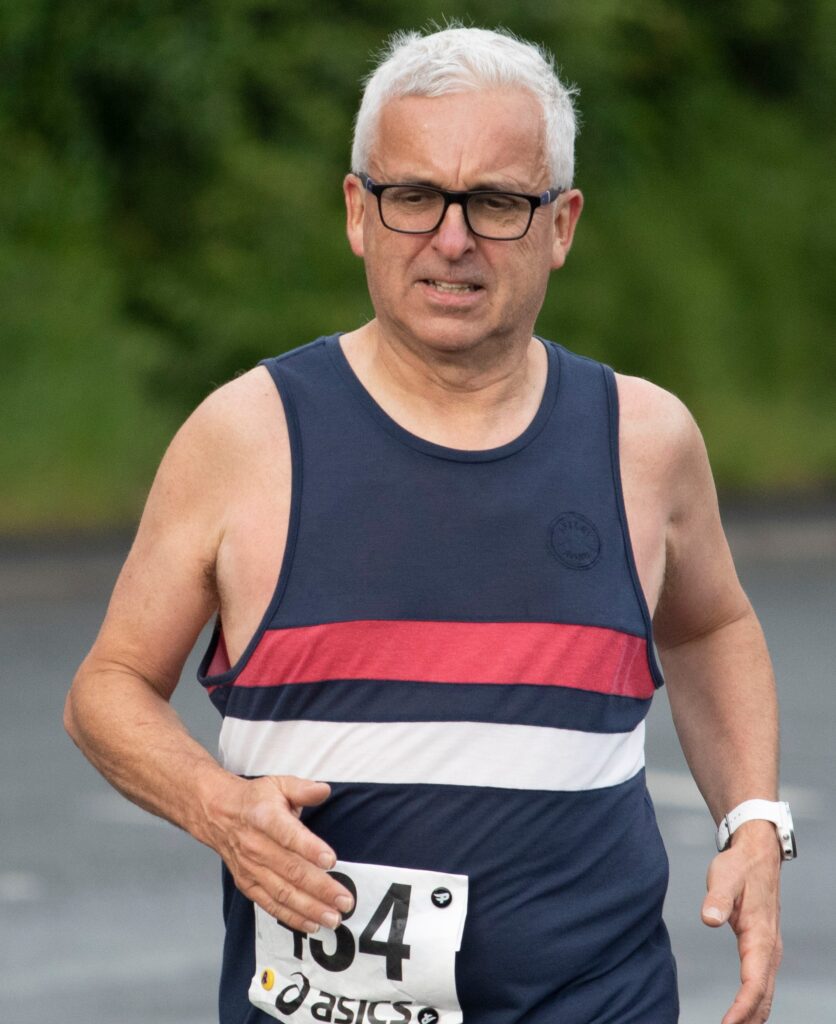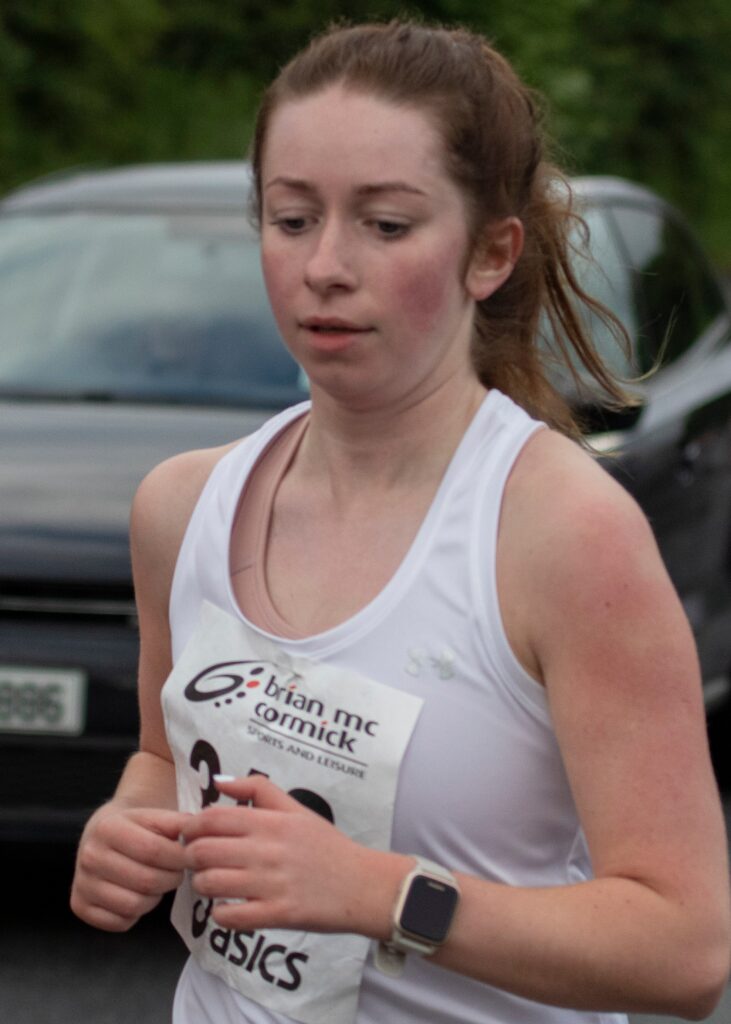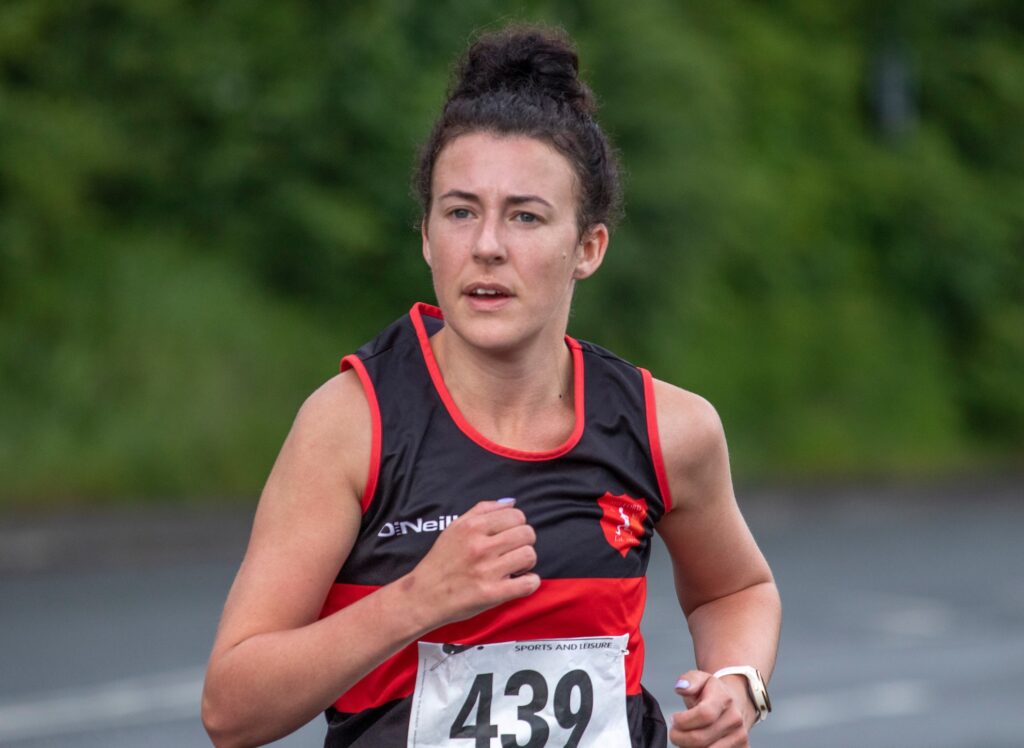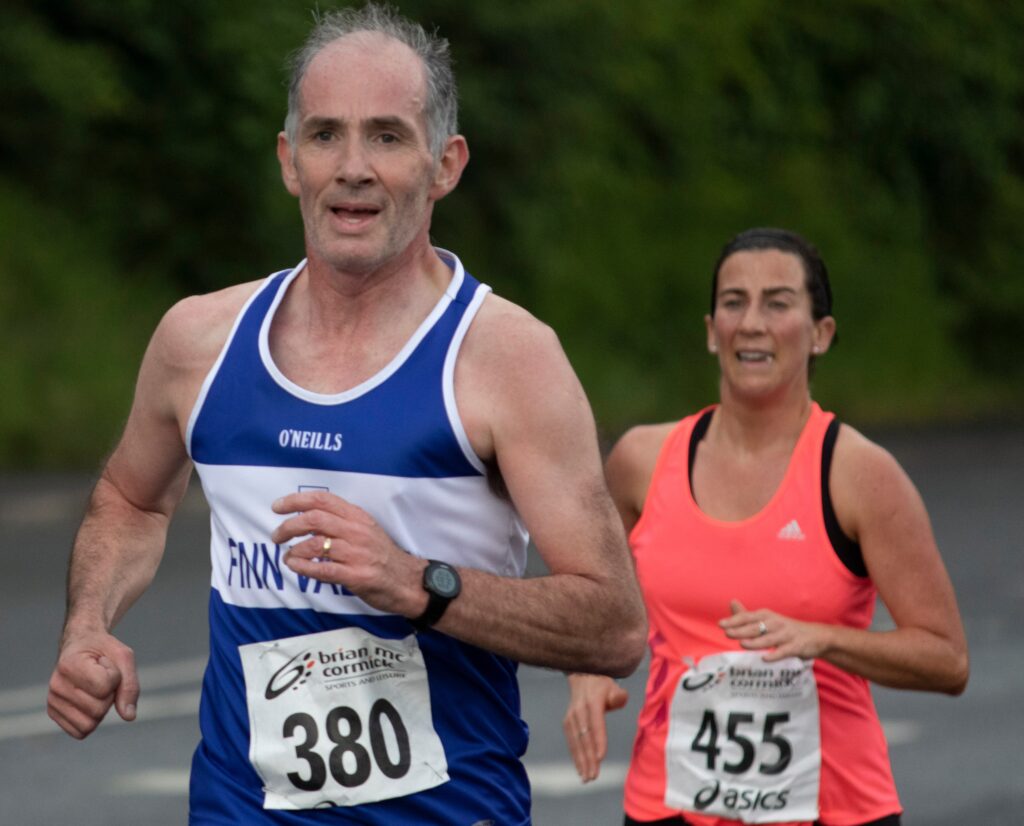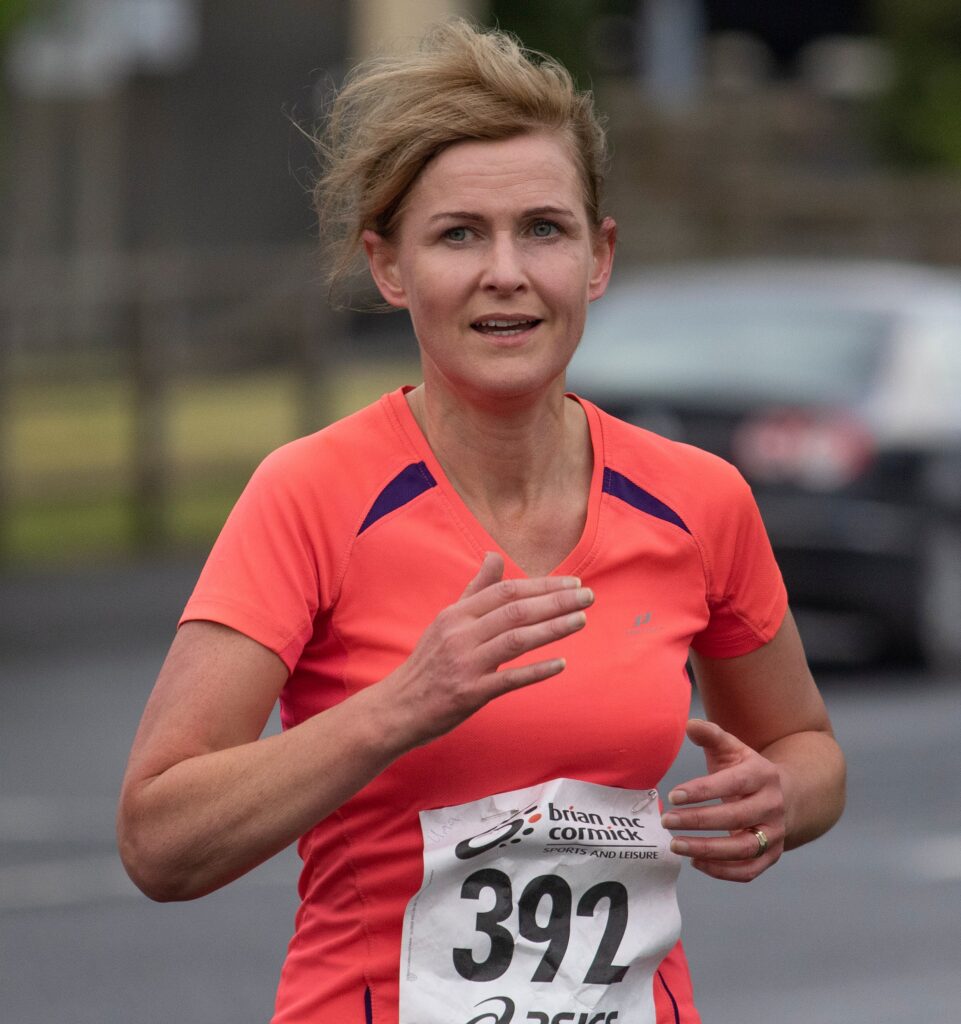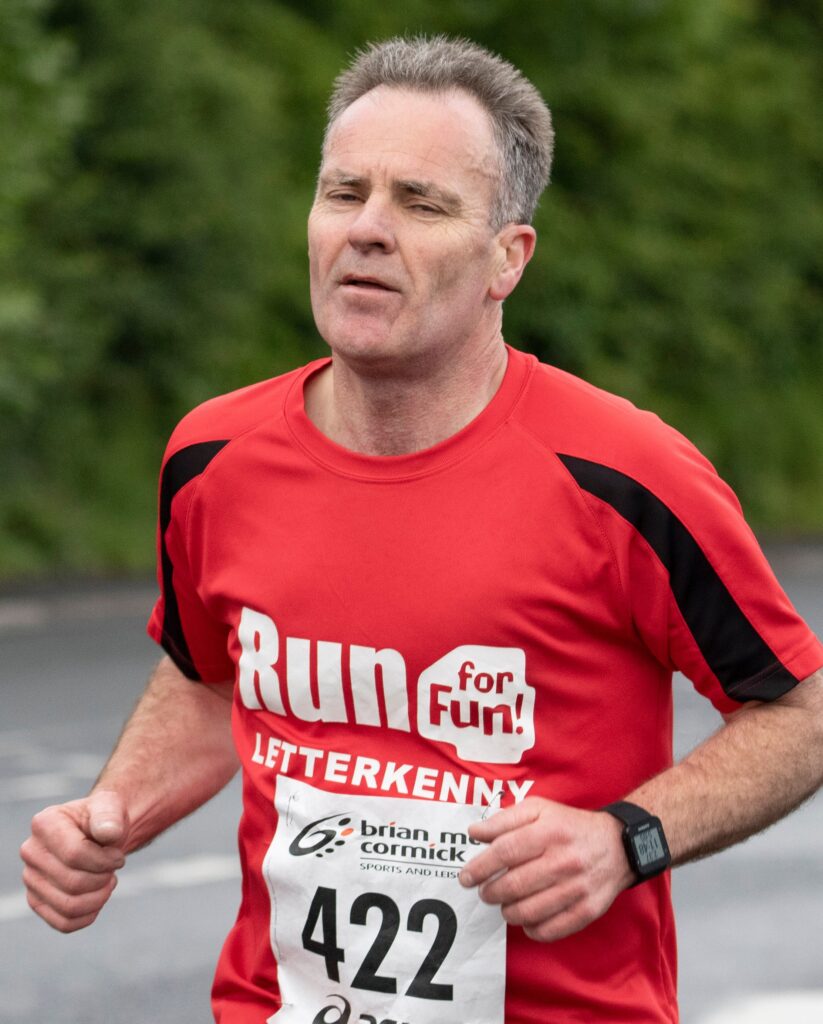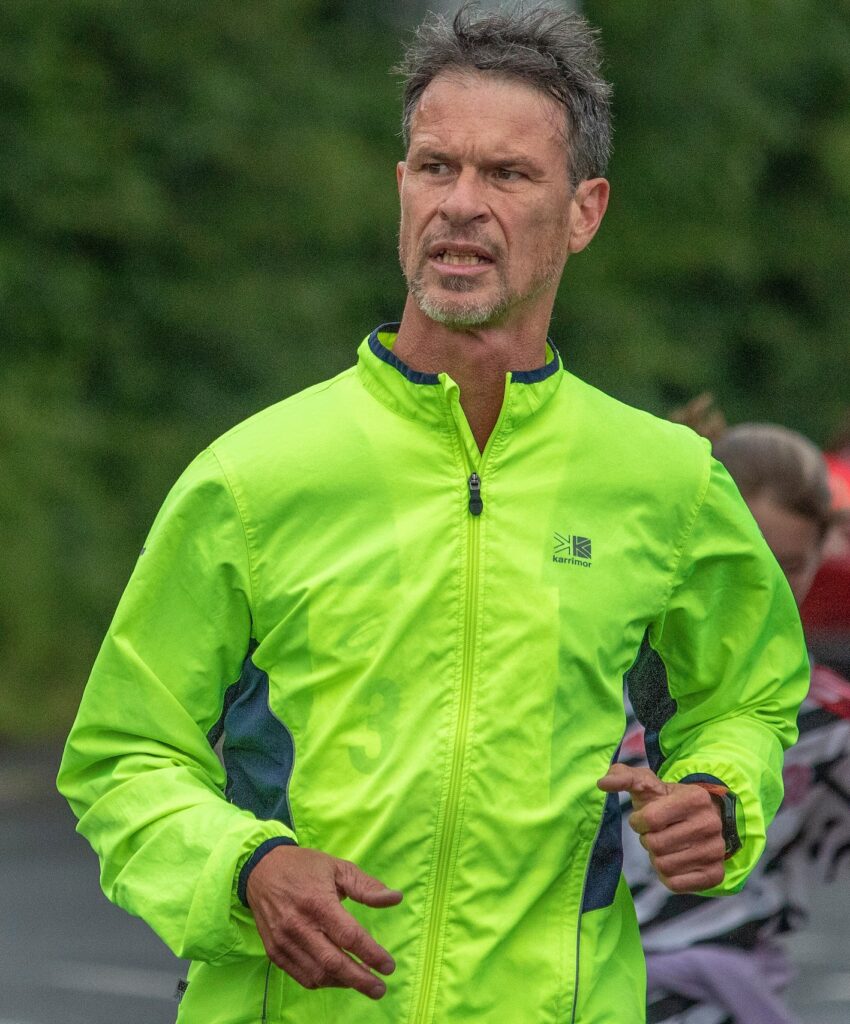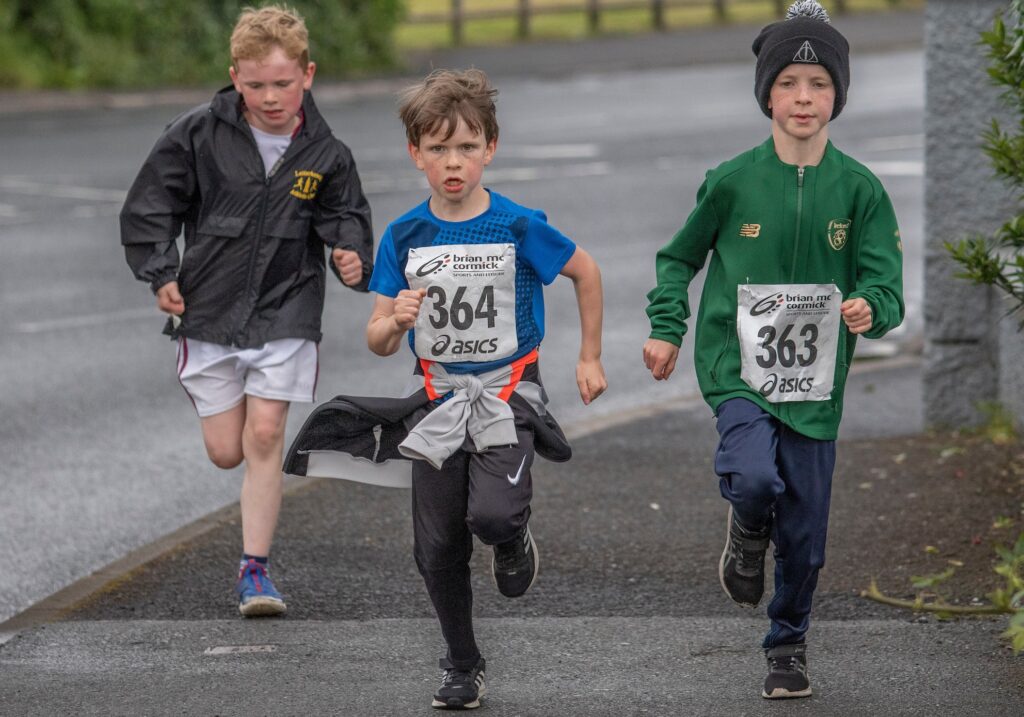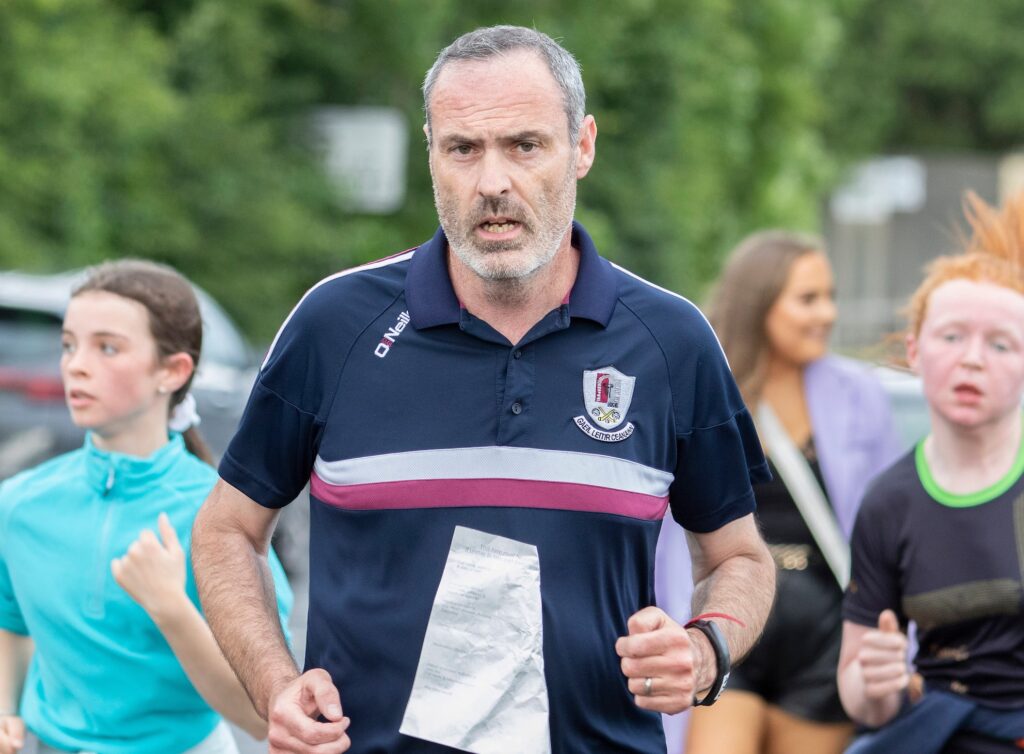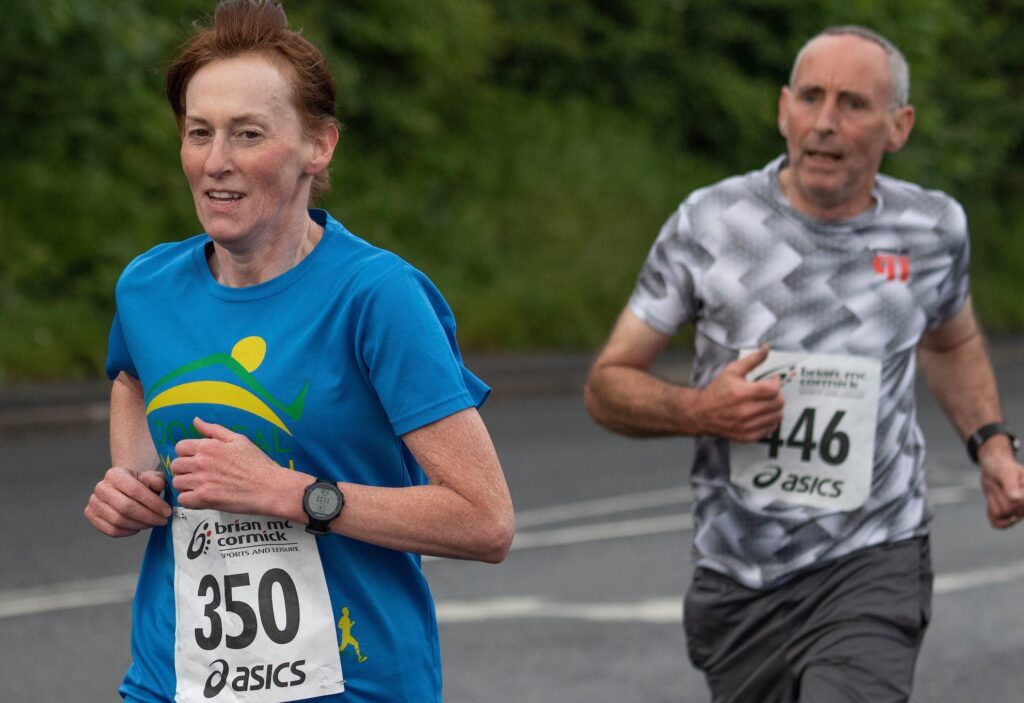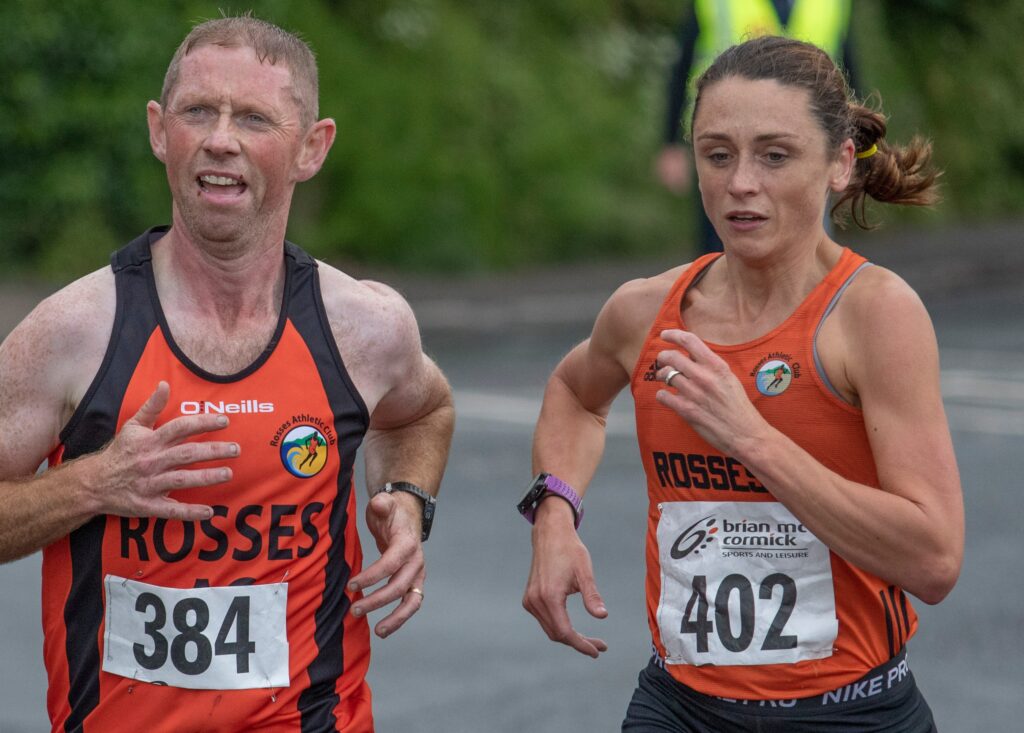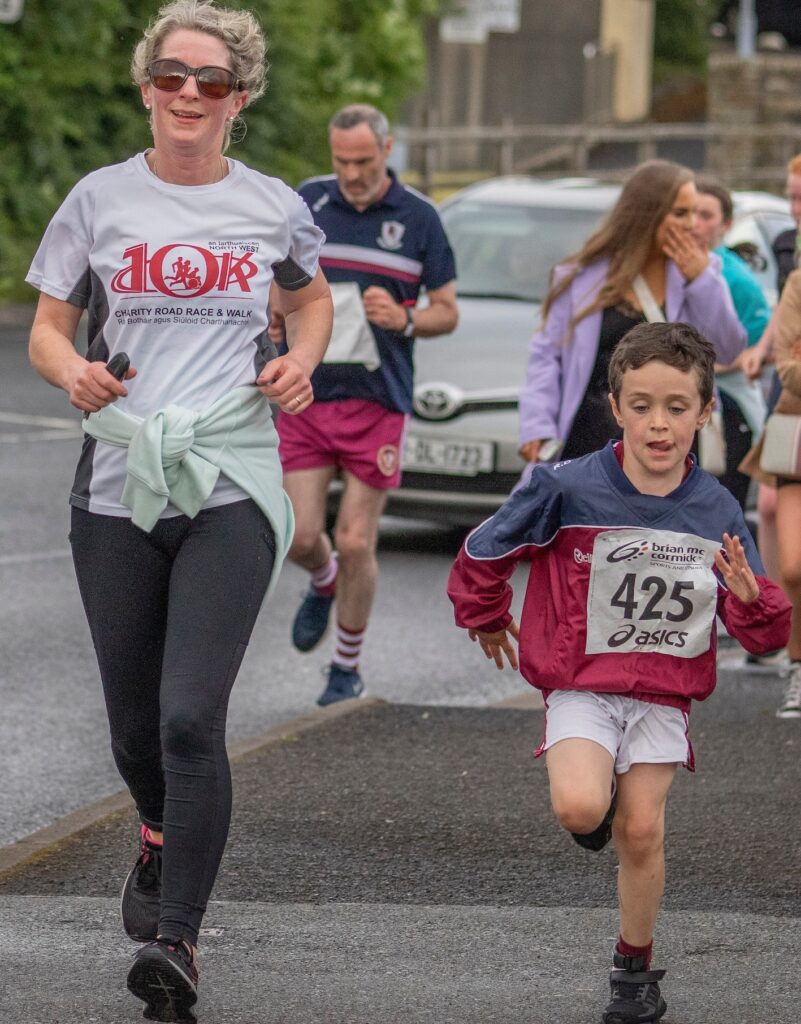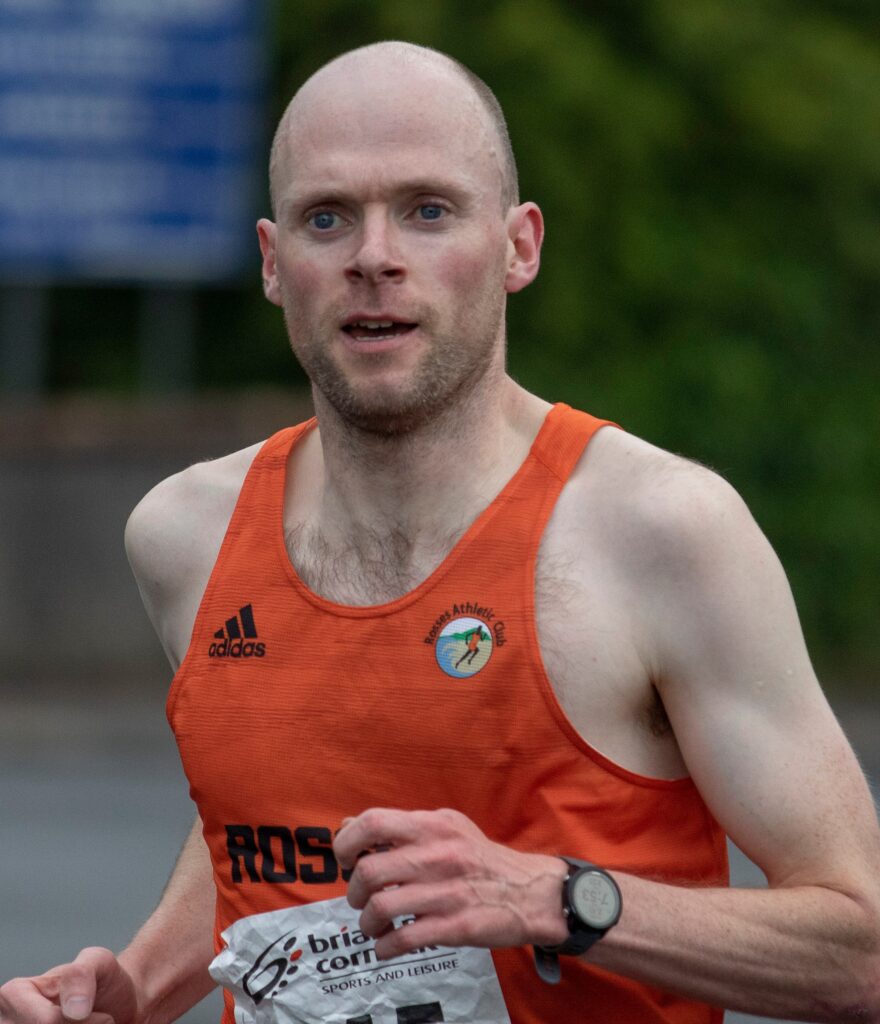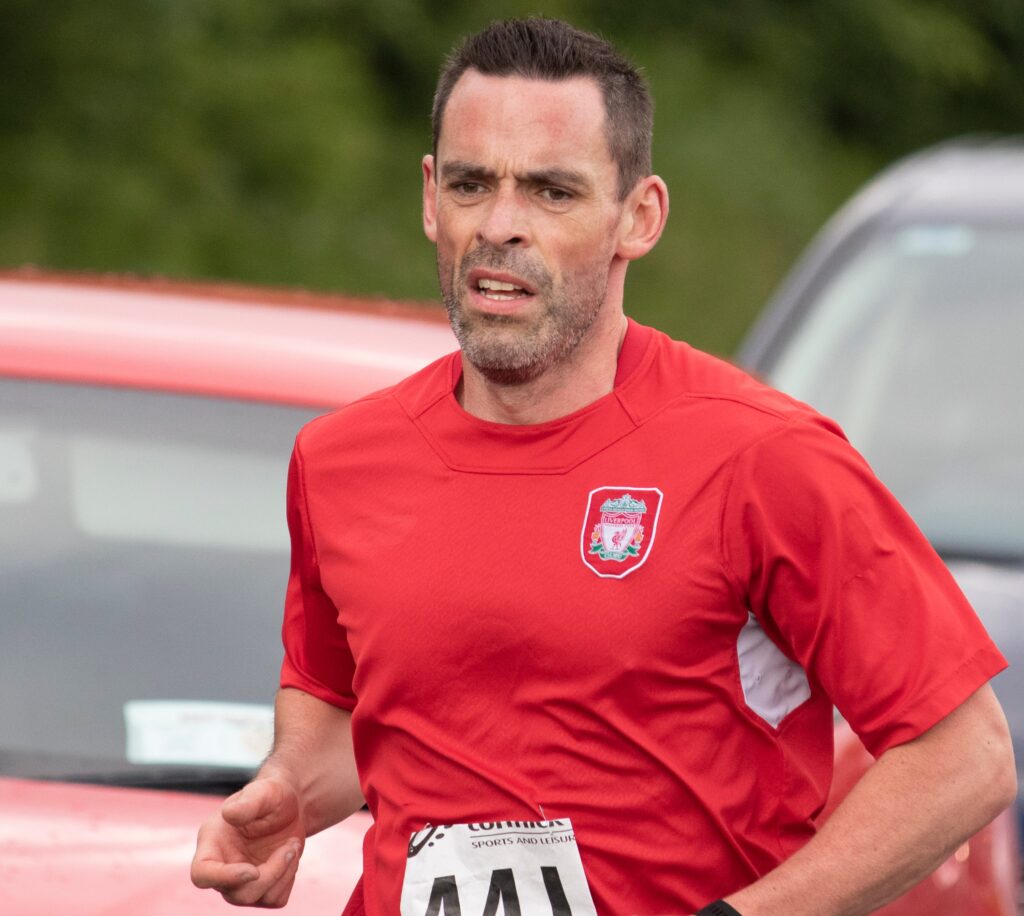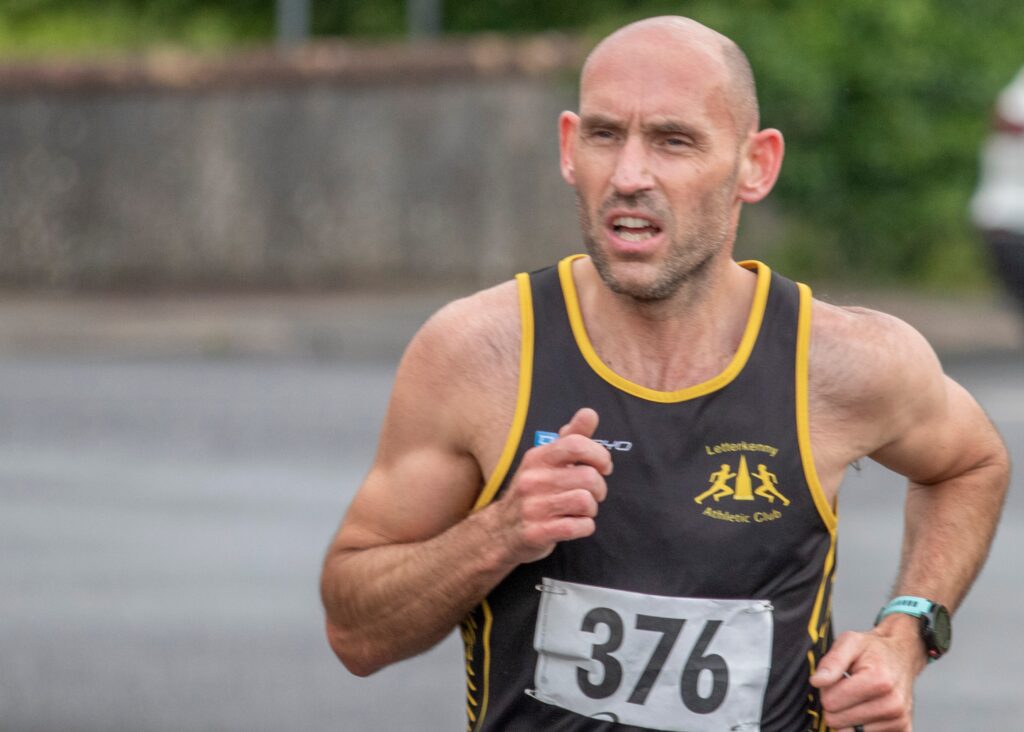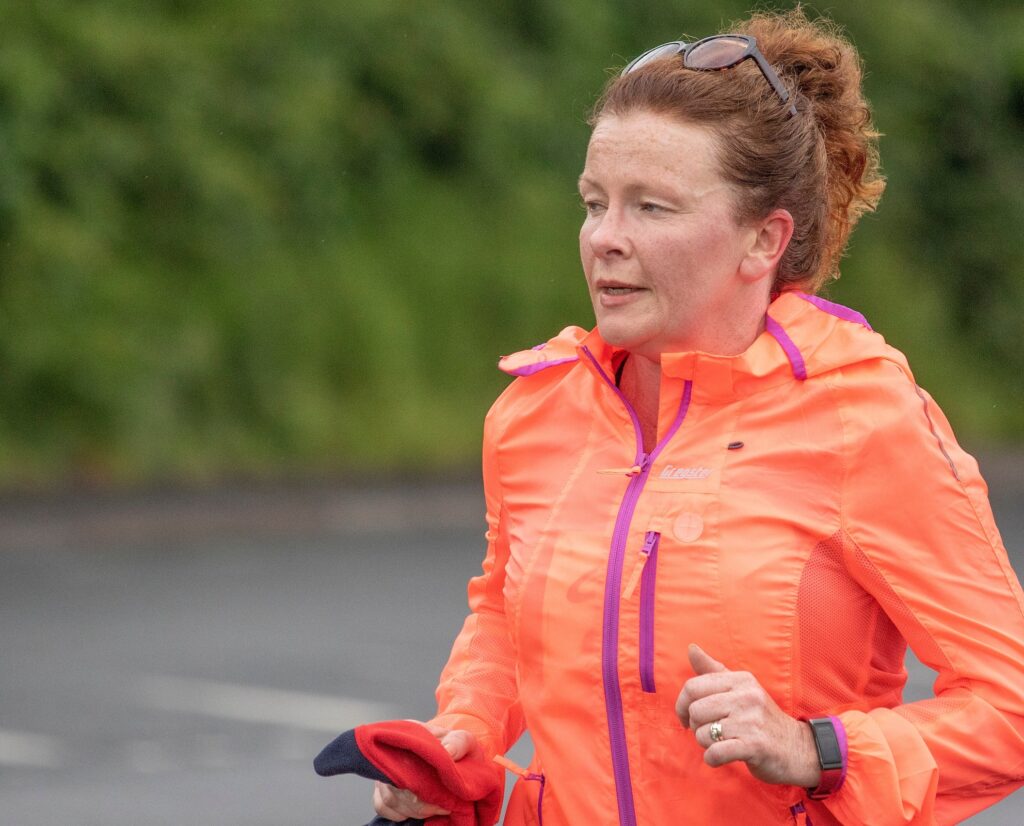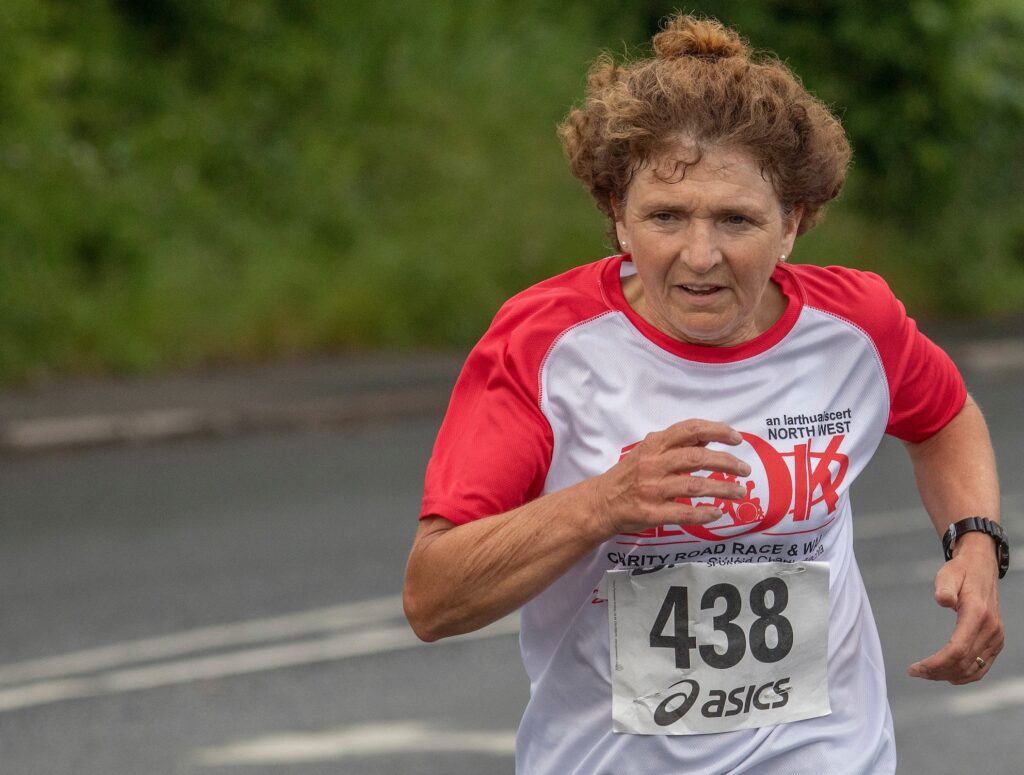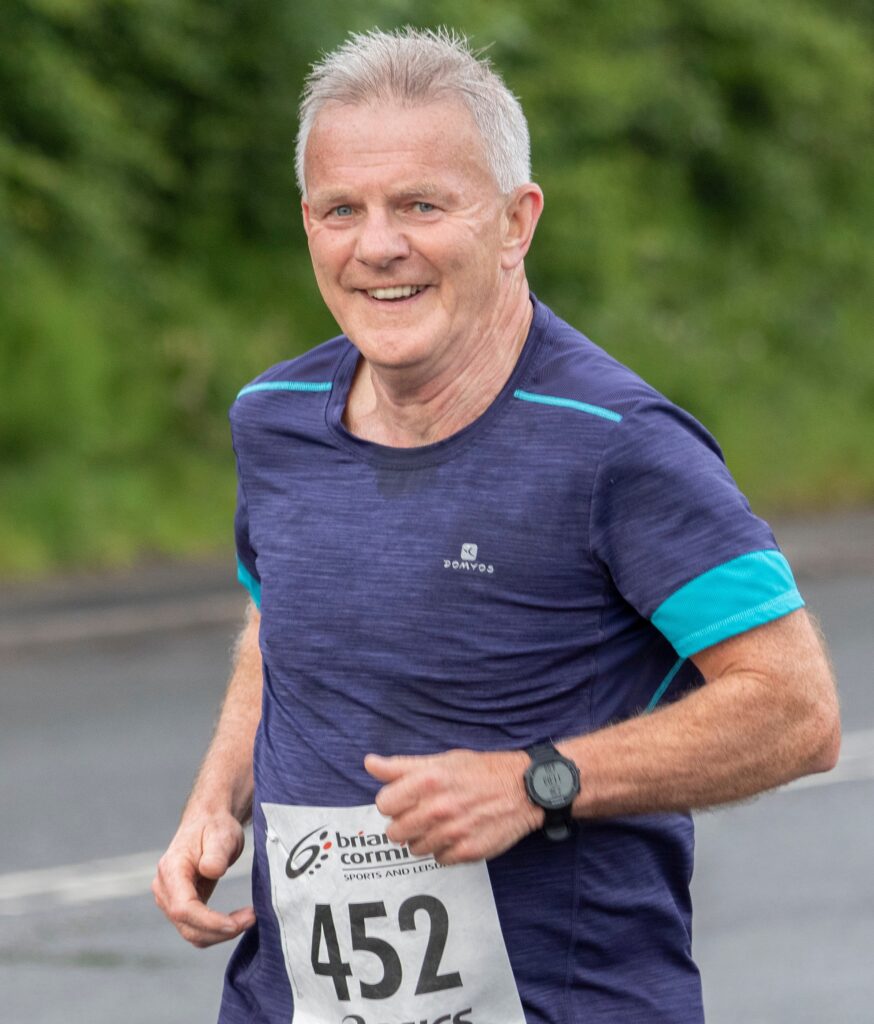 Letterkenny Gaels
5k 2022
Place Bib Name M/F AG Club GunTime
1. 445 Diver, Noel M MO Rosses AC 16:50
2. 429 Gibbons, Joe M MO Milford AC 17:03
3. 431 Robinson, Stephen M MO 17:09
4. 403 Trimble, Patrick M M40 Rosses AC 17:18
5. 376 Price, Darren M M40 LAC 17:45
6. 384 McKelvey, Paul M M40 Rosses AC 17:49
7. 379 Logue, Kevin M MO Milford AC 18:13
8. 402 McCready, Helen F FO Rosses AC 18:19
9. 383 Shields, Dessie M M40 LAC 18:39
10. 396 McGinley, Dennis M MO Milford AC 19:17
11. 382 Shields, Keith M M40 LAC 19:36
12. 441 Gill, Adrian M M40 19:43
13. 455 Mulhern, Martina F FO Rosses AC 20:28
14. 439 McNamee, Danielle F FO Milford AC 20:30
15. 380 Gallagher, Michael J M M50 Finn Valley 20:39
16. 391 Friel, Fergal M M50 LK Gaels 20:42
17. 434 Hughes, John M M60 LAC 21:41
18. 404 Gallagher, Peter M M40 LAC 21:46
19. 387 Sweeney, Luke M MJ 22:05
20. 374 Doherty, John M M40 LK Gaels 22:16
21. 454 Devine, Joe M MO 22:21
22. 412 Kenna, Conor M MJ LK Gaels 22:28
23. 453 McFadden, Manus M MO 22:31
24. 378 McBride, Brian M M60 LAC 22:53
25. 390 McDaid, Michael M M40 Glenswilly 23:30
26. 452 Kennedy, Rory M M60 LK Park Run 24:06
27. 456 Deeney, Anthony M M40 24:16
28. 361 Muldoon, Anna F FJ LK Gaels 24:26
29. 350 Doran, Angela F F50 Manor 24:31
30. 466 Henry, Matthew M MJ LK Gaels 24:32
31. 419 Smith, Euan M MJ LK Gaels 24:32
32. 446 Cannon, Charlie M M60 LK Gaels 24:33
33. 356 Singaroyan, Kayla F FJ LK Gaels 24:49
34. 459 McGlinchey, Jean F F50 LK Park Run 24:54
35. 440 Doherty, Paul M M40 24:55
36. 463 Sweeney, Davin M MJ LK Gaels 25:11
37. 438 McNamee, Nancy F F50 LK Gaels 25:38
38. 422 McTaggeart, Gerry M M50 Run for Fun 25:47
39. 347 Walker, Paul M M50 Run for Fun 25:50
40. 348 Walker, Rachel F FO 25:57
41. 349 O'Dea, Paul M MO 25:57
42. 392 Friel, Úna F F40 LK Gaels 26:16
43. 421 Black, Declan M M50 Run for Fun 27:08
44. 345 McFadden, Hazel F F40 LK Gaels 27:12
45. 474 Brennan, Jack M MJ LK Gaels 27:28
46. 395 Friel, Gráinne F FJ LK Gaels 27:55
47. 365 Smith, Duncan M M50 LK Gaels 28:26
48. 386 Sweeney, Jack M MJ 28:38
49. 462 Barret, Thady M MJ 28:42
50. 385 Sweeney, Karl M M40 28:45
51. 352 Heekin, Noel M M40 Letterkenny 28:53
52. 399 O'Keeney, Paul M MJ 28:54
53. 397 O'Keeney, Sarah F FJ 29:13
54. 358 Diver, Erin F FJ LK Gaels 29:14
55. 401 O'Carroll, Sophie F FJ LK Gaels 29:14
56. 432 Sharkey, Noreen F F60 LK Park Run 29:22
57. 417 Watson, Blake M MJ 29:29
58. 375 Gallagher, Louise F F40 LK Gaels 29:29
59. 418 Gallagher, Alisha F FJ LK Gaels 29:46
60. 363 Deery-Smith, Louis M MJ LK Gaels 30:29
61. 388 Koentopp, Chris M M50 LK Gaels 30:53
62. 433 McBrearty, Martina F F60 LK Park Run 30:57
63. 436 Uí Bhaoil, Maura F F50 LK Gaels 31:10
64. 449 Patton, Caoimhe F FJ LK Gaels 31:36
65. 364 Deery-Smith, Benjamin M MJ LK Gaels 32:06
66. 366 Deery, Sandra F F40 LK Gaels 32:07
67. 470 Brennan, James M M40 LK Gaels 32:53
68. 400 Murphy, Cara F FJ 32:59
69. 377 Duffy, Anya F FJ 33:02
70. 425 Dadon, Reuben M MJ LK Gaels 33:11
71. 372 Canning, Ellie F FJ LK Gaels 33:16
72. 461 Barret, Brodie M MJ 33:18
73. 423 Patton, P.J M M50 Run for Fun 33:22
74. 460 O'Rourke, Vicky F F40 33:59
75. 389 Koentopp, Annabel F FJ LK Gaels 35:09
76. 451 O'Connor, Clodagh F FJ LK Gaels 35:18
77. 394 Friel, Sorcha F FJ LK Gaels 35:19
78. 393 Friel, Ultán M MJ LK Gaels 39:20
79. 435 Ó Baoill, Conn M MJ LK Gaels 39:21
80. 354 Nwankwo, Nina F FJ LK Gaels 39:36
81. 424 Dadon, Amielle F FJ LK Gaels 39:37
82. 360 Sheridan, Etaine F FJ LK Gaels 39:38
83. 362 Lenihan, Aoise F FJ LK Gaels 40:08
84. 357 Singaroyan, Nina F F40 LK Gaels 40:09
85. 373 Doherty, Finlay F FJ LK Gaels 40:13
86. 369 Doherty, Rosie F FJ LK Gaels 40:15
87. 448 Duncan, Vickey F F40 LK Gaels 41:47
88. 450 Patton, Ann Marie F F40 LK Gaels 41:47
89. 351 Heekin, Nicole F FJ LK Gaels 42:19
90. 353 Heekin, Claire F F40 LK Gaels 42:20
91. 426 Dadon, Catherine F F40 LK Gaels 43:00
92. 416 Watson, Louise F FO 43:04
93. 442 Gill, Nyla F FJ 43:15
94. 473 Brennan, Nikita F FJ LK Gaels 43:22
95. 471 Brennan, Bridget F F40 LK Gaels 43:23
96. 457 Donaghey, Ciaran M MJ LK Gaels 43:59
97. 405 Haughey, Ruairí M MJ LK Gaels 43:59
98. 409 Sweeney, Eimear F FJ LK Gaels 44:20
99. 414 Watson, Kate F FJ 44:20
100. 415 Watson, Cara F FJ 44:21
101. 359 Diver, Nicole F FJ LK Gaels 44:21
102. 469 Duffy, Maisie F FJ LK Gaels 44:21
103. 447 Patton, Ciara F FJ LK Gaels 44:27
104. 367 O'Malley, Una F F50 LK Gaels 45:35
105. 368 O'Malley, Michael M M50 LK Gaels 45:36
106. 381 Crossan, Emily F FJ LK Gaels 45:36
107. 465 Henry, Sarah F FJ LK Gaels 45:37
108. 413 Kelly, Danielle F FO 46:20
109. 411 Kelly, Karen F FO LK Gaels 46:20
110. 443 Gill, Lucas M MJ 46:38
111. 444 Gill, Sinead F F40 46:43
112. 410 Mullen, Sally F F40 LK Gaels 47:30
113. 468 Duffy, Noelle F F40 LK Gaels 47:31
114. 472 Brennan, Nicole F FJ LK Gaels 47:47
115. 346 McFadden, Aoife F FJ LK Gaels 47:47
116. 430 Cullen, Lindsey F FJ LK Gaels 47:47
117. 408 Haughey, Edel F FO LK Gaels 48:22
118. 407 Haughey, Katelyn F FJ LK Gaels 48:22
119. 458 Donaghet, James M MO LK Gaels 48:23
120. 406 Haughey, Keiran M MO LK Gaels 48:23
121. 467 Henry, Maria F FJ LK Gaels 48:49
122. 398 O'Keeney, Antionette F F40 49:09
123. 371 Gallen, Kate F FO LK Gaels 49:10
124. 428 Sweeney, Kathleen F F60 LK Gaels 49:17
125. 370 Gallen, Maria F FJ LK Gaels 49:19
126. 464 Sweeney, Rory M M40 LK Gaels 52:00
127. 437 Owes, Saoire F FJ LK Gaels 56:03
128. 427 Montgomery, Aleisha F FJ LK Gaels 56:06