A modern-day 'Land of Magic' has been officially come to life in Donegal.
Tír na Dríochta is a children's story park created by Sticky Fingers Arts which is now open and free to visit.
Dungloe Tidy Towns officially opened 'Tír na Draíochta' with the Cathaoirleach of the Glenties Municipal District, Cllr. Marie Therese Gallagher and Pat the Cope Gallagher cutting the ribbon to this now designated EU protected site for magical creatures.
This innovative project was funded by LEADER, Donegal County Council, Údaras na Gaeltachta, Pleanáil Teanga Na Rosann and local fundraising.
Chairman of Dungloe Tidy Towns, John James O'Donnell, thanked all of the above for their support with special mention to Martina Ní Chanainn, LEADER, Donegal County Council's Director of Services, Michael McGarvey, Environment Staff, Suzanne Bogan and Owen McCallion, Roads Staff, Brendan McFadden, Paul McGee, Patsy Hanlon and their team, Community and Enterprise Staff, Mary Clyde, Annette McGrenra and Anne Marie Collum, Dungloe PSC staff especially Pat McCole, Building Supervisor and many at Head Quarters in Lifford who provided invaluable advice and assistance over the past few years.
A special mention was made to Malachy McLaughlin and Daniel McGee, Dungloe Tidy Towns who were unable to attend the opening.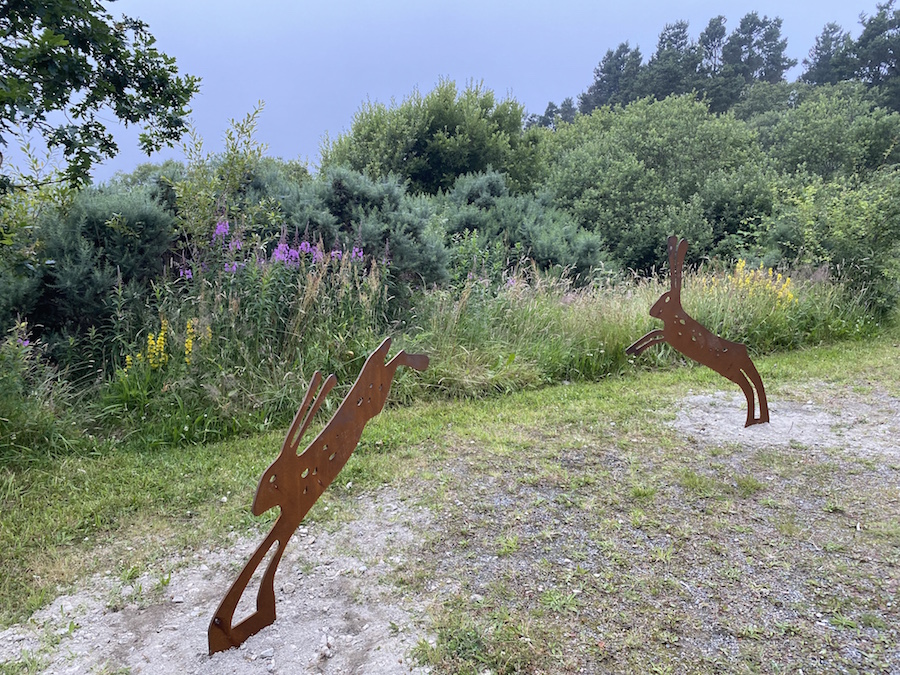 He also thanked TÚS Supervisor, Kelly Bryan O'Donnell and TÚS employees Ownie, Stephen and Shaun who have done tremendous work alongside the local CE Scheme and Anne Boyle, Supervisor.
In attendance on the day was Cllr. Noreen McGarvey, Cllr. John Sheamais O Fearraigh and TD Pearse Doherty, representatives from the Rosses Community Development Project, Ionad Teampaill Croine, Pleanáil Teanga Na Rosann, Údaras na Gaeltachta, The Rosses Men's Shed, SVDP Charity Shop and many volunteers from Dungloe.
The entertainment on the day was amazing from Dungloe GAA's Club Óige, students and staff from Scóíle Chroine, Mairead Ní Mhaonaigh, Mary from Dungloe, Alannagh McGlynn and Little Miss Mary, Niamh O'Donnell.
Videos of these fantastic performances are available on the Facebook page of Dungloe Community Network. All enjoyed drinks and nibbles on a beautiful afternoon at Tír na Draióchta.
Grainne Powell of Sticky Fingers Art spoke of the "spirit of the people in Dungloe and that it is the most magical and brilliant community that they have worked with over their 20 years working throughout Ireland."
The highlight for them was STOR's journey to Dungloe where he was escorted firstly by the PSNI and then met at the border in Lifford by the Cathaoirleach of the Glenties Municipal District, Cllr. Marie Therese Gallagher, Cathaoirleach, Cllr Jack Murray and Donegal County Council headquarters staff and then escorted by An Garda Siochana to Dungloe where he was welcomed with a magnificent carnival and community celebration.
The official word is that Dungloe has now a protected site recognised under EU Law by both the Norwegian and Irish Governments for Fairies and Trolls.
The Story trail at the river walk was devised by the local community as a way to enhance the natural environment while encouraging local families and visitors to benefit from a natural resource within the town.
The idea was to combine two valuable local assets, a fully accessible Riverwalk with the rich local heritage to create a sustainable visitor attraction.