David Sheridan was the winner of the Sheephaven Triathlon in Downings yesterday.
David finished in a time of 4:19.44 after the swim cycle and run, just two seconds clear of Aidan Callaghan in second place, while Owen Martin was a further two seconds behind in third in what was a tightly contested finish.
Joe Boland of North West Newspix was on hand to capture the events of the day, with a full list of the results below.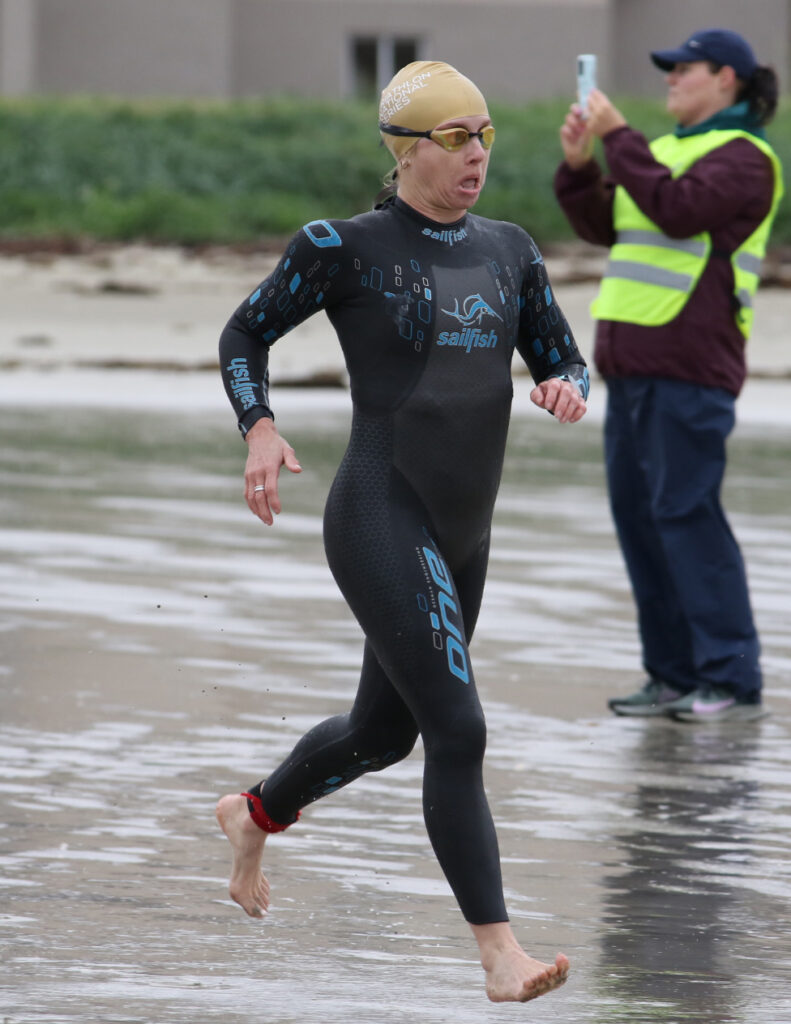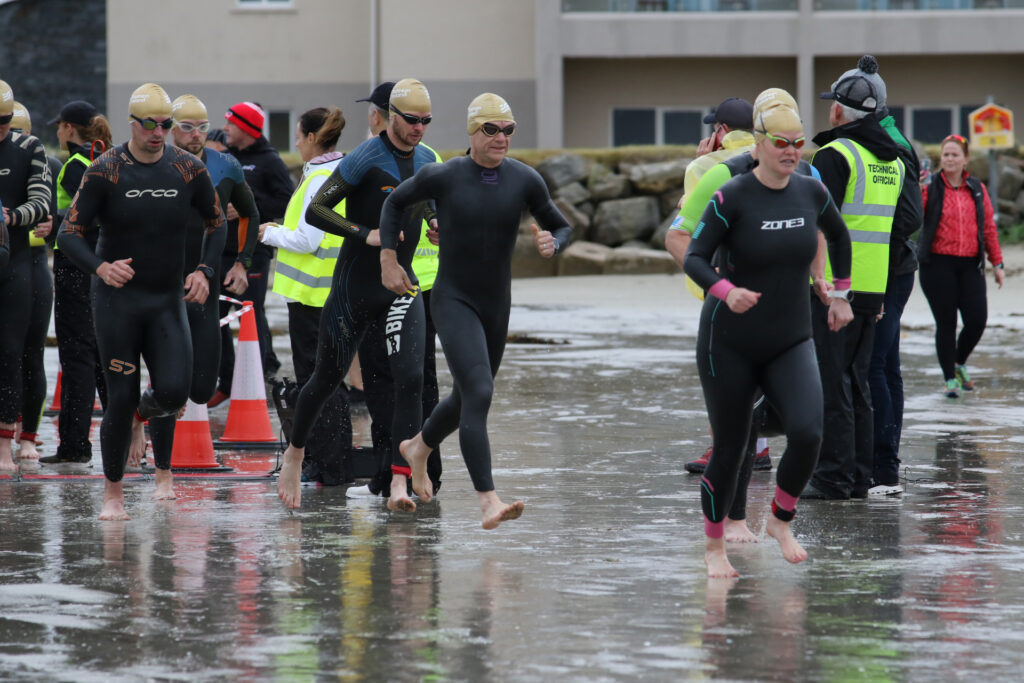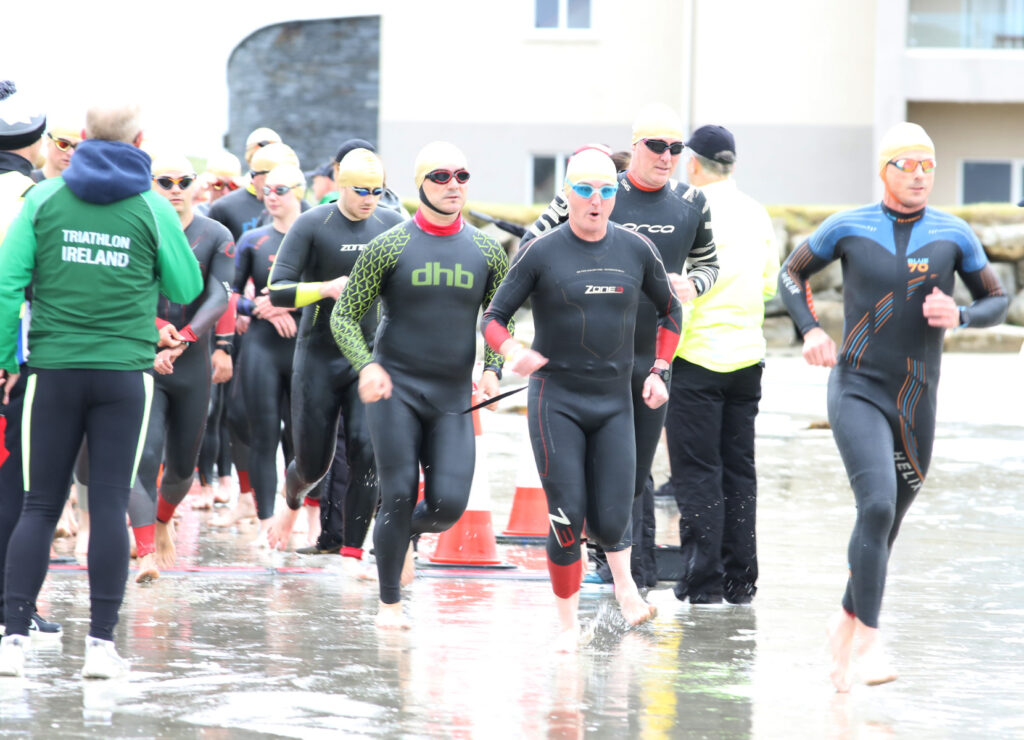 Rank

Bib

Name

Last Name

Sex

Age Cat

Club

Run

T1

Cycle

T2

Run

Gun Time

Finish

Gap Time

Sheephaven Half Iron
1.
119
David
Sheridan
m
M35-39
00:20:04
00:00:50
02:29:44
00:00:58
01:28:06
04:19:44
04:19:43
+29:37
2.
1
Aidan
Callaghan
m
M35-39
247 TriathlonClub
00:20:18
00:01:16
02:34:13
00:00:48
01:25:20
04:21:58
04:21:56
+31:51
3.
124
Owen
Martin
m
M45-49
00:26:39
00:02:58
02:31:02
00:01:18
01:21:56
04:23:54
04:23:50
+33:47
4.
180
Peter
O donnell
m
M30-34
247 TriathlonClub
00:26:39
00:01:36
02:39:37
00:01:07
01:18:34
04:27:34
04:27:13
+37:27
5.
159
Luke
McMullan
m
M30-34
Belpark Triathlon Club
00:26:02
00:00:56
02:36:07
00:00:41
01:25:20
04:29:07
04:29:01
+39:00
6.
30
Lochlainn
Connolly
m
M35-39
Invictus Belfast
00:22:02
00:02:40
02:38:42
00:02:23
01:23:27
04:29:15
04:29:12
+39:08
7.
171
Peter
Morrison
m
M45-49
00:26:15
00:02:02
02:33:59
00:00:55
01:28:21
04:31:33
04:31:17
+41:26
8.
135
Shane
Mc Nulty
m
M45-49
247 TriathlonClub
00:26:47
00:03:18
02:39:39
00:01:23
01:23:23
04:34:32
04:34:14
+44:25
9.
37
Gerard
Cuddy
m
M40-44
Galway TC
00:26:29
00:02:28
02:41:54
00:01:36
01:23:33
04:36:01
04:35:48
+45:54
10.
223
Stafford
Vigors
m
M30-34
Belpark Triathlon Club
00:24:22
00:01:04
02:46:05
00:01:59
01:27:31
04:41:02
04:40:56
+50:55
11.
14
David
Boyle
m
M30-34
Newry Triathlon Club 2022
00:26:52
00:02:54
02:44:55
00:01:21
01:26:15
04:42:18
04:41:46
+52:11
12.
84
Oliver
Harkin
m
M45-49
Newry Triathlon Club 2022
00:26:13
00:02:00
02:42:35
00:01:13
01:30:31
04:42:34
04:42:07
+52:27
13.
116
Barry
Loughran
m
M35-39
Newry Triathlon Club 2022
00:26:04
00:01:19
02:41:46
00:00:55
01:33:52
04:43:59
04:43:33
+53:52
14.
137
JP
McAree
m
M40-44
Setanta Triathlon Club
00:29:43
00:02:01
02:37:42
00:01:55
01:32:45
04:44:07
04:43:32
+54:01
15.
193
David
Power
m
M40-44
Belpark Triathlon Club
00:27:23
00:00:51
02:56:59
00:00:58
01:22:10
04:48:23
04:47:43
+58:16
16.
125
OLIVER
MARTIN
m
M45-49
00:29:33
00:03:05
02:52:31
00:01:18
01:29:16
04:55:45
04:55:03
+65:38
17.
155
Michael
Mcguigan
m
M25-29
Armagh Pikekickers Triathlon Club
00:24:09
00:01:29
02:51:41
00:02:02
01:36:32
04:55:55
04:55:17
+65:48
18.
76
Adrian
Garvey
m
M50-54
Setanta Triathlon Club
00:28:40
00:02:45
02:47:29
00:02:50
01:34:31
04:56:17
04:55:56
+66:10
19.
161
Kieran
Mcshane
m
M45-49
00:30:00
00:02:30
02:45:28
00:01:38
01:37:49
04:57:27
04:55:57
+67:20
20.
75
Vincent
Galvin
m
M40-44
Pulse TC
00:27:19
00:01:34
02:47:41
00:02:57
01:38:50
04:58:23
04:57:44
+68:16
21.
6
Steven
Beggs
m
M45-49
Invictus Belfast
00:28:09
00:04:34
02:51:43
00:01:24
01:36:18
05:02:09
05:00:17
+72:02
22.
46
Paul
Dillon
m
M40-44
247 TriathlonClub
00:28:52
00:01:02
02:51:46
00:01:48
01:39:15
05:02:44
05:01:44
+72:37
23.
33
ADAM
COULTER
m
M30-34
Armagh Pikekickers Triathlon Club
00:26:10
00:02:04
02:49:00
00:01:06
01:45:04
05:03:26
05:02:44
+73:19
24.
191
Helen
Perry
f
F30-34
Tri Limits TC
00:25:57
00:01:13
03:03:37
00:01:17
01:31:47
05:03:52
05:03:43
+73:46
25.
27
Mark
Conaty
m
M35-39
00:27:30
00:01:33
02:57:51
00:02:02
01:35:34
05:04:32
05:04:13
+74:25
26.
169
Gareth
Moran
m
M30-34
Setanta Triathlon Club
00:25:11
00:04:00
03:06:19
00:01:35
01:28:54
05:06:01
05:05:56
+75:54
27.
129
Peter
Mc Conville
m
M55-59
Newry Triathlon Club 2022
00:28:34
00:02:33
02:56:02
00:02:50
01:36:06
05:06:07
05:05:36
+76:00
28.
73
Hugh
Gallagher
m
M45-49
247 TriathlonClub
00:26:05
00:01:32
02:57:54
00:01:29
01:39:44
05:06:45
05:06:40
+76:39
29.
190
Stephen
Pepper
m
M45-49
Lisburn TC
00:29:23
00:02:56
02:59:31
00:02:46
01:32:32
05:07:09
05:05:55
+77:02
30.
208
Conal
Sexton
m
M45-49
00:27:49
00:03:39
03:00:13
00:02:18
01:33:17
05:07:17
05:05:52
+77:10
31.
70
Mark
Gallagher
m
M45-49
00:27:08
00:01:38
02:52:12
00:01:18
01:47:59
05:10:17
05:09:41
+80:10
32.
165
Michael
Megaw
m
M30-34
Armagh Pikekickers Triathlon Club
00:25:20
00:02:20
02:57:42
00:02:18
01:43:50
05:11:32
05:10:51
+81:25
33.
127
Sean
Mc Cabe
m
M50-54
00:30:21
00:02:45
03:05:04
00:01:51
01:33:24
05:13:27
05:12:43
+83:20
34.
154
Kerry
McGrillen
f
F40-44
Olympian Triathlon Club
00:27:35
00:02:18
03:03:56
00:01:18
01:38:33
05:13:41
05:12:57
+83:34
35.
143
James
Mcconnell
m
M50-54
Northwest TC
00:27:09
00:02:17
02:53:51
00:01:45
01:49:00
05:14:04
05:13:10
+83:57
36.
22
Ciaran
Campbell
m
M50-54
Armagh Pikekickers Triathlon Club
00:35:26
00:03:31
02:53:03
00:01:25
01:40:39
05:14:05
05:12:50
+83:58
37.
152
Peter
Mcgloin
m
M45-49
Wicklow TC
00:25:34
00:01:35
03:02:46
00:01:32
01:43:42
05:15:10
05:14:52
+85:03
38.
212
Sean
Smith
m
M50-54
00:29:35
00:02:56
02:54:13
00:01:58
01:46:37
05:15:20
05:13:19
+85:13
39.
207
Peter
Sands
m
M25-29
Lisburn TC
00:21:41
00:03:16
03:06:28
00:03:13
01:40:51
05:15:30
05:15:06
+85:23
40.
105
Chris
Knipe
m
M35-39
Armagh Pikekickers Triathlon Club
00:32:40
00:04:00
02:59:44
00:01:58
01:41:27
05:19:51
05:18:16
+89:45
41.
18
John
Byrne
m
M40-44
Tri an Mhi TC
00:30:18
00:04:47
03:01:22
00:01:51
01:41:43
05:20:02
05:19:09
+89:55
42.
104
PAUL
KIERAN
m
M40-44
Olympian Triathlon Club
00:22:40
00:05:23
03:03:05
00:02:55
01:46:25
05:20:31
05:20:20
+90:24
43.
107
Artur
Kuwik
m
M45-49
Drogheda Triathlon Club
00:33:32
00:04:24
02:55:33
00:02:12
01:44:55
05:20:38
05:19:23
+90:31
44.
114
William
Little
m
M35-39
Lough Key TC
00:29:10
00:03:16
02:48:18
00:02:03
01:58:32
05:21:22
05:21:04
+91:15
45.
78
Conor
Gilligan
m
M30-34
Sligo Tri Club
00:29:25
00:02:58
03:00:44
00:01:30
01:46:56
05:21:35
05:20:12
+91:28
46.
89
Eamon
Hill
m
M60
00:27:33
00:04:10
03:01:56
00:02:36
01:45:50
05:22:05
05:20:36
+91:58
47.
130
Mervyn
Mc dowell
m
M35-39
247 TriathlonClub
00:23:26
00:01:44
03:06:06
00:00:46
01:50:12
05:22:15
05:22:11
+92:08
48.
98
Peter
Kelly
m
M40-44
Olympian Triathlon Club
00:28:32
00:02:13
03:10:40
00:01:35
01:39:17
05:22:19
05:21:01
+92:12
49.
188
Stefano
Paparoni
m
M20-24
00:29:32
00:02:28
03:02:59
00:01:03
01:46:26
05:22:29
05:15:19
+92:23
50.
178
Gary
O donnell
m
M45-49
Northwest TC
00:29:30
00:00:54
03:02:57
00:01:10
01:48:11
05:22:45
05:22:22
+92:38
51.
217
Mark
Thompson
m
M35-39
Tri Limits TC
00:31:29
00:05:41
02:49:26
00:05:17
01:51:16
05:23:12
05:22:20
+93:05
52.
156
Ciaran
Mckenny
m
M50-54
Northwest TC
00:27:13
00:03:34
03:04:41
00:02:47
01:45:14
05:23:32
05:22:37
+93:25
53.
90
James
Hislop
m
M40-44
Triangle Triathlon Club
00:34:54
00:04:45
03:05:26
00:02:37
01:36:16
05:24:00
05:21:40
+93:53
54.
174
Andy
Murray
m
M40-44
Cavan Triathlon Club
00:34:00
00:02:20
03:14:55
00:01:26
01:32:43
05:25:25
05:24:09
+95:18
55.
44
Mark
Davis
m
M50-54
00:33:11
00:04:36
03:08:17
00:01:46
01:37:44
05:25:36
05:23:22
+95:29
56.
12
Emmet
Boyle
m
M40-44
Northwest TC
00:29:56
00:03:34
03:04:45
00:02:29
01:44:56
05:25:42
05:24:27
+95:35
57.
11
Hall
Booth
m
M50-54
Riada TC
00:35:27
00:03:52
02:57:30
00:02:53
01:47:16
05:27:00
05:26:00
+96:53
58.
118
Matt
Lynch
m
M30-34
00:26:05
00:04:33
03:04:17
00:02:07
01:50:00
05:27:05
05:26:44
+96:58
59.
215
Stephen
Sweeney
m
M45-49
247 TriathlonClub
00:29:27
00:02:32
03:01:05
00:01:47
01:52:27
05:27:21
05:26:16
+97:14
60.
150
Gerard
McGee
m
M35-39
Armagh Pikekickers Triathlon Club
00:30:31
00:02:45
03:11:42
00:01:39
01:41:00
05:27:39
05:26:10
+97:33
61.
28
Damien
Connolly
m
M40-44
Armagh Pikekickers Triathlon Club
00:30:59
00:03:49
03:04:37
00:01:29
01:47:35
05:28:31
05:27:35
+98:24
62.
153
Paul
McGovern
m
M40-44
Belpark Triathlon Club
00:25:36
00:03:39
03:07:36
00:02:05
01:49:36
05:28:34
05:28:10
+98:27
63.
4
CHRISTOPHER
BEATTIE
m
M40-44
00:34:09
00:04:37
04:00:13
00:02:37
00:47:06
05:28:43
05:28:43
+98:37
64.
7
Fin
Begley
f
F50-54
247 TriathlonClub
00:33:29
00:01:05
03:10:04
00:01:15
01:42:49
05:28:43
05:26:30
+98:37
65.
9
Karl
Bonner
m
M40-44
00:35:09
00:02:36
03:38:41
00:05:02
01:07:13
05:28:43
05:26:41
+98:37
66.
16
Denise
Brewster
f
F45-49
Riada TC
00:34:08
00:03:44
03:37:09
00:03:48
01:09:53
05:28:43
05:26:46
+98:37
67.
17
Jonathan
Bull
m
M40-44
Peninsula TC
00:31:56
00:06:16
03:15:56
00:04:12
01:30:23
05:28:43
05:27:09
+98:37
68.
19
Cheryl
caldwell
f
F50-54
00:33:44
00:02:44
03:29:41
00:01:45
01:20:47
05:28:43
05:27:26
+98:37
69.
23
Toby
Carty
m
M45-49
Sligo Tri Club
00:31:57
00:01:36
03:04:56
00:02:40
01:47:33
05:28:43
05:27:13
+98:37
70.
25
Dominic
Clarke
m
M55-59
Armagh Pikekickers Triathlon Club
00:28:41
00:03:43
03:21:08
00:02:00
01:33:10
05:28:43
05:27:47
+98:37
71.
29
Dermot
Connolly
m
M60
00:39:00
00:01:12
03:14:11
00:01:39
01:32:40
05:28:43
05:27:44
+98:37
72.
31
Kieran
Cooke
m
M40-44
Triangle Triathlon Club
00:34:04
00:01:50
03:32:26
00:01:45
01:18:36
05:28:43
05:28:43
+98:37
73.
38
Sean
Curran
m
M55-59
Omagh TC
00:33:35
00:03:21
03:16:39
00:02:59
01:32:08
05:28:43
05:27:34
+98:37
74.
39
Liam
Curran
m
M50-54
Omagh TC
00:32:23
00:02:47
03:54:10
00:03:28
00:55:54
05:28:43
05:26:43
+98:37
75.
41
Liam
Daly
m
M60
00:37:30
00:02:50
03:37:36
00:01:45
01:09:01
05:28:43
05:28:43
+98:37
76.
43
Martin
Davidson
m
M30-34
00:30:26
00:04:37
03:21:42
00:02:21
01:29:36
05:28:43
05:27:22
+98:37
77.
45
Neill
Dickson
m
M50-54
Peninsula TC
00:33:50
00:04:21
03:27:53
00:02:48
01:19:51
05:28:43
05:27:32
+98:37
78.
47
Gavin
Divin
m
M45-49
Northwest TC
00:27:08
00:03:24
03:12:17
00:01:16
01:44:36
05:28:43
05:27:53
+98:37
79.
49
james
doherty
m
M35-39
Northwest TC
00:31:50
00:04:32
03:06:56
00:02:21
01:43:03
05:28:43
05:26:34
+98:37
80.
51
Michael
Doherty
m
M40-44
Liquid Motion TC
00:31:49
00:03:43
03:24:15
00:02:38
01:26:16
05:28:43
05:26:35
+98:37
81.
52
Liam
DOHERTY
m
M35-39
00:31:35
00:02:07
03:22:18
00:02:35
01:30:06
05:28:43
05:27:15
+98:37
82.
54
Patrick
Doherty
m
M45-49
247 TriathlonClub
00:29:44
00:02:28
03:00:48
00:03:35
01:52:06
05:28:43
05:27:37
+98:37
83.
55
Rebecca
Donaghy
f
F40-44
00:41:53
00:07:03
04:23:42
00:03:53
00:12:11
05:28:43
05:26:26
+98:37
84.
58
Michael
Duffy
m
M40-44
00:36:57
00:02:04
02:55:57
00:01:13
01:52:30
05:28:43
05:26:14
+98:37
85.
59
Michael
Duncan
m
M60
00:33:58
00:05:09
03:39:35
00:02:37
01:07:23
05:28:43
05:26:47
+98:37
86.
60
Conor
Eannetta
m
M45-49
Omagh TC
00:33:00
00:04:16
03:37:43
00:03:19
01:10:24
05:28:43
05:28:43
+98:37
87.
61
Jenny
Elliott York
f
F50-54
Cuilcagh TC
00:16:35
00:23:23
03:39:26
00:04:20
01:04:57
05:28:43
05:27:17
+98:37
88.
62
Tomas
English
m
M30-34
Newry Triathlon Club 2022
00:31:47
00:03:24
03:19:13
00:01:41
01:32:37
05:28:43
05:27:06
+98:37
89.
63
Patrick English
English
m
M20-24
00:29:44
00:01:25
03:19:32
00:01:49
01:36:11
05:28:43
05:27:06
+98:37
90.
65
David
Esler
m
M40-44
Brown Shoes TC
00:33:05
00:02:53
03:30:53
00:02:03
01:19:47
05:28:43
05:27:43
+98:37
91.
66
Karle
Farquhar
m
M45-49
Tri Limits TC
00:35:48
00:04:14
03:34:50
00:03:27
01:10:22
05:28:43
05:28:43
+98:37
92.
67
David
Farrelly
m
M20-24
Portmarnock TC
00:27:48
00:02:42
03:39:53
00:01:17
01:17:01
05:28:43
05:28:17
+98:37
93.
68
John
Reiley
m
M60
00:36:41
00:09:19
03:49:10
00:03:10
00:50:20
05:28:43
05:27:27
+98:37
94.
74
Chris
Gallagher
m
M45-49
00:29:41
00:05:06
03:40:05
00:02:19
01:11:31
05:28:43
05:27:30
+98:37
95.
77
Eoin
George
m
M40-44
Pulse TC
00:27:20
00:02:39
03:12:55
00:01:52
01:43:56
05:28:43
05:27:55
+98:37
96.
80
Mark
Gormley
m
M30-34
Olympian Triathlon Club
00:33:46
00:06:14
03:37:47
00:02:18
01:08:36
05:28:43
05:28:43
+98:37
97.
81
Brian
Gormley
m
M45-49
247 TriathlonClub
00:34:19
00:03:59
03:34:22
00:02:00
01:14:01
05:28:43
05:28:43
+98:37
98.
82
Kevin
Gormley
m
M35-39
Lisburn TC
00:33:08
00:03:57
03:30:42
00:02:07
01:18:48
05:28:43
05:26:36
+98:37
99.
83
Karen
Hamilton
f
F45-49
Armagh Pikekickers Triathlon Club
00:32:00
00:04:38
03:28:46
00:02:17
01:21:01
05:28:43
05:27:31
+98:37
100.
86
Conor
Harte
m
M55-59
Lough Key TC
00:35:24
00:04:25
03:35:34
00:03:55
01:09:23
05:28:43
05:28:43
+98:37
101.
88
Harriet
Henderson
f
F30-34
247 TriathlonClub
00:28:33
00:01:31
03:08:08
00:01:30
01:48:59
05:28:43
05:27:53
+98:37
102.
91
Benoit
Houeix
m
M45-49
Galway TC
00:25:38
00:04:01
03:21:33
00:02:13
01:35:17
05:28:43
05:28:20
+98:37
103.
92
David
Hundley
m
M50-54
Tri an Mhi TC
00:29:04
00:05:58
04:10:26
00:00:31
00:42:43
05:28:43
05:27:52
+98:37
104.
93
Shane
Irwin
m
M45-49
Drogheda Triathlon Club
00:30:33
00:04:44
03:28:41
00:04:06
01:20:37
05:28:43
05:27:38
+98:37
105.
94
David
Jennings
m
M50-54
00:36:52
00:01:00
03:33:14
00:04:23
01:13:13
05:28:43
05:28:43
+98:37
106.
97
Dinesh
Kannan
m
M25-29
00:55:46
00:05:31
03:26:59
00:02:05
00:58:21
05:28:43
05:26:43
+98:37
107.
102
Isaac
Kerr
m
M25-29
00:30:43
00:04:23
03:11:27
00:02:50
01:39:20
05:28:43
05:27:41
+98:37
108.
103
Tommy
Kerrigan
m
M55-59
Northwest TC
00:31:34
00:03:08
03:11:36
00:02:20
01:40:04
05:28:43
05:27:43
+98:37
109.
106
Erik
Korba
m
M45-49
247 TriathlonClub
00:40:20
00:03:19
02:59:52
00:01:35
01:43:35
05:28:43
05:28:43
+98:37
110.
109
Kieran
Lappin
m
M45-49
Tri Limits TC
00:30:46
00:04:44
03:20:29
00:01:26
01:31:17
05:28:43
05:27:42
+98:37
111.
110
Yan Hei
Lau
m
M25-29
00:33:19
00:03:25
03:32:07
00:01:50
01:18:02
05:28:43
05:27:40
+98:37
112.
113
Paul
Little
m
M25-29
Lough Key TC
00:27:34
00:01:09
03:08:59
00:02:15
01:48:46
05:28:43
05:28:26
+98:37
113.
115
GARETH
LOGAN
m
M45-49
00:31:56
00:06:07
03:10:43
00:03:29
01:36:26
05:28:43
05:27:24
+98:37
114.
117
MARTIN
LUCAS
m
M40-44
Tri Limits TC
00:31:52
00:03:33
03:20:52
00:01:45
01:30:40
05:28:43
05:27:17
+98:37
115.
121
Niall
Mallon
m
M35-39
00:33:03
00:05:57
03:18:39
00:03:15
01:27:48
05:28:43
05:27:25
+98:37
116.
123
Philip
Marshall
m
M55-59
Lisburn TC
00:30:19
00:03:18
03:06:49
00:00:55
01:47:21
05:28:43
05:28:43
+98:37
117.
126
BRENDAN
MC BRIDE
m
M55-59
247 TriathlonClub
00:33:55
00:02:14
03:05:41
00:01:30
01:45:23
05:28:43
05:27:43
+98:37
118.
128
eamon
mc convey
m
M60
00:33:57
00:07:27
03:25:23
00:03:31
01:18:24
05:28:43
05:27:56
+98:37
119.
132
Ollie
Mc hugh
m
M50-54
00:43:58
00:04:34
03:30:47
00:04:11
01:05:11
05:28:43
05:28:43
+98:37
120.
133
Shaun
Mc Laughlin
m
M45-49
00:35:49
00:08:20
03:47:40
00:05:15
00:51:38
05:28:43
05:27:18
+98:37
121.
139
Kieran
McBride
m
M45-49
00:36:15
00:05:05
03:50:23
00:04:07
00:52:51
05:28:43
05:28:43
+98:37
122.
140
Niall
Mccabe
m
M50-54
00:32:39
00:02:06
03:04:21
00:01:36
01:48:00
05:28:43
05:28:43
+98:37
123.
141
STEPHEN
MCCANN
m
M35-39
Tri Limits TC
00:45:56
00:04:12
03:45:50
00:02:25
00:50:18
05:28:43
05:28:43
+98:37
124.
142
Martin
McConaghy
m
M45-49
00:35:17
00:08:01
03:31:54
00:04:06
01:09:24
05:28:43
05:27:47
+98:37
125.
147
Dominic
McDonnell
m
M50-54
Riada TC
00:34:16
00:04:49
03:42:47
00:03:14
01:03:36
05:28:43
05:27:25
+98:37
126.
148
Darryn
McDowell
m
M45-49
Lough Key TC
00:28:23
00:07:16
03:36:53
00:03:13
01:12:57
05:28:43
05:27:37
+98:37
127.
149
Aisling
Mcelroy
f
F45-49
Northwest TC
00:27:13
00:04:43
03:45:34
00:04:21
01:06:50
05:28:43
05:27:49
+98:37
128.
151
Ciaran
McGinley
m
M25-29
00:31:31
00:04:15
03:34:58
00:03:17
01:14:40
05:28:43
05:28:43
+98:37
129.
157
Arthur
Mcmahon
m
M50-54
00:35:31
00:07:24
03:44:40
00:08:50
00:52:16
05:28:43
05:28:20
+98:37
130.
158
Ian
McMichael
m
M35-39
Peninsula TC
00:34:57
00:05:19
03:32:24
00:01:59
01:14:03
05:28:43
05:28:43
+98:37
131.
160
Konrad
McNeice
m
M40-44
Armagh Pikekickers Triathlon Club
00:27:21
00:05:19
03:17:05
00:01:21
01:37:36
05:28:43
05:28:13
+98:37
132.
164
Mark
Meehan
m
M40-44
Newry Triathlon Club 2022
00:33:28
00:02:23
03:09:46
00:02:11
01:40:54
05:28:43
05:28:43
+98:37
133.
167
Gavin
Molloy
m
M50-54
Northwest TC
00:28:18
00:03:41
03:50:19
00:02:11
01:04:13
05:28:43
05:27:44
+98:37
134.
168
aaron
moore
m
M40-44
00:27:30
00:06:24
03:25:33
00:02:49
01:26:26
05:28:43
05:27:46
+98:37
135.
175
Adrian
Newton
m
M45-49
00:30:14
00:04:24
03:27:22
00:02:37
01:24:05
05:28:43
05:28:43
+98:37
136.
176
mark
nicell
m
M30-34
00:29:38
00:03:24
03:14:32
00:01:57
01:39:11
05:28:43
05:27:21
+98:37
137.
177
Rossa
Noonan
m
M30-34
00:33:10
00:03:44
03:14:04
00:01:11
01:36:32
05:28:43
05:28:43
+98:37
138.
179
Blane
O Donnell
m
M30-34
00:37:14
00:03:21
03:30:37
00:01:54
01:15:36
05:28:43
05:27:20
+98:37
139.
181
Aidan
O kane
m
M40-44
00:35:34
00:03:52
03:38:10
00:03:09
01:07:56
05:28:43
05:28:43
+98:37
140.
185
Susan
O'Neill
f
F35-39
Tri Limits TC
00:35:35
00:06:33
03:35:58
00:03:41
01:06:55
05:28:43
05:26:34
+98:37
141.
187
Matthew
Ormesher
m
M50-54
00:31:26
00:06:41
02:59:38
00:03:52
01:47:05
05:28:43
05:27:35
+98:37
142.
189
Patrick
Patton
m
M45-49
247 TriathlonClub
00:27:47
00:02:24
03:07:00
00:02:18
01:49:13
05:28:43
05:27:45
+98:37
143.
194
Niall
Quinn
m
M50-54
Tri Limits TC
00:33:40
00:03:56
03:22:46
00:01:48
01:26:33
05:28:43
05:28:43
+98:37
144.
195
Sean
Rafferty
m
M40-44
Setanta Triathlon Club
00:30:35
00:03:22
03:28:49
00:01:57
01:23:59
05:28:43
05:27:56
+98:37
145.
197
Adrian
Reavey
m
M45-49
00:29:13
00:04:39
03:03:22
00:02:48
01:48:39
05:28:43
05:27:51
+98:37
146.
199
Joe
Reid
m
M45-49
00:30:28
00:05:12
03:43:20
00:04:25
01:05:16
05:28:43
05:28:43
+98:37
147.
200
Stephen
Rice
m
M55-59
Tri Limits TC
00:37:06
00:01:37
03:34:16
00:01:27
01:14:16
05:28:43
05:27:42
+98:37
148.
201
Michael
Rodgers
m
M50-54
00:29:47
00:03:36
03:45:34
00:01:28
01:08:17
05:28:43
05:27:19
+98:37
149.
206
Emily
Sands
f
F25-29
Lisburn TC
00:24:30
00:02:25
03:23:04
00:01:54
01:36:48
05:28:43
05:28:16
+98:37
150.
211
William
Shiels
m
M50-54
00:43:00
00:01:48
03:16:15
00:02:10
01:25:29
05:28:43
05:28:43
+98:37
151.
213
Bartosz
Sokolowski
m
M40-44
00:28:15
00:02:15
03:02:38
00:01:52
01:53:42
05:28:43
05:28:15
+98:37
152.
214
Gareth
Strain
m
M40-44
00:25:17
00:06:03
03:13:52
00:02:41
01:40:48
05:28:43
05:28:29
+98:37
153.
216
Damien
Sweeney
m
M45-49
00:46:04
00:04:06
03:22:51
00:03:48
01:11:53
05:28:43
05:28:03
+98:37
154.
219
Naomi
Thorogood
f
F25-29
Triangle Triathlon Club
00:32:59
00:05:10
03:35:51
00:03:10
01:11:32
05:28:43
05:26:39
+98:37
155.
220
James
Toland
m
M20-24
00:29:39
00:06:04
03:08:18
00:02:42
01:41:59
05:28:43
05:26:27
+98:37
156.
221
Turlough
Tracey
m
M55-59
00:41:54
00:07:02
04:23:40
00:03:56
00:12:10
05:28:43
05:28:43
+98:37
157.
222
Gerard
Turner
m
M45-49
00:27:03
00:03:09
03:13:30
00:02:20
01:42:40
05:28:43
05:27:54
+98:37
158.
225
Gavin
Ward
m
M40-44
00:34:45
00:03:48
03:28:37
00:01:49
01:19:43
05:28:43
05:26:40
+98:37
159.
227
Paul
Watson
m
M45-49
Lisburn TC
00:33:23
00:04:15
03:14:21
00:05:08
01:31:34
05:28:43
05:26:25
+98:37
160.
228
Jamie
Westerman
m
M30-34
00:50:13
00:05:03
03:49:29
00:04:23
00:39:33
05:28:43
05:28:43
+98:37
161.
229
LEE
YORK
m
M50-54
Cuilcagh TC
00:26:46
00:01:15
03:11:28
00:03:12
01:46:00
05:28:43
05:28:28
+98:37
162.
250
GGG
GGG
Relay
00:36:55
00:01:04
03:28:00
00:01:55
01:20:48
05:28:43
05:27:23
+98:37
163.
251
Skiers
Skiers
Relay
00:33:25
00:00:43
03:34:50
00:01:05
01:18:39
05:28:43
05:28:24
+98:37
164.
252
SLCC
SLCC
Relay
00:37:35
00:00:49
03:15:39
00:01:11
01:33:28
05:28:43
05:26:46
+98:37
165.
13
Ciaran
Boyle
m
M35-39
00:51:12
00:04:50
03:39:38
00:04:15
02:05:13
06:45:09
06:45:09
+175:02
166.
120
Barry
Mairs
m
M45-49
00:38:09
00:03:53
03:22:25
00:02:53
05:59:22
10:06:44
10:04:53
+376:37
167.
48
Garrett
Doherty
m
M40-44
247 TriathlonClub
00:33:06
00:02:13
03:09:30
00:00:47
168.
173
Joan
Murphy
Relay
00:25:21
00:00:41
03:24:33
00:00:33
169.
42
Luke
Daly
m
M35-39
00:28:12
00:02:10
03:20:17
00:02:03
170.
50
Gavin
Doherty
m
M40-44
00:30:01
03:22:58
171.
198
Chris
Regan
m
M40-44
Peninsula TC
00:31:48
00:04:43
03:34:55
00:03:37
172.
72
Monica
Gallagher
f
F55-59
00:48:51
00:05:41
04:39:16
01:17:41
173.
85
Andy
Harrington
m
M35-39
08:48:18
174.
218
Robert
Thompson
m
M40-44
10:04:43
175.
138
Neil
McBride
m
M40-44
10:05:00
176.
163
Gregory
Mcwilliams
m
M45-49
10:06:36
177.
101
Conor
Kelly
m
M35-39
DB Triathlon Club
10:15:29
178.
170
John
Morris
m
M40-44
Omagh TC
10:16:08
179.
144
Neil
McCready
m
M45-49
Brown Shoes TC
00:27:34
00:02:48
02:57:57
180.
100
Gerard
Kelly
m
M50-54
03:52:38
03:11:12
181.
79
Peter
Gilmore
m
M35-39
Narrows Triathlon Club
00:31:12
00:03:20
182.
5
kieran
beattie
m
M55-59
00:44:14
00:05:41
183.
146
Richard
Mccullough
m
M35-39
10:04:21
184.
136
Sean
Mc sorley
m
M35-39
Armagh Pikekickers Triathlon Club
10:23:35
185.
224
Thomas
Walsh
m
M40-44
10:38:24
186.
145
John
McCreesh
m
M45-49
Newry Triathlon Club 2022
10:47:29
DNF
26
Chris
Cleary
m
M45-49
Narrows Triathlon Club
00:30:36
00:04:40
03:15:42
00:03:09
01:05:41
04:59:50
04:58:18
+69:43
DNF
122
HERMAN
MANSO
m
M50-54
Lisburn TC
00:58:20
01:50:17
00:02:27
02:36:02
03:50:06
03:49:12
+0:00
DNF
196
Peter
Ramsey
m
M30-34
00:58:21
02:21:06
00:55:49
03:50:06
03:48:45
–
DNF
2
Mark
Adair
m
M40-44
Riada TC
00:28:19
00:02:32
01:15:31
00:01:55
DNF
3
Ryan
Bankhead
m
M45-49
Riada TC
10:07:54
DNF
32
Becky
Coughlan
f
F40-44
West Clare Triathlon Club
00:27:33
00:01:49
DNF
56
Martin
Donnelly
m
M50-54
247 TriathlonClub
00:02:14
DNF
99
Jackie
Kelly
f
F40-44
00:28:16
00:02:31
DNF
108
Darran
Lagan
m
M45-49
Omagh TC
00:27:07
00:02:03
DNF
111
Pauline
Leith
f
F55-59
Wicklow TC
04:42:22
DNF
112
Rosemary
Leith
f
F60-64
Wicklow TC
04:38:32
DNF
182
Martin
O reilly
m
M40-44
Setanta Triathlon Club
00:31:25
00:01:45
03:11:24
00:02:15
DNF
183
Lorraine
O'Neill
f
F50-54
Armagh Pikekickers Triathlon Club
00:43:57
DNF
192
Marc
Power
m
M40-44
00:32:12
00:03:21
03:56:32
DNF
204
Mark
Rushby
m
M50-54
Peninsula TC
00:27:56
00:01:34
DNF
210
David
Sheedy
m
M30-34
Mallow TC
00:28:11
00:04:58
DNF
226
Lewis
Waterworth
m
M45-49
Peninsula TC
10:26:56
03:25:25
06:35:07