Sponsored Post
Everyone is in good spirits in Crolly this summer after the opening of an impressive new distillery visitor centre and tour experience.
Crolly Distillery opened to the public on 4th July, sharing a sip of Donegal's rich heritage with visitors from near and far.
Located in Croithlí, County Donegal, set between the Wild Atlantic Coast and the majestic Derryveagh mountains including the stunning Errigal, the distillery home is a historic building constructed in 1901. This beautifully restored stone-cut building houses Donegal's first functioning licensed whiskey distillery in 180 years.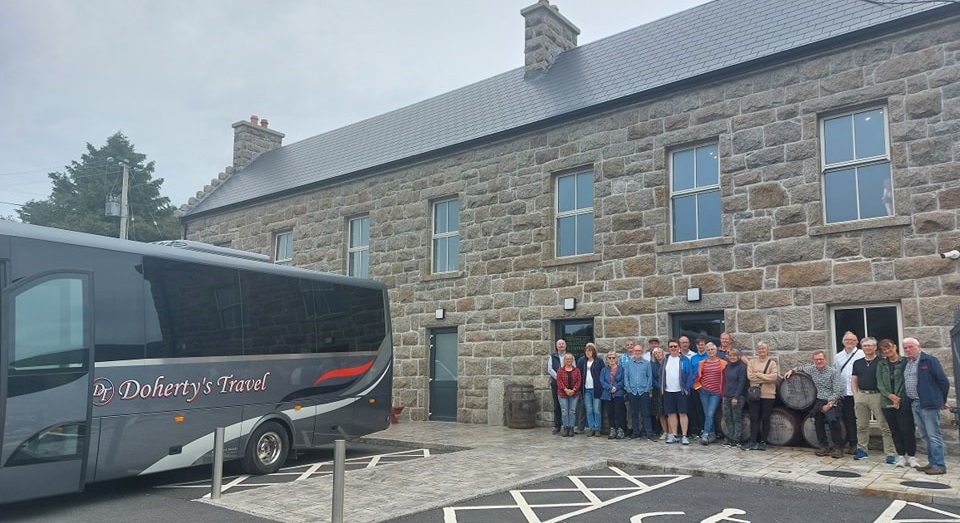 Joe Devenney from Annagry, Conor McMenamin from Ballybofey and Kieran Davis from Letterkenny are the men behind the exciting Donegal whiskey revival project.
In keeping with local Gaeltacht distilling tradition, they use direct fired pot stills in the double distillation, sourced in the Cognac region and refurbished to produce beautiful spirit in Croithlí.
Recently opened, the Croithlí distillery experience captures the essence of Donegal Gaeltacht whiskey, generating excited anticipation, appreciation and connection to the people, culture and place that is west Donegal.
Through a stunning audio-visual presentation, stories of local mythology, hardship, and the many past lives of the historic building are told. Donegal's unique connection to the invention of whiskey is outlined, while the art and science of whiskey making is conveyed by knowledgeable tour guides; satisfying the whiskey enthusiast's quest for information yet creating intrigue for those not familiar with whiskey.
Tastings include the new Coillín Darach oak species series – Sessile, Quercus Alba, Quercus Robur, and small batch exclusive releases.
Now open to the public, the tours will commence every 30 minutes lasting approximately 75 minutes.
Tour packages range from single to multiple whiskey and new spirit sampling. Pricing for single adults range from €19 to €27 with family and group packages available.
Book online through thecrollydistillery.com or contact reservations@thecrollydistillery.com
Tags: