Four teachers from St. Baithin's N.S. in St. Johnston will be making the journey to Florence this week on an Erasmus + funded course.
The teachers (pictured below), Annmarie Meehan, (School Principal), Avril Gallagher (coordinator), Aoife Mc Ginley and Aoife Devenney will be participating in a Creative Drama to Foster Participation Amongst Children course.
The main aim of the course is to teach the children to act in a group, respecting the opinions of others, working together to create stories and participating in pair and group work following the values of inclusion, tolerance, and solidarity.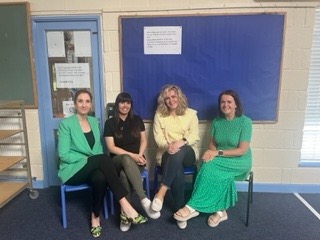 The project coordinator, Avril Gallagher, said: "These courses are invaluable for teachers, not alone to upskill but also to share and gain expertise through engagement on an experiential course such as the drama course with our European counterparts.
"After Covid, we found that children were anxious about returning to school but we used the skills and knowledge that we had acquired through another Erasmus course, Art as Therapy, which we had completed pre-Covid, to help with the anxieties of some of our pupils."
Aoife Mc Ginley, who teaches in one of the ASD classrooms in the school has observed the benefits of drama with her pupils and is very excited about the prospect of gaining more experience in Drama as a means of inclusion.
"I can see first-hand the confidence that it instils in the pupils and how it enables them to use their imagination and encourages participation in a fun way," she said.
Annmarie Meehan, the school principal, said: " It is a great opportunity to meet with our European colleagues and to experience this exciting new course with teachers from many schools across Europe and to bring these new skills back to our own school in September.
"We are very grateful to the National Agency Leargas, who have guided us in the application process with Erasmus +, their help has been invaluable."
Tags: