As we head into the fourth and final round of the Donegal SFC, we've had a look at what results are needed for teams to avoid the bottom four and to reach the quarter-finals.
Kilcar, St.Eunans, Gweedore and Aodh Ruadh have already qualified for the quarter-finals having won all three games they have played so far.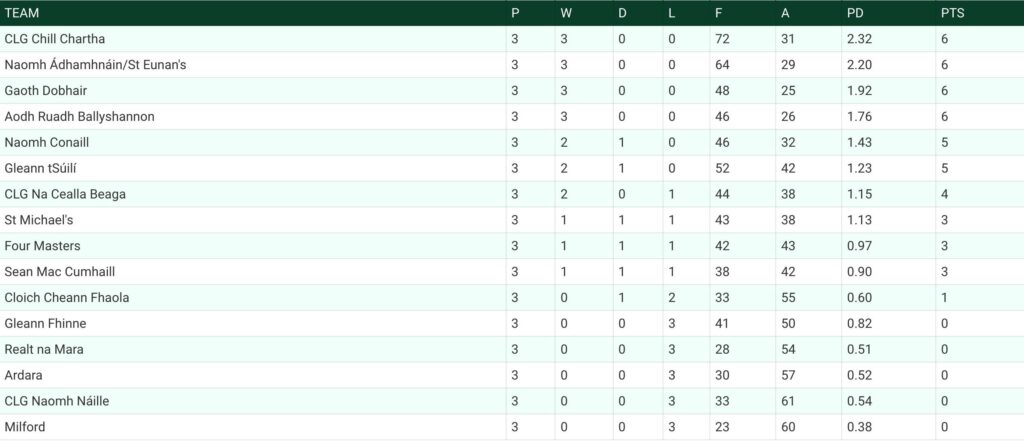 Kilcar and St.Eunans have been dominant in all three, scoring heavily and not conceding much.
They travel to Bundoran and MacCumhaills respectively on Sunday and will want to win to secure the two top spots on the league table.
Third place Gweedore beat both Ardara and MacCumhaills comfortably in Magheragallon but just squeezed through by a single point away to Glenfin.
They host Naomh Conaill in the match of the day on Sunday.
The Glenties men must win to ensure a top eight spot, the five points they already have will probably be enough but the prize of a top four finish is also on the table if the win.
The draw has been kind to Aodh Ruadh with home wins over Bundoran and St. Nauls and a narrow away win in Ardara. They travel to Milford on Sunday and will be expected to make it four out of four wins.
If Naomh Conaill beat or draw with Gweedore, the Ballyshannon men could snatch third spot.
Glenswilly have done well so far with wins over Glenfin and St.Naul's and a draw with Naomh Conaill.
Victory or a draw away to Ardara on Sunday will secure their quarter-final spot , although like Naomh Conaill, the five points they already have will probably be enough to see them through.
A win away to Cloughaneely will see Killybegs in the top eight as home wins over Glenfin and Milford have them well placed but Sunday's is a tricky test against a team already certain to be in the bottom eight but looking for the boost of a win here before that challenge begins.
So if the four already qualified are joined by Naomh Conaill, Glenswilly and Killybegs, that leaves three teams fighting for the last top eight spot, St.Michaels , Four Masters and MacCumhaills, all currently on three points.                                       St.Michaels head south to meet St.Nauls knowing a win could do it as their scoring average is better than the other two and that both of them have tricky assignments on Sunday.
MacCumhaills host St.Eunans who would will want to finish no worse than second in the table, so will be all out to win.
Four Masters travel to meet Glenfin, who are without a win but a scoring difference of just -9 shows they have been close in all three defeats.
Of course all three teams on three point will know that if Cloughaneely were to beat Killybegs there would be two places in the top eight available for those on three points.
So while the teams currently in the top four spots certain to advance, and Naomh Conaill and Glenswilly with five points and a good scoring difference expected to join them, the battle for the final two top eight spots has four teams still in contention, Killybegs, St.Michaels, Four Masters and MacCumhaills.
The two that dont make it will join Cloughaneely, Glenfin, Ardara, St. Nauls,  Bundoran and Milford in the battle to avoid relegation from the Senior Championship.
An interesting Sunday afternoon ahead.
Finishing position is important as it with determine who each sides last eight opponents will be, as it's 1 v 8 , 2 v 7, 3 v 6 , 4  v  5.
All Senior Championship games throw-in at 3-00pm , preceded by Senior Reserve at 1-30pm.
Sunday, 4th September
Sean Mac Cumhaill's vs St Eunan's
Realt Na Mara vs Kilcar
St. Naul's vs St. Michael's
Milford vs Aodh Ruadh
Glenswilly vs Ardara
Glenfin vs Four Masters
Naomh Conaill vs Gaoth Dobhair
Cloughaneely vs Killybegs