Birdwatchers in Donegal have been given a rare treat after coming across a rare all-white swallow.
The bird, which is located at Inch Island outside Burt, has caught the attention of the public.
Normally swallows are black/blue with a white front but this rare specimen is almost entirely white.
In fact, the chances of a swallow being all white are one in several million.
It is believed the bird has a condition known as leucism which is a genetic mutation which prevents pigment from going into the bird's feathers.
Niall Hatch of Birdwatch Ireland said the bird is extremely rare but unfortunately may not make it back to Ireland once in migrates to southern Africa in the coming weeks.
As well as having more brittle feathers it will also be open to many more predators because of its bright colours on its huge journey.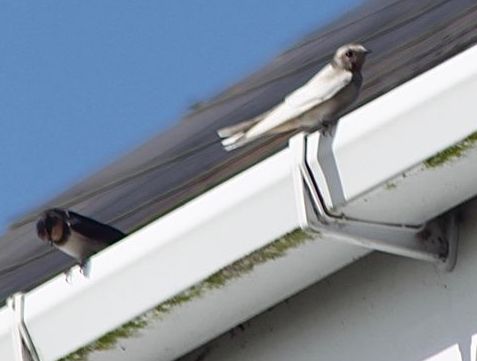 Mr Hatch said "Unfortunately I'd be very surprised if it managed to make its way back to Donegal or Ireland next year when it migrates shortly.
"It is leucistic and not an albino because it is not completely white and so its eyesight should be okay.  However, because of its white feathers it will be more prone to attack from predators.
"I would love to see it return as it is a lovely bird and it is very rare but unfortunately it may not get the chance to return."
Mr Hatch confirmed the bird was born locally as it does not have its adult feathers yet.
The rare swallow was first spotted by Stephen Blair who has been monitoring the bird in recent weeks.
Mr Blair said he was hopeful the rare swallow make sit back to Donegal next year against the odds.
"I always have loved birds and swallows in particular and look forward to them arriving back every year. Hopefully this one makes it back from Africa and breeds here on Inch next year," he said.