Six Donegal influencers have teamed up to help raise awareness about men's health for Movember.
Micheál Brennan (Donegal Daddy), Paddy Browne (The Viking Dippers), Kevin Dooher (The Wild Atlantic Traveller), Donal Kearney (Donegal Donal), Ethan Kelly (Donegal Ethan) and Steve Horan (FPL Fairy) are taking on the annual global Movember challenge by growing their moustaches for the month of November.
Dubbed the "Mo Bros", the group is using their social media platforms to share awareness about men's health and issues such as mental health, men's suicide and prostate and testicular cancer. To date, they have raised over one thousand euro for men's charities. As well as growing their creative beards and moustaches, the group is also taking on a challenge of doing 100 push ups a day.
At the end of the month, the Mo Bros will host a Walk and Talk event. Taking place on Sunday 27th November at 11am at Errigal mountain, Walk and Talk is the perfect opportunity for people to get out and meet others to mind their mental health. The event is free but people can donate on the day.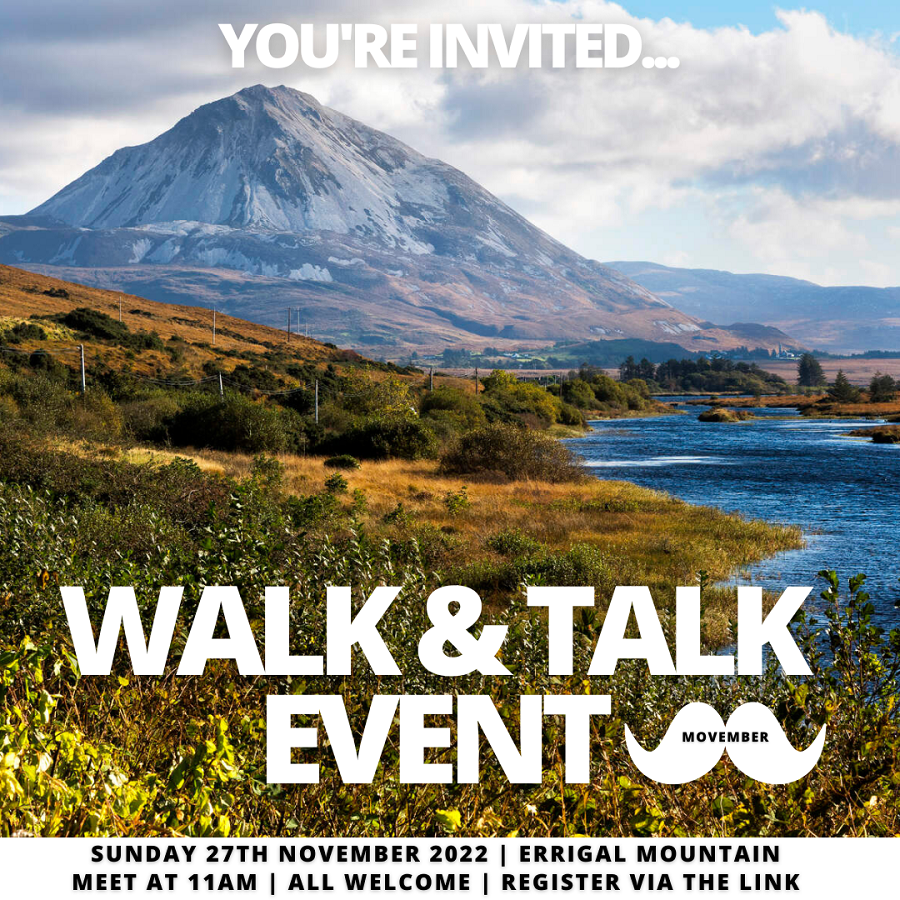 Encouraging people to donate and to join the Mo Bros for the Walk and Talk event, Paddy Browne from The Viking Dippers said: "Movember is all about raising awareness about men's health and encouraging men to open-up and talk. In my opinion men have always been a little bit shyer about talking about issues, particularly health issues, so if the work we're doing encourages men to be more open, then it's an amazing cause! I contacted all the guys and asked them if they'd be interested in taking on the Movember challenge with me and I'm delighted that it has gained the momentum it has.
"The Walk and Talk event on Sunday 27th is a great way for people to get out and about and meet new people. It's for people of all abilities and we'll be taking it slow so we can catch-up and have a chat with people. Everyone is welcome but we'd encourage people to use the link to register in advance – eventbrite.ie/e/movember-walk-talk-tickets-463705905847."
Letterkenny native, Kevin Dooher, is behind the Instagram account The Wild Atlantic Traveller.
Speaking about why he wanted to get involved with Movember Kevin said: "One of the reasons I chose to accept the Movember challenge was from my own experiences of keeping my feelings locked up and trying to fight them myself. I realised that it's ok to speak up and that there is help out there. Without going into too much detail I found it hard to speak up about my struggles at the start and how I was not coping with life, but after reaching out to health care professionals, I got the help I needed. So far, I am doing great, and I am not ashamed to be open about my experience. I'd encourage everyone to get involved with the Walk and Talk and if you can donate even €5, it's going to a great cause."
To register for Walk and Talk visit eventbrite.ie/e/movember-walk-talk. The group will meet at 11am, taking off at 11.30am. It's advised to wear comfortable and warm clothing and appropriate footwear. To donate to the Mo Bros Movember campaign, see https://ie.movember.com/team/2410126