Bonagee United held their underage presentations during the week for their respective players of the year, most improved players, and top goal scorers.
It was a successful year for the clubs underage teams, especially the under-18 team that won the treble.
Joe Boland was at the presentation to photograph the winners.
Bonagee Utd Under 12 (Athletic):
Sean Price (Top Goalscorer)
Michael Shevlin (Player of the Year)
Conor McBride (Most Improved)
Bonagee Utd Under 12 (Arcade):
Shane Reynolds (Top Goalscorer)
Shay Doherty (Most Improved)
Kyle Carr (Players Player)
Max Doherty (Player of the Year)
Bonagee Utd Under 12 (Utd):
Cathal Doherty (Top Goalscorer)
Lewis Gallagher (Most Improved)
Cahir Daly (Players Player)
Oscar Doherty (Player of the Year)
Bonagee Utd Under 14 (Arcade):
Ultan Friel (Top Goalscorer)
Daniel Kelly (Most Improved)
Ben Lynch (Player of the Year)
Bonagee Utd Under 16 (Arcade):
Caolan McGarrigle (Top Goalscorer)
Zack Harvey (Most Improved)
Ryan Bradley (Player of the Year)
Bonagee Utd Under 16 (UTD):
Shay Hegarty (Top Goalscorer)
Darragh Hume (Most Improved)
Michael Mulraine (Player of the Year)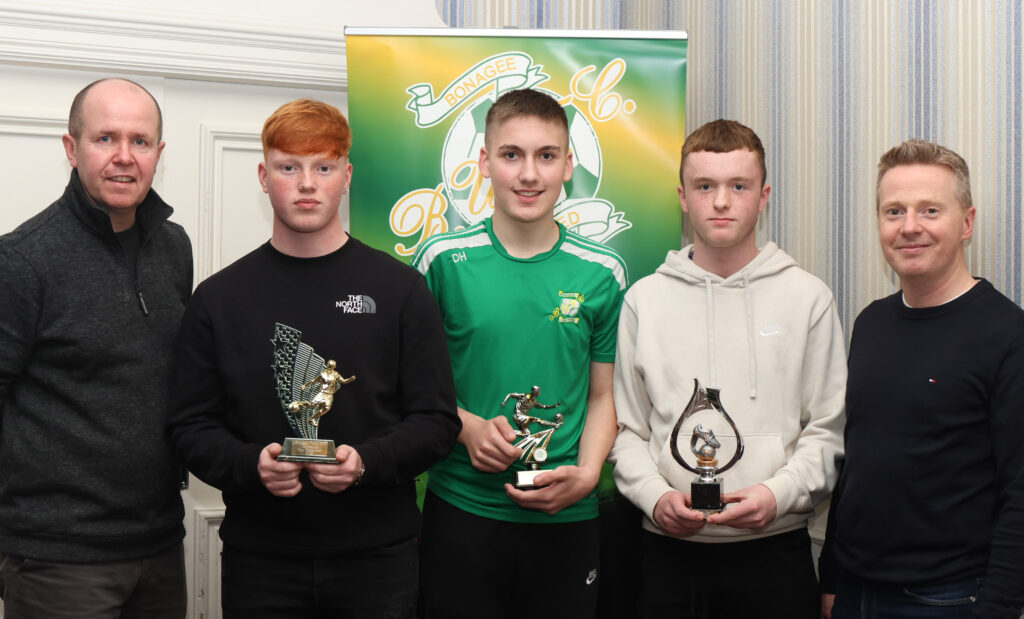 Bonagee Utd Under 16 (UTD) prizewinners Shay Hegarty (Top Goalscorer), Darragh Hume (Most Improved), and Michael Mulraine (Player of the Year) at the clubs presentation evening with their coaches. (NW Newspix)Bonagee Utd Under 18:
Josh Maxwell (Top Goalscorer)
Matthew Gobsin (Players Player of the Year)
Darragh Hegarty (Player of the Year)
Bonagee Utd Under 14 (UTD):
Ronan Bunchanan (Top Goalscorer)
Zack Flanagan (Most Improved)
Harry Doherty (receiving the Player award on behalf of Oisin Feeney)
Bradley Boyle (Player of the Year)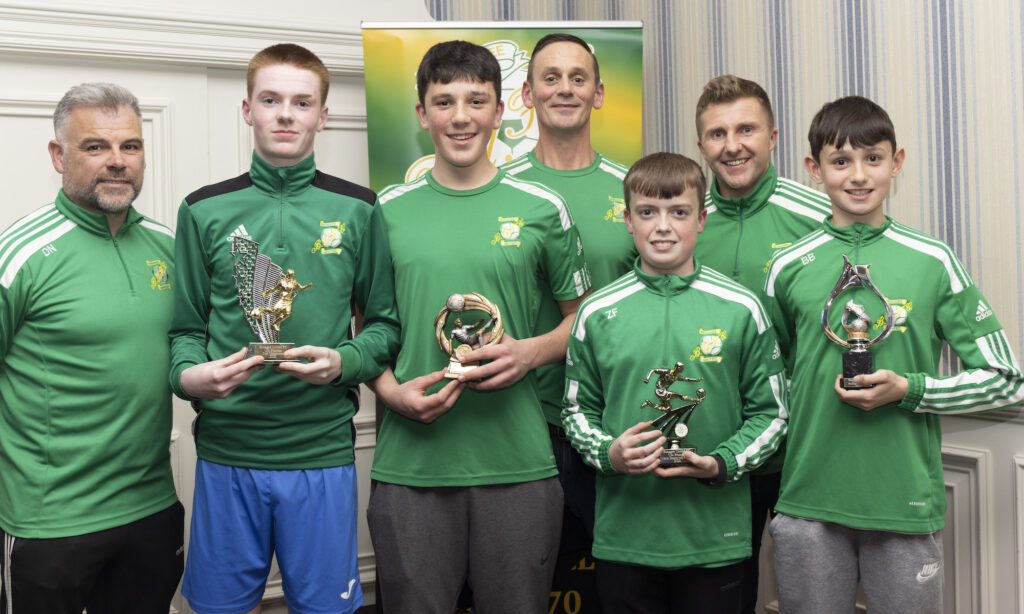 Bonagee Utd Under 14 (UTD) prizewinners Ronan Bunchanan (Top Goalscorer), Zack Flanagan (Most Improved), Harry Doherty (receiving the Player award on behalf of Oisin Feeney) and Bradley Boyle (Player of the Year) with coaches at the clubs presentation evening. (NW Newspix)