The Heritage Town of Raphoe sparkled at the flick of a switch yesterday evening when all the trees in the Diamond lit up to celebrate Christmas. 
This year the local community and businesses gathered at the Volt House Community Resource Centre for the annual Christmas Lights Celebration. 
The tree lined Diamond has become the focus of the festive season in Raphoe since 2018. The trees were planted over 100 years ago in memory of the 42 men
from the town who did not return home from WW1. The lights wrapped around each tree throw a sparkle across the Diamond at Christmas.
Chairperson of Raphoe Community In Action, Mary Harte, thanked the businesses and local people who supported the annual lights appeal. 
She also paid tribute to Raphoe Tidy Towns and all at the Volt House Resource Centre who helped bring the Christmas spirit to the town this year. 
She said that the lighting up of the trees in the Diamond had a unique significance for the community and asked everyone to remember absent family and friends
in a good way. 
"Raphoe has had a facelift this year, paved walkways, seating and a wonderful green space along with the painting of facades of dwellings and businesses," Ms Harte said. 
"We should all celebrate with pride the Raphoe Heritage Town this Christmas." She wished everyone a happy, healthy and warm Christmas, 'with a flurry of snow for Santa on Christmas Eve'.
Canon Dinny McGettigan, former parish priest in St. Eunan's in Raphoe switched on the lights this year. 
Canon Dinny has lived in Raphoe for almost 30 years and a much loved and
popular member of the community. He urged everyone to embrace the spirit of Christmas and to be a beacon of light to others through care and support for those in need.
Christy Murray entertained the gathering with some Christmas tunes on the flute along with Thresa Duffy and Sinead Crawford, who sang Christmas carols.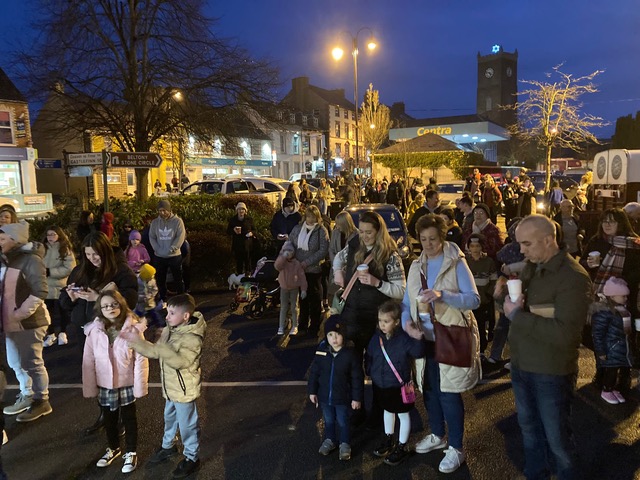 Tags: