The 'Celtic Sleep Out' in the Rosses last weekend has raised over €20,000 for charities in Ireland, including the Creeslough Support Fund and the Annagry Saint Vincent De Paul.
The event took place on a bitter cold night at the Naomh Muire GAA club in Mullach Dearg on the 3rd of December as part of this year's Celtic FC Foundation Christmas Appeal, from which a portion of the proceeds raised will be donated to assisting those affected by the Creeslough tragedy, over the festive period.
Every penny/cent secured through this event will be spent directly in Ireland, to support those most in need within a number of communities via their Irish charity beneficiaries – Women's Aid Dublin, Women's Aid Belfast & Lisburn, Annagry Saint Vincent De Paul and the Irish Red Cross Creeslough Community Support Fund.
The group, who camped outside from 10pm until 6am the following morning, was a mix of individual supporters and representatives from CSCs across the country including the Rosses, Ballymena Shamrock, Coalisland, Laois, South Derry and Tyrone No.1.
Collectively, participants are on course to raise a phenomenal total in the region of £19K/€22K across all platforms, from justgiving, to PayPal, and Facebook, for the 2022 Christmas Appeal.
However, fundraising is ongoing and there's still time to support the Donegal Sleep Out team by making a donation HERE.
The Rosses area holds special historical significance to Celtic Football Club, having provided the first sod of turf to be laid at the new Celtic Park and participants headed along to visit a plaque commemorating the gift of this sod and heard a few words from a member of the Rosses CSC who had travelled over with it in 1995.
The proceedings began with a fantastic Q&A session with Donegal GAA legend and former Celtic coach, Jim McGuinness, who shared some wonderful insights into his time working within both sports.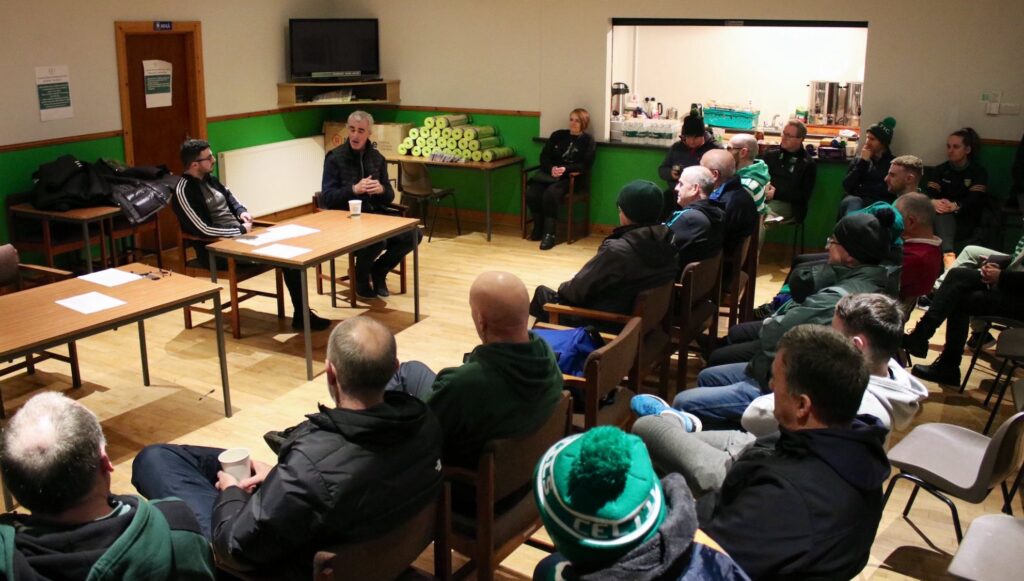 This was then followed by award-winning country and folk music artist Sina Theil who came up from Kildare and played for an hour before joining the sleep out.
A spokesperson for the Celtic Foundation said: "We offer special thanks to our friends at The Association of Irish Celtic Supporters' Clubs, the Rosses CSC, the Association of Donegal Celtic Supporters and our fantastic hosts at GAA club Naomh Muire Íochtar Na Rosann. Without their support, generosity, advice and assistance, the event simply wouldn't have been possible.
"We also offer thanks to two local supermarkets who kindly provided tea, coffee and biscuits to keep the group going through the night plus breakfast for each participant in the morning.
"Last but by no means least, we thank all of our Sleep Out participants for their incredible efforts, and also all of those who very kindly supported them. The proceeds from this event will play a vital role in helping to deliver this year's Christmas Appeal, particularly in Ireland.
"Through our Appeal, we want to give hundreds of families in our communities the Christmas they deserve, making sure there's food on the table and gifts under the tree.
"We also aim to help pensioners, women and children in refuge, the homeless community and refugees – as well as a whole host of others facing poverty and hardship."