Following on from an absence of two years, 'Scoil Gheimhridh Ghaoth Dobhair', makes a welcome return to this year's Christmas holiday season.
There will be a variety of events that would whet the appetite of any aspiring musician or fan of traditional Irish music.
"Scoil Gheimhridh Ghaoth Dobhair" happens in the stunning surroundings of the northwest Donegal Gaeltacht.
Formerly known as "Scoil Gheimhridh Frankie Kennedy", it is without question one of the highlights in the traditional Irish music calendar, where people travel from near and far!
There will be numerous workshops over 4 days from the 28th to the 31st December 2022, for a wide variety of traditional Irish instruments, song and dance from some of the most respected musicians in the country.
They include acclaimed Uilleann Piper, Louise Mulcahy and Concertina player, Noel Hill. Others tutors include Mairéad Ní Mhaonaigh, Conor Connolly, Ciarán Ó Maonaigh, Clare Friel, Mairéad Ní Mhaonaigh, Bríd Harper, Síle and Anna Friel, Conal O'Kane, Marty Barry and Diane Cannon + many more!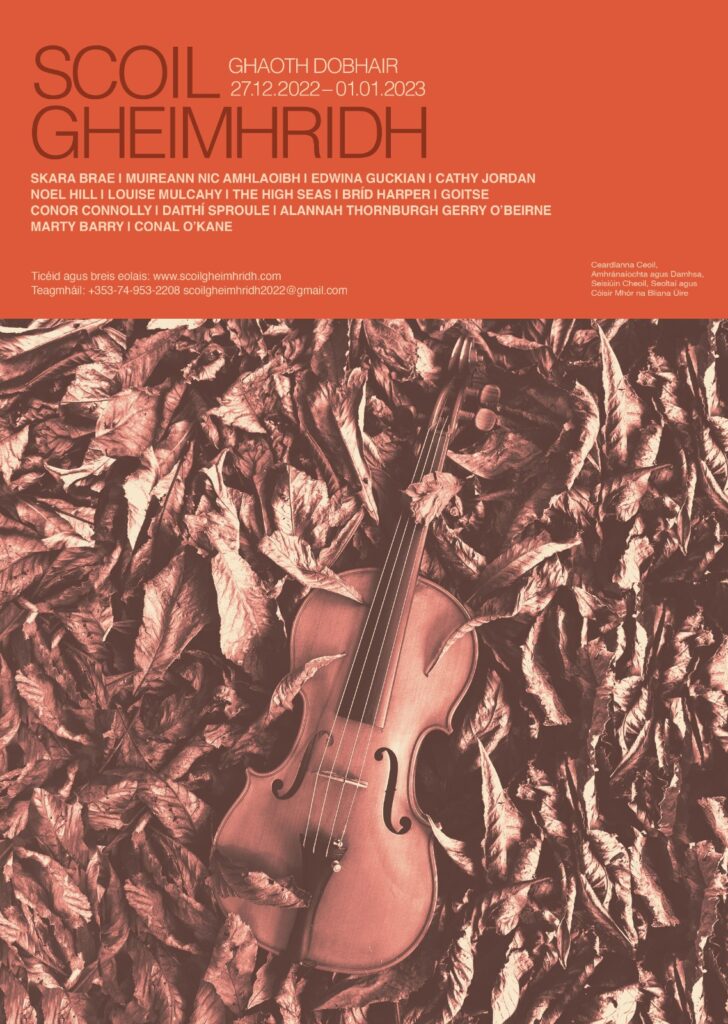 This years' concert series consists of an array of acclaimed acts, including Skara Brae, featuring Maighréad and Tríona Ní Dhomhnaill and Daithí Sproule. 2022 marks 50 years since their self-titled recording, which is one of the most influential traditional recordings of our time and has been a source and inspiration for lovers of songs from the Donegal Gaeltacht.
Edwina Guckian will be hosting a night of music and dance 'Damhsa Timpeall an Tí', featuring over 20 dancers from across Ireland as they welcome you into their house dance, knocking sparks from the floor to the music of Cathy Jordan, Padraig McGovern, Stephen Doherty and David & Patrick Doocey.
As a tribute to a great friend of "Scoil Gheimhridh Ghaoth Dobhair", we honour the memory of the great Jimmy Campbell. On the night we remember the man through music, stories and craic. Along with some of his many musician-friends, Ciarán Ó Maonaigh will be hosting what promises to be very special concert.
We are also delighted to announce the welcome return of our annual New Years' Eve Party, 'CÓISIR MHÓR NA BLIANA ÚIRE' with trad super group, Goitse. This event is being presented with support from "Meitheal Pleanála Teanga an Iarthuaisceart".
There are many more events to choose from with something to suit all tastes. More details can be found on our website; www.scoilgheimhridh.com
Events will take place in various venues including Pobalscoil Ghaoth Dobhair; Amharclann Ghaoth Dobhair; Teach Hiúdaí Beag; Teach Jack, in Glassagh, and CLG Ghaoth Dobhair.
There will also be "Session Trails" around various pubs in Gaoth Dobhair during the festival, with each pub hosting a trad session in its own unique setting.
The following workshops will be available: Flute, Fiddle, Uilleann Pipes, Tin-Whistle, Harp, Banjo / Mandolin,
Button / Piano Accordion, Sean-nós dancing, and singing, concertina, bouzouki/guitar, and Master-class in guitar accompaniment from Derry musician and member of Altan, Daithí Sproule.
Full details of all events are available on www.scoilgheimhridh.com, where you can also purchase tickets. You can also call: 074 956 0679, or email scoilgheimhridh2013@gmail.com
Scoil Gheimhridh Ghaoth Dobhair are grateful to be receiving annual funding from the Arts Council of Ireland.