Two goals inside a minute at the beginning of the second-half by Kealan Dunleavy and Daithi Gildea ensured that Glenswilly would be crowned Champions.
Glenswilly 2-6 Glenfin 0-3
By Charlie Collins
This Under 21B  Final was switched from O Donnell Park to The Bridge in Dunfanaghy as the frost had not fully cleared from the Letterkenny venue on Sunday morning.
The teams had an excellent surface to play on but very difficult conditions to deal with as a very strong wind blew straight across the pitch, meaning neither team would have an advantage.
It was the 11th minute before we got the first score, Daithi Gildea putting Glenswilly , who had dominanted , ahead with a good score from play.
It was evident, even at this early stage, that any scores would be hard won.
It took another seven minutes before we had the next score, a free from Gildea to put Glenswilly two up in the 18th minute.
They doubled that lead in the next two minutes, Conor McGinty pointed from 25 yards and then Gildea kicked a brilliant point, his third, from a very narrow angle, using the wind to super effect.
Four minutes later it was 0-05 to no score when Kealan Dunleavy, who had been quiet up to that, kicked an excellent long range point.
There was near disaster for Glenfin two minutes later when Conor McGinty robbed the ball from a defender and when his attempted shot dropped shot Gerard Shiels out jumped keeper Campbell to fist goal wards and it took great work from retreating corner-back Darragh Carroll to kick the ball off the line.
It was 0-05 to 0-00 to Glenswilly at half-time.
We had an incredible start to the second-half with two Glenswilly goals inside a minute. Kealan Dunleavy tapped the throw-in down to Jack Gallagher, took the return pass, raced forward and blasted the ball to the bottom corner. Straight from the kick-out Emmet O Boyle again won possession, raced goalwards and flicked a pass to Daithi Gildea who drilled it to the net , 2-05 to 0-00 and game over one world think.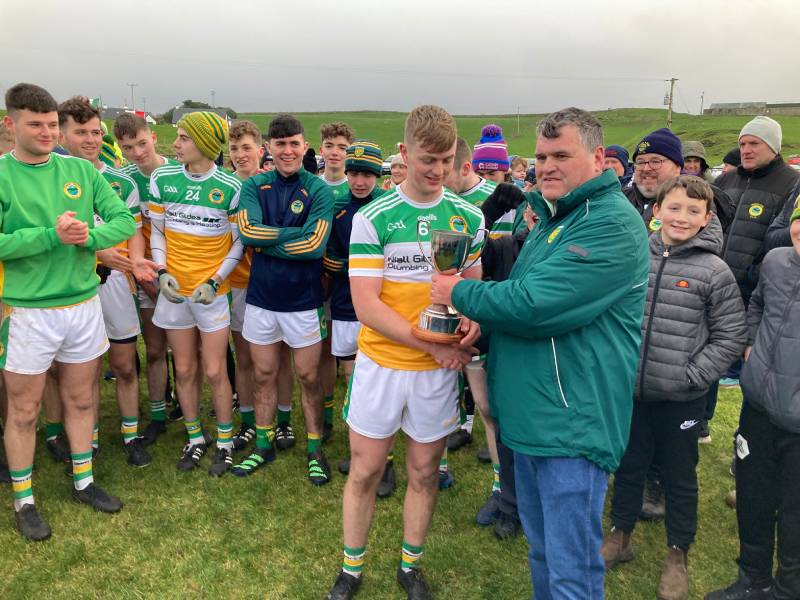 And so it proved, as the game became a case of Glenswilly looking like they were happy with what they had and that allowed Glenfin to get a little more time on the ball but never looking like they could the big gap between the teams. Luke McGlynn finally got them on the scoresheet in the 37th minute, Dunleavy replied with a Glenswilly free to leave it 2-06 to 0-01.
Kaine McGlynn and Luke McGlynn added late Glenfin points but after those two goals inside a minute at the beginning of the half the result of this one was never in doubt and Glenswilly were impressive County Under 21B Champions.
Glenfin: Niall Campbell; Niall Doherty, Jack Ó Mearlaigh, Darragh Carroll; Eoin McGarrell, Odhran McGlynn, Ross Bradley; Jack Long, Kaine McGlynn (0-01),  Daneil Marley, Matthew Wootton, Shaun Marely; Odhran O'Connor, Gavin McCormick, Luke McGlynn ( 0-01).
Subs: Josh Bradley , Shaun Ward , Conor McMenamin , Adam Marley.
Glenswilly: Caolan Curran; Jake Kelly, Sean Collum, John Lapsley; Sean Gallagher, Jack Gallagher, Oisin McDaid; Kealan Dunleavy ( 1-02 )  , Darragh Enright; Gerard Shields, Emmet O'Boyle, Jamie McCauley; Daithi Gildea ( 1-03 ), Conor McGinty ( 0-01 ), Donal Gallagher.
Subs used: Gary Kelly, Mark Bonner, Luke Toye.
Referee: Marc Browne (Four Masters).