There were celebrations in Deele College in Raphoe this week as 5th Year student Caoimhe Parke was announced as the national winner of the Europe Direct Soap Box Award.
Caoimhe, who won the regional stage of the competition in Letterkenny Library went forward as the Europe Direct Letterkenny representative in the sixteen and under category and her three minute speech on the topic of, 'Is Europe listening to its young people?' was deemed to be the overall winner.
The event, which was live streamed via the Libraries Ireland YouTube channel showcased the presentations of students from around the country in two age categories and a panel of four judges, chaired by Paula Butler, scored the students out of one hundred on four main categories. These categories were; content and evidence of preparation, presentation and delivery, structure and clarity and the impact of the presentation.
This annual competition gives students the opportunity to speak publicly on issues that affect young people in today's society, while recognising the role of the EU in Irish society. It is apt that this year is the European Year of Youth, as the parliament acknowledges the difficult time felt by young people who have come through the Covid-19 pandemic.
The award ceremony was addressed by a number of notable speakers, such as Minister for Rural and Community Development, Heather Humpreys and Irish MEPs, Ciaran Cuffe, Grace O'Sullivan and Chris McManus. All four speakers commented on the excellent presentations and the articulate voices of the competitors.
Having already won an Ipad Air in the regional finals, Caoimhe will also receive a thousand euro gift voucher in recognition of her win on the national stage.
School principal, Mr Joe Boyle says that he is delighted for Caoimhe, who he says is a credit to herself and her family.
"We are absolutely delighted that Caoimhe has won this prestigious award and it is a great day for Deele College to have a student winning national awards in public speaking.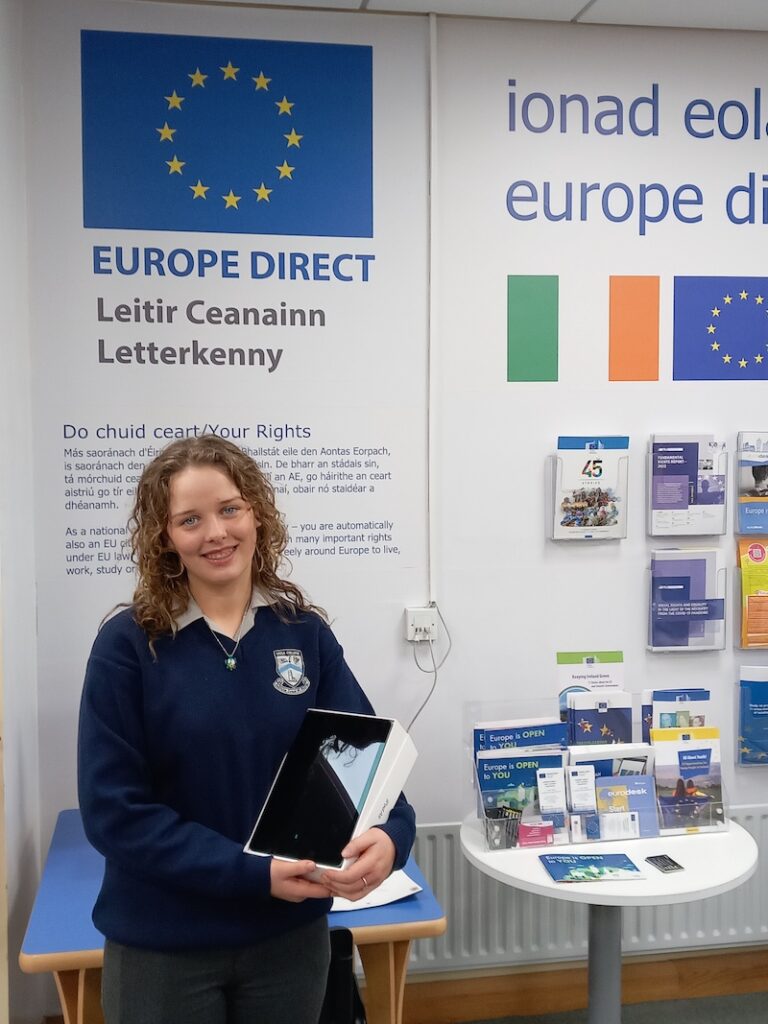 "Caoimhe is a great ambassador for our school. She is intelligent, articulate and as you can see from her presentation, she is a great speaker. She is a credit to herself and her family and I have no doubt that she will go on to be very successful in whatever she decides to do."
Kevin McCaul, Manager of EUROPE DIRECT Letterkenny says that he and the staff at the library were delighted with the win.
"The Central Library staff were delighted with the success of our Donegal entries in this year's National Soapbox final. Caoimhe's presentation was excellent and really showcased the opportunities available for young people in the EU and she was a worthy winner. Locally here it was a real team effort and a special thanks to Fiona, Joe and Naoise here at ED Letterkenny."
There was double success for the Letterkenny Library as they also tasted success in the seventeen and over category as Leah Rose David from Scoil Mhuire in Buncrana was declared the winner in this section.
Both students will have some shopping to do, as they get their hands on the €1000 worth of shopping vouchers.