A beautiful memorial has been erected outside the Irish camp in Lebanon in memory of Private Seán Rooney.
The memorial stone was created as a gesture of peace by a local Lebanese family in tribute to the fallen soldier.
The family of Mansour, who run a shop outside UNP 2-45 Camp Shamrock, added a series of thoughtful details to the plaque, including a tricolour, Pte Rooney's image, three trees, and an Irish blessing.
The tribute reads: "Wishing you peace, comfort, courage and lots of love at this time of sorrow. My heart goes out to you and your family at this difficult time.
"Our deepest condolences at this time from the Mansour family.
"Ar dheis Dé go raibh a anam."
The Irish community has been touched by the kind gesture and commended Mansour as a gentleman who has great respect for Irish soldiers in Lebanon.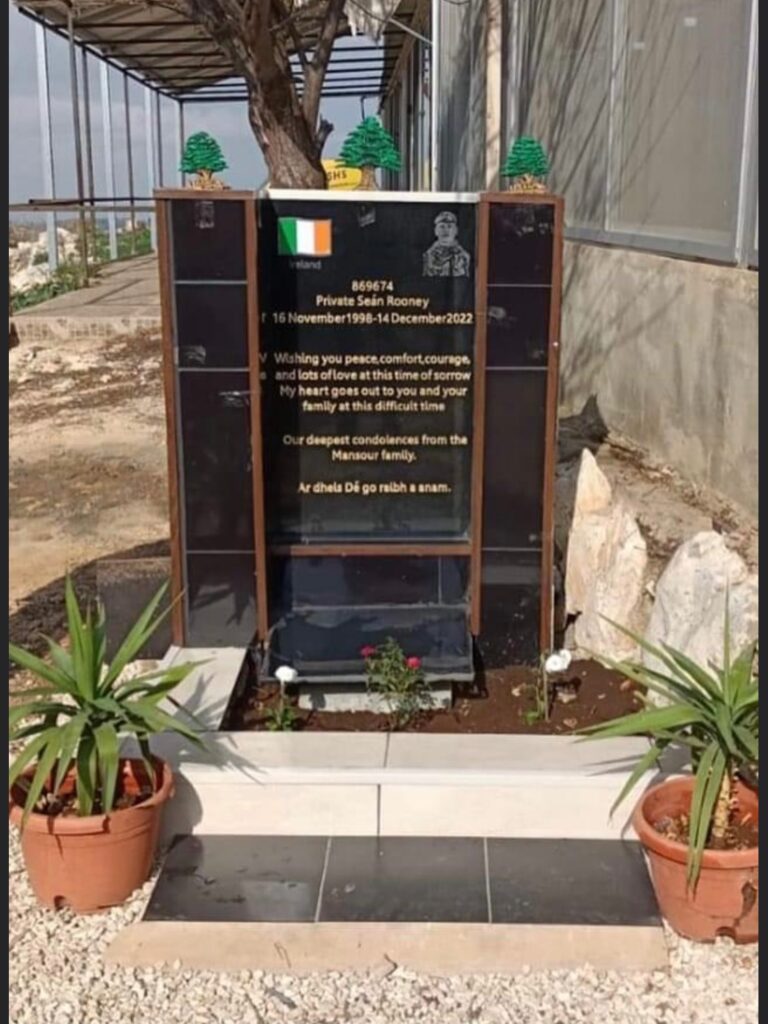 Pte Rooney was given the final salute by comrades as he was laid to rest in Newtowncunningham on Thursday evening. The young peacekeeper was hailed a national hero by his mother Natasha during an emotional funeral Mass in Dundalk, which was followed by a burial with full military honours in Donegal.
The killing of Private Seán Rooney in South Lebanon was the first death of an Irish peacekeeper in combat in 23 years. Eighty-eight personnel, 87 from the Irish Army and one from the Air Corps, have died in overseas deployments since the 1960s. Ireland has now lost 48 soldiers serving for peace in Lebanon, the most of any contingent.