It has been a busy build up to Christmas for Abbey Vocational School in Donegal Town.
Christmas Concert 
On Wednesday, we held our whole school concert in the gym featuring student and staff acts. This was a lovely celebration for us all to get into the Christmas spirit and it was fantastic to have our concert in person again as we've had to have the last two years of Christmas concerts online.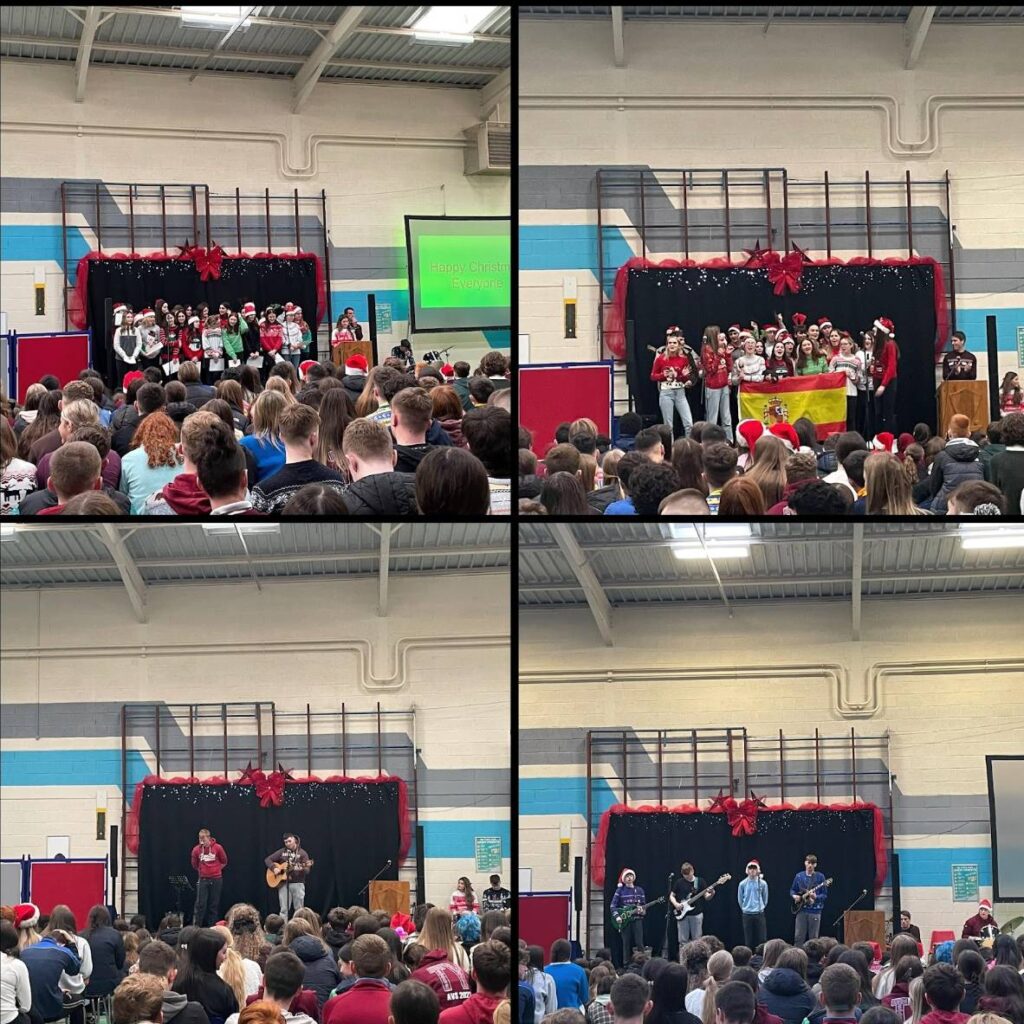 Parents Association Christmas Draw
Our Parents Association online Christmas draw took place on the 20th of December. Congratulations to all the prize winners in our AVS Parents Association Christmas Draw. Well done to Angela Cunnea the winner of the 1st Prize a Playstation 5. We are indebted to our parents Association for running this draw and to all of those who donated the prizes. These funds are very much needed for the extra-curricular activities that are run in the school. A huge thanks to our Parents Association and a very happy Christmas to you all.
yActive school flag news
The Tug of War Take-Over – Active School Flag Event
All PE classes had the opportunity to take part in an interclass 5 a side tug of war competition. A winning 5 from each class will go forward to a year group finale. The winning 5 from each year group will go on to compete against the teachers.
Ultimate Frisbee vs Staff
On Tuesday 20th a group of 6th year boys brought their practice in PE lessons to the next level by organising a game vs staff available on the day. 
A very enjoyable game with the on looking crowd adding positively to the atmosphere. A self-refereed game with lots of movement and decision making, this encounter was a nice advocate of how physical activity can span generations and still be enjoyed as much by all.
Guess the Grinch competition
The Guess the Grinch competition launched last week. One of our staff members was the mystery Grinch.  Students had fun solving the various clues distributed each day. The ASF walkway had the clues hung at each control. Unfortunately, because of weather students didn't get taken on the tours. Class 4D did a great job creating the clues & taking the guesses.  Thank you to Ms Canning for volunteering to be our mystery Grinch. 
Room 59 Christmas Party 
There was a party held in room 59 on Monday in the countdown to Christmas as a thank you from everyone to our wonderful SNAs who are treasured and appreciated so much.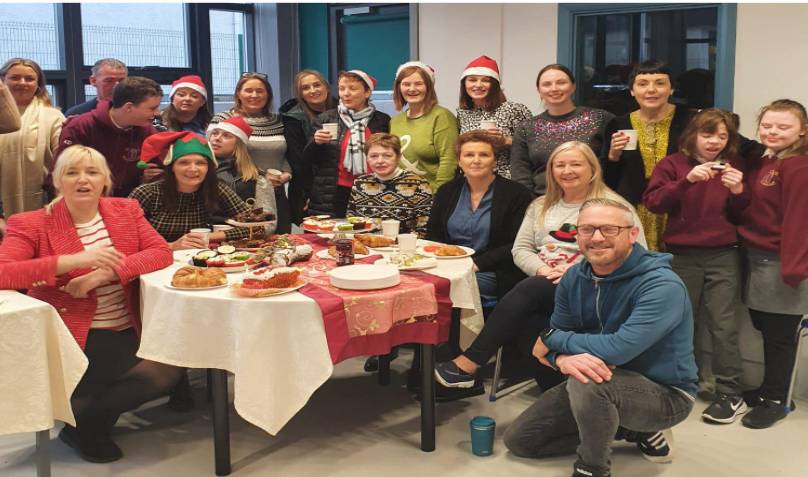 Santa Visit
Santa and his helpers visited some of the junior classes on Wednesday before the whole school Christmas concert.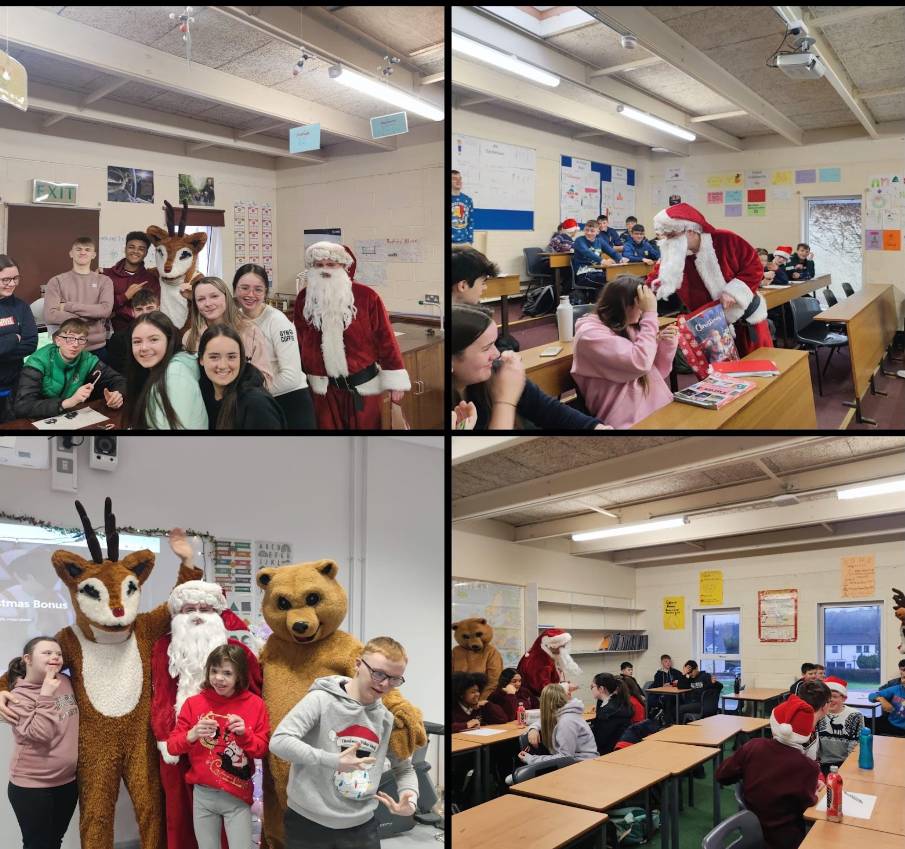 Christmas Carol Service 
Abbey Vocational School Carol Service: St. Patrick's Church, Donegal Town
Tuesday 20th December 6.30pm
We held our School Ecumenical Carol Service in Donegal town St. Patrick's Church on Tuesday at 6.30pm. This was a very special event in our school community and we were delighted to see so many in attendance. Our students were outstanding on the night and the feedback from the entire school community was excellent. We are very proud of them all. Donations on the day were for sensory equipment in the Abbey Vocational School. We thank all of those involved on the night and in particular our Music Department, Ms Carr, Ms McCarthy, Ms Doherty and Ms Bogle. 
Science Week – First Year Poster Competition
Congratulations to Sophie Maskery, Mary Kate Dullea and Brian Quinn joint winners and joint runners up Lucy Foy, Lily May Leslie and Cora Mullaney. The first year students created some colourful posters outlining what they think their lives will be like in 2032 and the influence of Science and Technology in their lives.
1st Year Cinema Trip
All our 1st Year students attended Bundoran Cinema on Monday 19th December with their Year Head and Tutors as a reward for their excellent efforts since starting in the AVS.  Students saw the 2022 version of Scrooge: A Christmas Carol. This trip was part of the positive behaviour approach in the Abbey Vocational School and provided an opportunity to highlight and reward our 1st Year students for the commendable way they have all managed their start to post primary school.
Students were also presented with a postcard signed by their Year Head and their Tutor to commend their excellent behaviour and work effort during their first term with us in the AVS. 
Student Council 
Frank O'Donnell from the St. Vincent de Paul receiving trolley food and care products donations from the Student Council with head boy Peadar Shallow, Ms Mohan, Deputy Principal and LCVP class representatives who made a donation of a cheque to the St. Vincent de Paul from their project.
Thank you to all who donated in any way to this very needy local cause.
Belfast Ice Skating Trip
TYs travelled to Belfast on Tuesday as part of their Christmas trip. They went to Dundonald International Ice Bowl and had a few games of bowling before taking to the rink for ice skating. They then travelled into Belfast city centre to have a wander around the Christmas Markets. An enjoyable trip to get into the Christmas spirit!
U16 Donegal Team success! 
Well done to Lucy Ward, Sara Thomas and Katie McMullin who were selected onto the Donegal ladies u16 team for 2023 – A fantastic achievement!
U16 Girls GAA
Hard luck to our U16 girls team who lost out to St Louis Monaghan in the Ulster Quarter final in Irvinstown last Tuesday morning. The girls put up a great fight against a very strong Monaghan side.
U14 Boys GAA
Well done to our U14.5 Boys GAA team who had a great win against St. Louis Ballymena on Monday. The boys will nor progress to the Ulster semi-final.
U16.5 Boys GAA
Well done to our U16.5 boys football team who march onto the Ulster Rafferty cup final by defeating St Malachy's High Castlewellan 4-8 to 4-4. The boys showed incredible determination and desire to come from behind on multiple occasions and secure the victory. We now look forward to the Ulster final in the new year.
Debating Club
Debating club takes place every Tuesday lunchtime in the library – open to all year groups. Students are getting involved in discussions on an array of topics and given opportunities to develop skills in speech writing and public speaking.
Bookclub
All reading enthusiasts are invited to attend the book club every Friday lunchtime in the library. We have a wide range of books in the library to avail of. Book club gives students a chance to have a chat and share their ideas about what they are reading. This week's book choice includes The Book Thief by Markus Zusack.