Sponsored Post
If you are making your CAO choices next month, ambitious first-year student Amy Lavin encourages you to consider Atlantic Technological University (ATU) Donegal, because "it might be the best choice you make".
Amy Lavin joined the BSc (Hons) in Early Childhood Care, Health and Education degree at ATU Donegal in September 2022.
Amy had explored a number of different CAO options and courses, including Veterinary Nursing but decided that her future was in Early Years Education and subsequentially in ATU Donegal. 
When Amy was making her CAO choices, she considered all aspects of the programme, but future career opportunities and a keen interest in travelling abroad encouraged her to choose the BSc (Hons) in Early Childhood Care, Health and Education at ATU Donegal. "I have always had an interest in working with children, and having considered all of my CAO options, I was keen to pursue a career in Early Education. I was interested in moving away from home, but didn't want to go too far from home. A family friend had studied at the Letterkenny campus and had only positive things to say about student life – these factors all helped me to make my CAO decision."
Amy has enjoyed her last few months on campus at ATU Donegal. "I have really enjoyed my first-year modules. Over the first few months, I completed modules in Educational Psychology, Curriculum Approaches, Sociology, and Psychology – all of which I have found so engaging. This semester I will cover modules in Law, the Early Years Environment and Understanding Children's Behaviour, which I am really excited about. In addition to this, I have really enjoyed the student experience and the nightlife in Letterkenny is pretty good too. I am loving the university experience in Donegal. Everyone is so friendly and approachable! At ATU Donegal you really get to know people – not just those in your degree programme either. There is such a positive energy on-campus and that adds to your student experience."
Amy hopes to become a Primary School Teacher following the completion of her studies at ATU Donegal. Amy added, "I have no regrets about choosing ATU. I am excited about what the next few years holds for me. One of the main things that I am looking forward to is the work placement options I'll have in such a wide variety of roles within the Early Years setting. I really enjoy my student life here and I would encourage any student making their CAO choices to consider ATU in their options this February – it might be the best choice you make."
ATU Donegal will host an Open Evening in the Letterkenny campus on Wednesday 18th January from 4-7pm. If you are making your CAO decisions over the coming weeks, be sure to attend this event. 
To register to attend this event, visit www.atu.ie/donegal-open-evening
The future is here.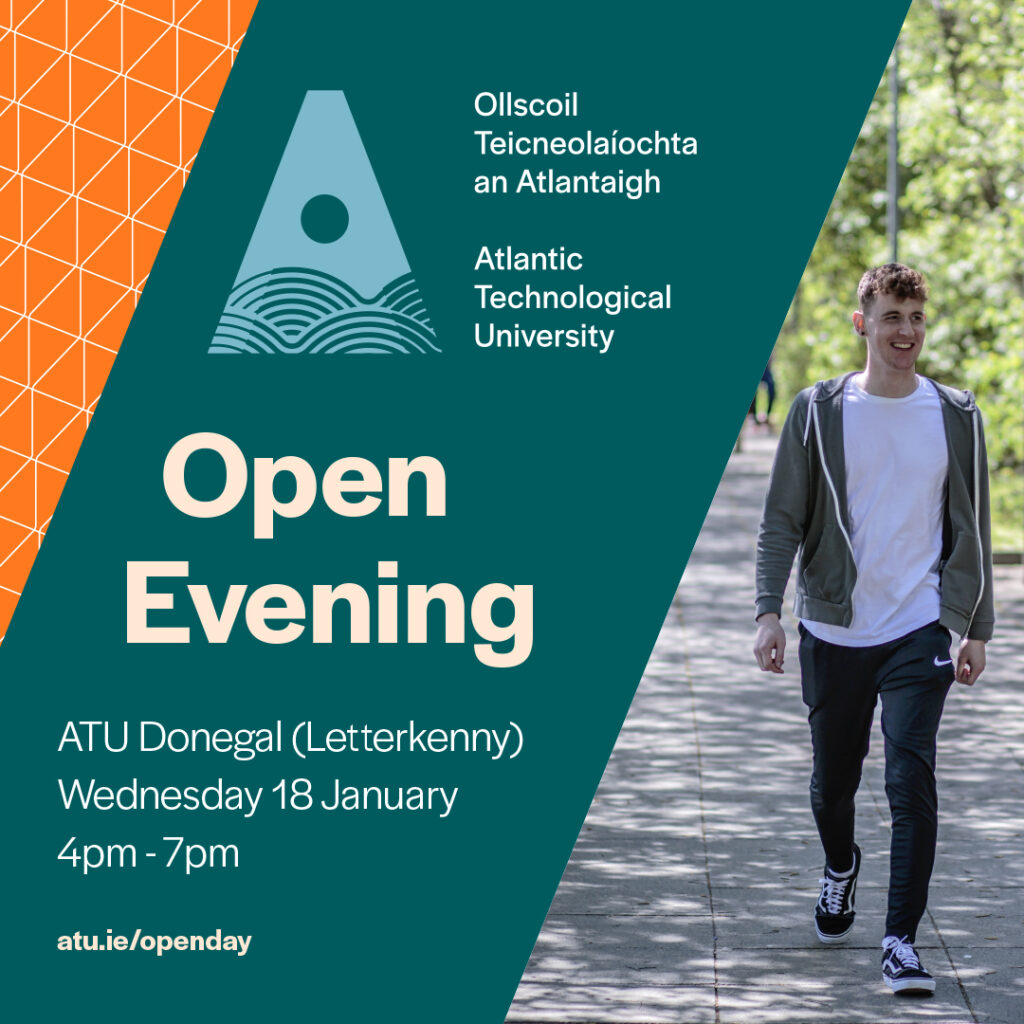 Tags: