Finn Valley College in Stranorlar celebrated 'Flag Day' last week to shine a light on the Irish Tricolour and all that it represents.
The Thomas F. Meagher Foundation encourages schools nationwide to participate in an annual 'Flag Day' on March 16th with the aim of promoting pride, respect and peace in our country as represented by our flag. 
Led by Angela Ward, a team of staff at Finn Valley College coordinated a poignant multicultural ceremony to honour the core values represented by the flag.
Using a Padlet, students were surveyed as to their personal interpretation of the meaning of the Irish flag.  From there, several weeks were spent arranging a ceremony of song, poetry, oratory and dance.  A whole staff survey identified those students who were considered to embody the ethos of an ETB school; the core values of which are also encapsulated in our flag. These students; Brian and Maddison then had the honour of raising the flag against the backdrop of a beautiful rendition of Amhrán na bhFiann by Geraldine Mc Cafferty.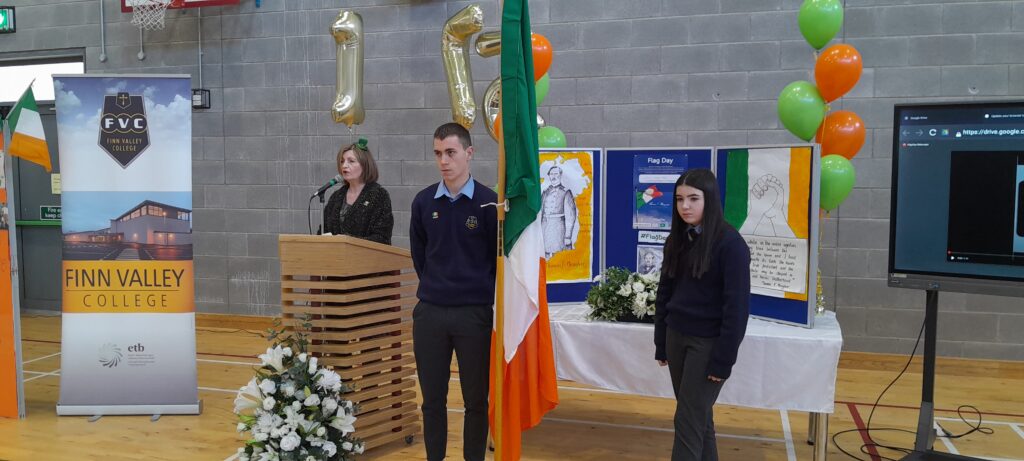 Two group projects were created for the ceremony and shown on the day. Martina Garry and Holly Murray worked with our students from all corners of the world to create two stunning videos on what the Irish flag means for them. These projects alongside Artwork by our Ukrainian students and supported by Art Teacher Maryann Molloy will be entered into the Foundation's National Kerry Awards Scholarships. Aisling Connolly is coordinating the special class entries and Charlie Ward is busy at work on an audiovisual entry. Finn Valley College has received awards in three of the five categories in the past so keep your eyes peeled for the national winners to be announced on the 31st March!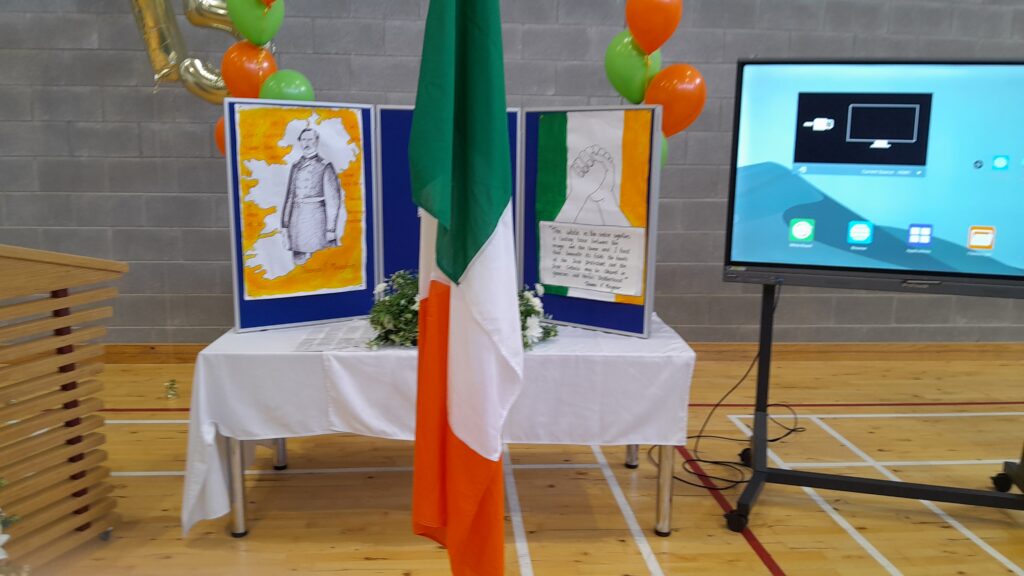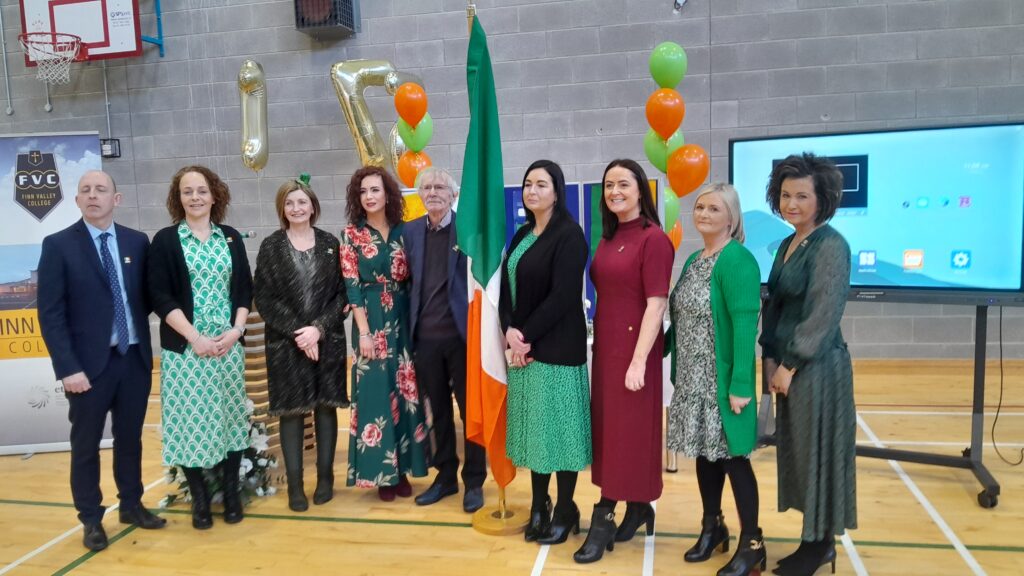 Aisling Connolly opened the ceremony with her beautiful Arranmore Irish and Maebh Mc Laughlin, Kathleen Mc Menamin and Tanya Coulter spoke to the values represented by our flag and referenced its significance in our culture and history.
Mr Declan Collum (Ballybofey and Stranorlar Historical Society) spoke eloquently and with passion on the history of our national flag and on its current status both in Ireland and internationally. There wasn't a dry eye in the house when John Gregg sang 'Grace' the story of the wedding of Joseph Mary Plunkett's marriage in the final hours in the lead up to his execution.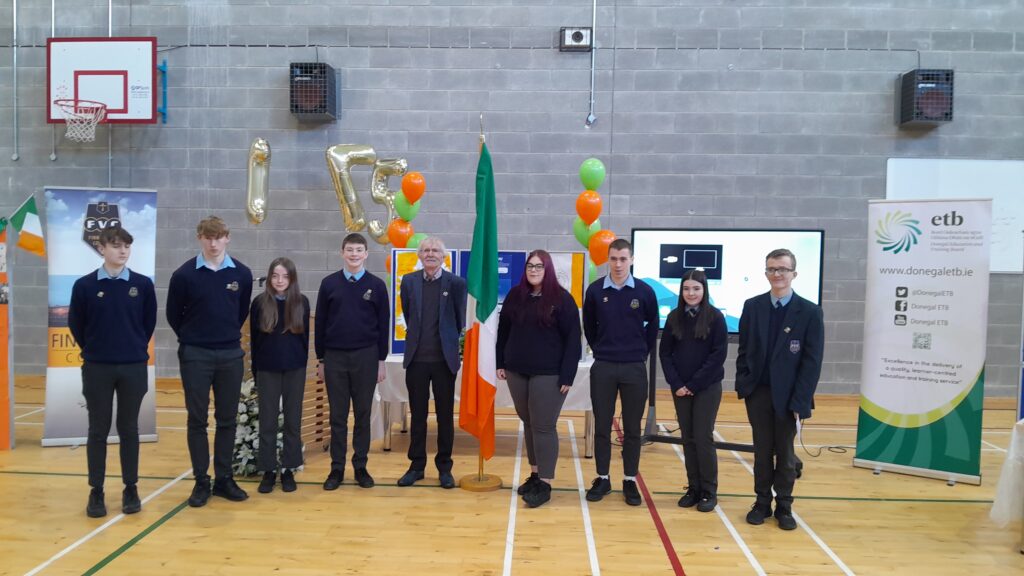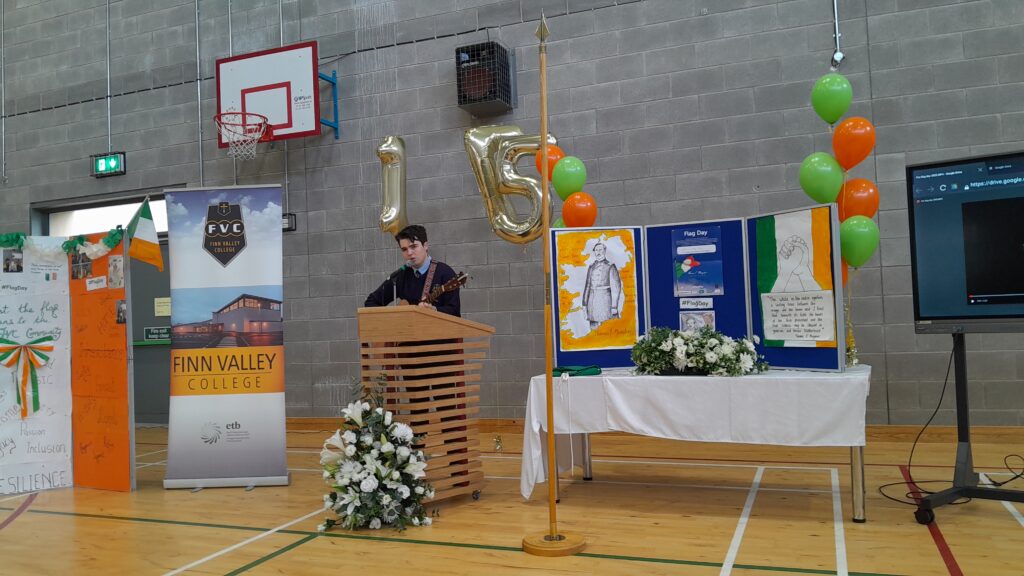 Ryan Hannigan and Rian Mc Brearty presented research on Thomas Meagher. Anna Ward and Óisín Mc Ateer presented a powerful reading of The Proclamation whilst Kara O'Neill wowed the intimate audience with two upbeat and perfectly executed Irish dances.
Cealan Mc Menamin of the Student Council gave an outstanding interpretation of the poem 'I am Your Flag' adapted by Angela Ward. Tina Garry sang an immensely moving 'Song for Ireland' ably accompanied by Conor Gillen and Sixtus, Denzel and Gertrude collaborated to read the apt 'St Patrick's Day'. 
Tegan Appleby Jones recited The President of Ireland's moving poem of hope 'Care' and afterwards Angela Ward concluded the ceremony by noting that 'Making a place home is a process and as a whole school community it is important to acknowledge that not everyone has made it home yet. However the poem suggests we will make it, and for those of you who already fully embrace this place as your home I encourage you to extend the hand of friendship to others so they will also feel at home'.