Donegal Daily's Pet Corner column series is brought to you by Gary's Pet World, Letterkenny Retail Park.
For all your pet food, health, accessories and toy needs, call instore or visit www.petworld.ie. Free shipping on orders over €29

---
Michelle Kelly, a veterinary nurse from Letterkenny, is here to explain arthritis in cats and dogs and how to help your furry friends feel better.
Osteoarthritis is one of the most commonly diagnosed diseases in the veterinary clinic. Over 80% of dogs 8 years and older and over 90% of cats 12 years and older are diagnosed with the disease. It is a slow progressing degradation of the joints causing stiffness, pain and swelling in the affected areas. It is caused by the normally smooth joint surface becoming uneven and rough. The healthy joint fluid between the bones tends to disappear and when bones eventually rub together it can become painful and inflammed. Unfortunately, there is no cure but there are various treatments available and ways in which it can be managed in order to keep pets comfortable and mobile. 
Causes
There are many causes of osteoarthritis in pets. Generally it develops due to wear and tear of the joints as pets get older. Some breeds are born with increased risk such as Labradors, German Shepherds, Golden Retrievers, Rottweilers, Siamese cats, Persian cats and Himalayan cats. There are screening schemes in place which are available to breeders which helps to improve genetics. They are run by the British Veterinary Association and the Kennel Club, which requires x-rays to be taken and sent away for 'scoring'. This assesses the parent's joints in order to identify any abnormally shaped bones and joints (hip and elbow dysplasia) which can be genetically passed on to their offspring and lead to arthritis later in life. Injuries to joints or excessive weight gain can also lead to the development of arthritis.
Signs
Animals will show signs of pain but some are better at hiding these signs than others (especially cats) which can make it more difficult to identify initially. Most of the time they are in a lot more pain than you might think due to the masking of it for a period of time. Generally arthritic pain can be seen as:
Limping, lameness or stiffness (especially after rest or excessive exercise)

Slower movements/ slowing down while walking

Changes in mood (becoming more grumpy or unusually quiet)

Excessive licking of affected joints

Reluctance to climb stairs or jump onto sofas/ into the car/ onto window sills

Swelling in the joint(s)

Sleeping or resting more
Treatment
Treatments can vary for pets affected by arthritic changes in joints. Once the vet has assessed them and diagnosed arthritis they may prescribe different forms of pain relief. 
Non-steroidal anti inflammatories (NSAIDs) are commonly used as they help to reduce pain and inflammation in the joints. These cannot be obtained over-the-counter, your pet must be seen by a vet beforehand. (Please do not give any human medications as they can cause serious illness, always discuss with a vet!).
Joint supplements can be used alongside pain relief. They reduce inflammation and lubricate joints but are not a replacement and may not always work if the disease is severe. Your vet can advise the most suitable one for your pet. 
Visit www.petworld.ie to view a range of supplements available locally for your pet.
Laser therapy (photobiomodulation) is a form of light therapy which helps to alleviate pain and inflammation in joints along with encouraging tissue healing and regeneration. It is non-invasive and is not painful, the laser beam is moved over the affected area and emits a small amount of heat which helps to soothe the joint and it might feel like a massage. Pets generally require up to 5 treatments before any improvement is noticed but once it begins working they'll begin to feel more mobile and owners may notice a return in energy levels and reduction in lameness. This procedure may be available in your veterinary clinic and can be performed by veterinary nurses.
Hydrotherapy can be very beneficial as it increases movement in the joints while reducing impact to them. It needs to be done by an experienced hydrotherapist but simply taking pets swimming can be beneficial if they enjoy getting into the water. Controlled hydrotherapy sessions are performed using either a pool or treadmill and the water is generally set at a particular temperature along with the correct water properties to ensure they reap all the benefits during the session. Warmer water tends to be used to encourage movement and reduce inflammation and swelling in the joints. 
Surgery may be considered if the pain is severe and uncontrollable. Most of the time this requires referral to a specialist hospital for joint replacement.
Other treatments which can be beneficial to help with inflammation and swelling in the joints are Acupuncture and Physiotherapy.
Keeping pets at a healthy body weight and preventing obesity will help as it will reduce the load they have to carry in their joints. Overweight pets suffering from arthritis may become immobile and require assistance walking around. If you think your pet is overweight, speak to your vet and they may be able to prescribe a weight-loss diet for your pet to help get them back to a more tolerable weight for them to manage. It may be worth enquiring in your veterinary clinic about a weight management programme to help you to help your pet, these are run by veterinary nurses and are great at keeping everyone accountable. It also allows you to ask questions and keep an eye on your pet's overall health too.
At-home management
Management at home is important in order to keep pets comfortable alongside their medications and/or the above treatments.
Short, regular controlled walks throughout the day are more beneficial than longer bursts once a day. Keeping pets on a lead and preventing excessive running, chasing a ball and jumping can help to ease the progression of arthritis. Lying down for long periods of time also causes joint stiffness so encouraging movement little and often throughout the day can help keep them mobile.
Keeping pets slim is very important as excessive weight can put extra pressure on the joints. It has been proven that pets who carry excessive weight when they are young have a higher chance of developing arthritis as they get older.
Keeping pets warm by placing their bed near to a radiator or providing a heat pad may help to soothe their joints. (Make sure to avoid heat pads touching their skin directly in case of burns) Drying them off fully after being outside and allowing pets to sleep indoors instead of outside in kennels prevents them from getting cold and sore.
Covering slippy floors with rugs or carpets can make floors less slippery. Arthritis causes a weakening in the muscles which can make it more difficult for animals to get back up if they fall over which could cause further injury. Only rooms that the pet enters need to be made non-slip. 
Provide a comfortable bed for them to sleep and rest prevents pressure sores. A good way to test if their bedding is suitable is to kneel on it and if you can feel the floor under your knees it is too soft. An orthopaedic bed is the ideal bedding for arthritic pets.
Move their bed downstairs if they have begun to struggle climbing stairs as this allows them to stay comfortable and prevent accidents if they wander down on their own and struggle.
Your vet is the best person to help you develop a treatment and management plan to keep your pet comfortable and pain free for as long as possible. Remember, self-diagnosing pets with any diseases and self-medicating them can cause more harm than good so seek advice before you go ahead with any treatments in order to prevent illness or injury.
---
Michelle Kelly qualified with a BSc Honours in Veterinary Nursing from LYIT. She works full-time in a clinic in Derry. She is the proud owner of a labrador named Nala, who goes everywhere with her, even to work. 
As a dog owner in the North West, Michelle says she sees a lot of misunderstanding around owning a pet. With her first hand experience in a veterinary practice, she wants to give up-to-date facts and information to pet owners and to be a person people can turn to for help and advice, especially in the local area of Donegal.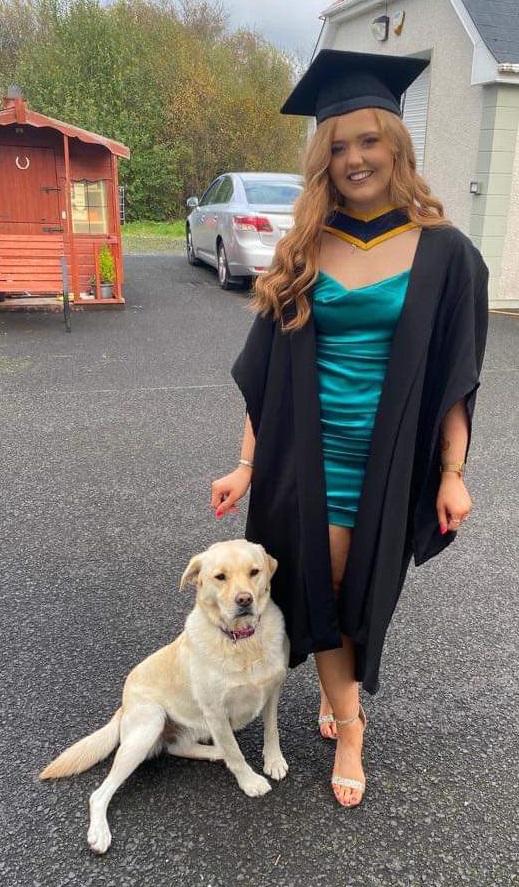 Tags: