The next step in setting up Lenalea Wind Farm on the outskirts of Letterkenny took place this week.
The first delivery to the 7-turbine project – an SSE Renewables and FuturEnergy Ireland co-development – took place in the early hours of Tuesday last to ensure minimum disturbance to local residents.
The deliveries will continue over the next seven weeks, with the turbine blades requiring a specialist team to transport these large components.
The turbine delivery route was agreed in advance with Donegal County Council and An Garda Síochána. The components arrived in Killybegs Port then bypassed Donegal Town and moving through Ballybofey before making their way to the Lenalea site.
Earlier this week, the turbine contractor's team at the Lenalea site took delivery of the first wind turbine nacelle – the cover which houses all of the generating components in a wind turbine, including the generator, gearbox, drive train, and brake assembly.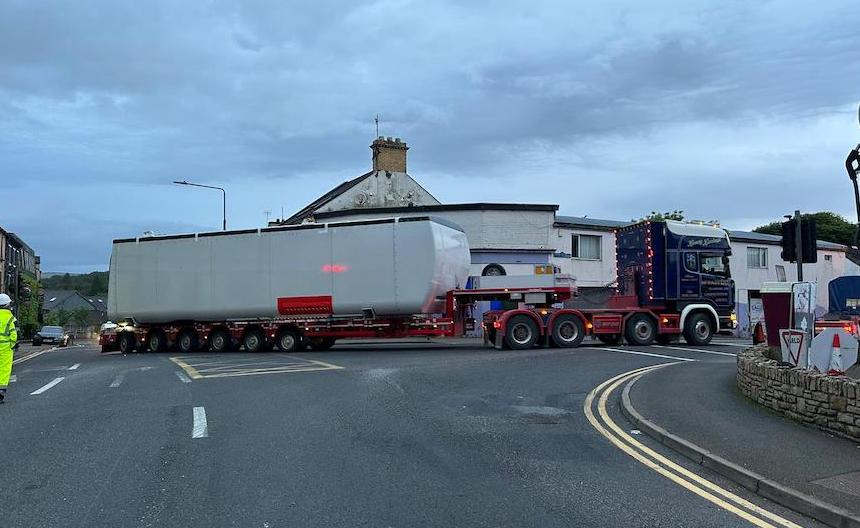 The V117-4.3 MW turbine components are manufactured by the international wind turbine supplier Vestas and were shipped to the Port of Killybegs from various factories in Europe. The components are scheduled to be installed at Lenalea between early June and the end of August 2023.
Elizabeth Anne Read, Associate Project Manager, Vestas said: "We are very pleased with the way the initial component deliveries have progressed, and soon we will be delivering further items including the wind turbine blades. This will require a specialist team to transport these impressive pieces of kit as well as an escort from the Garda."
Project Manager Patrick Greene for Lenalea Wind Farm said: "This is a significant milestone for the project, and now means that we're one step closer to delivering green electricity for the community in Donegal. Our Lenalea wind farm project is also contributing to SSE Renewables' own ambitious Net Zero Acceleration Plan which sees us spending around €8m a day on critical low-carbon infrastructure needed for the global transition to net zero emissions. As a responsible developer and operator, we are looking forward to working closely with the neighbouring community in Lenalea."
Emmet Mc Laughlin, Project Manager at FuturEnergy Ireland said: "It's fantastic to see the turbine components begin to arrive on site and bring Lenalea Wind Farm another big step closer to operation. This is a pivotal moment in the construction phase, which has boosted the local economy and employment."