Registration is now open for the Donegal Camino which returns for its third consecutive year from Sunday 3rd to Saturday 9th September 2023.
Now a top event on walkers' and hikers' calendars, this epic fundraiser offers a stunning network of loop coastal walks, hill and mountain hikes.
Led by the award winning Donegal based walking guide John McGroary and his team who will safely guide and entertain walkers as the Donegal Camino will weave its way from Malin Head in Inishowen south to Europe's highest Sea Cliffs, Sliabh Liag over 7 days.
Full details for registration is available on www.donegalcamino.ie. 
Criss crossing along Donegal's Wild Atlantic Way coastline and over the famous hills of Donegal, Donegal Camino 2023 has the perfect blend of contrasting landscape of coastline, mountains and hills, Gaeltacht Region along with a visit to Oileáin Toraigh (weather permitting) and a sunrise climb of the county's highest peak Errigal. Once again the organising committee have created a 7 day Donegal walkers paradise which showcases the best trails and hikes in the North Western county and all to raise much needed funds for Cancer Care West Services across Donegal. Since the inaugural event in 2020,  the Donegal Camino has to date raised €76,500 for Cancer Care West.
Walkers can choose to register for individual days, a package of 3 days or the entire 7 days on www.donegalcamino.ie. Combining the ambitions of showcasing  the  world class walking and hiking in Donegal along with its excellent hospitality, food, accommodation and charity angle, the Donegal Camino brings together people from all corners of Donegal, the island of Ireland, Scotland, the US and beyond. Each walker has their own personal agenda for walking the Donegal Camino, all of which contribute to the true essence and atmosphere of a Camino and pilgrimage walk. 
Starting off in Ireland's most northerly point, Malin Head, the opening day, Sunday 3rd of September is a stunning coastal loop path past Hell's Hole' to Bamba's Crown and then heading south, it takes in some of the quieter back roads past the Coast Guard Station and back along the coast by 'White Strand Bay'. There's a roadway climb over the Knockamany bends which have  magical views over 'Five Finger's Strand' before finishing at 'Lagg Church'. The perfect opener!
Day 2, takes walkers to a new and equally stunning peninsula, and off road on Knockalla Ridge and mountain which has stunning heights overlooking Ballymastocker beach and Portsalon. Day 3 is another beauty spot as the Donegal Camino loops the spectacular vista of Horn Head, starting and finishing in the pretty coastal village of Dunfanaghy. 
A sunrise hike of Donegal's highest peak, Errigal follows on Day 4. At 751m, the summit of Errigal has incredible views and it has recently had the addition of a sustainable pathway to support hikers safety. After the Errigal hike, the Donegal Camino will later that day go off shore via passenger ferry to the Gaeltacht island of Oileáin Toraigh / Tory island for an overnight adventure. Day 5 walkers will explore Oileáin Toraigh which is renowned for its flora, fauna, incredible scenery and of course unique island culture, lifestyle, art and Irish Language. 
It's back to the mainland for the final days of Donegal Camino 2023 which travels to the south west of the county. The magnificent ''Assaranka Waterfall'' awaits. This leads to a short walk along a section of road before climbing a track which brings walkers to the top of the waterfall and into the peaceful valley of 'Minte Seisce'.  Certainly a mindful walk which then takes the country road through the valley to Stravally before turning uphill towards the top of the glacial valley known as 'Granny Glen''. The scenery here is  breath taking. 
The Finalé, Europe's highest Sea Cliffs, Sliabh Liag with the daring challenge of "One Man's Path". A mixture of road, track, and bog. This is a strenuous walk but a most rewarding one which is a perfect crescendo on which to finish the third Donegal Camino. Beginning at the Sliabh Liag Visitor Centre, walkers will take 'The Pilgrim's Path'' at the back of the mountain which rises to a height of 595mts.   We return to the Sliabh Liag visitor centre along the same route for what will be a glorious celebration of another wonderful and exhilarating Donegal Camino. 
"What started out as a walk with friends after lockdown in 2020 to raise funds for Cancer Care West in Donegal has grown steadily and beautifully, like all of the walks and hikes in my home county of Donegal," says founder and Donegal Camino visionary, Peggy Stringer, who is now based in Dublin. She went onto say "I love coming home to Inishowen, and the first week in September on the Donegal Camino is certainly now an annual pilgrimage which I'm so proud of."
Former owner of Harvey's Point, who's due to open Le Moulin Sur Célé in France this summer, Deirdre McGlone, says "Promoting tourism in my home county of Donegal will always be part of my DNA and the Donegal Camino is a perfect example of world class walking and hiking in our beautiful county combined with the best in accommodation, food, entertainment and above all a wholesome and warm Donegal welcome. We're thrilled with the annual growth of the Donegal Camino which is now attracting international walkers to the Northwest".
"The Donegal Camino is a pilgrimage with wonderful people walking for their own intentions but also to raise much needed funds for Cancer Care West services across Donegal, of which I'm a patron", says Noel Cunningham, TV Personality and Harvey's Point Ambassador. "Our aim is continuing to attract walkers on the Donegal Camino to showcase our beautiful county and to again increase our fundraising for this worthy cause. We're sincerely grateful to all who support us and donate."
The Donegal Camino voluntary committee includes founder Peggy Stringer, former Donegal Persons of the Year, Deirdre McGlone and Noel Cunningham who's also been joined by Noreen D'Arcy from Galway who's strong Donegal connections and Donegal businessman, John Mc Namara. The committee is keen to grow its skill base while growing the Donegal Camino and they welcome all support and ideas for fundraising to increase the donation to Cancer Care West.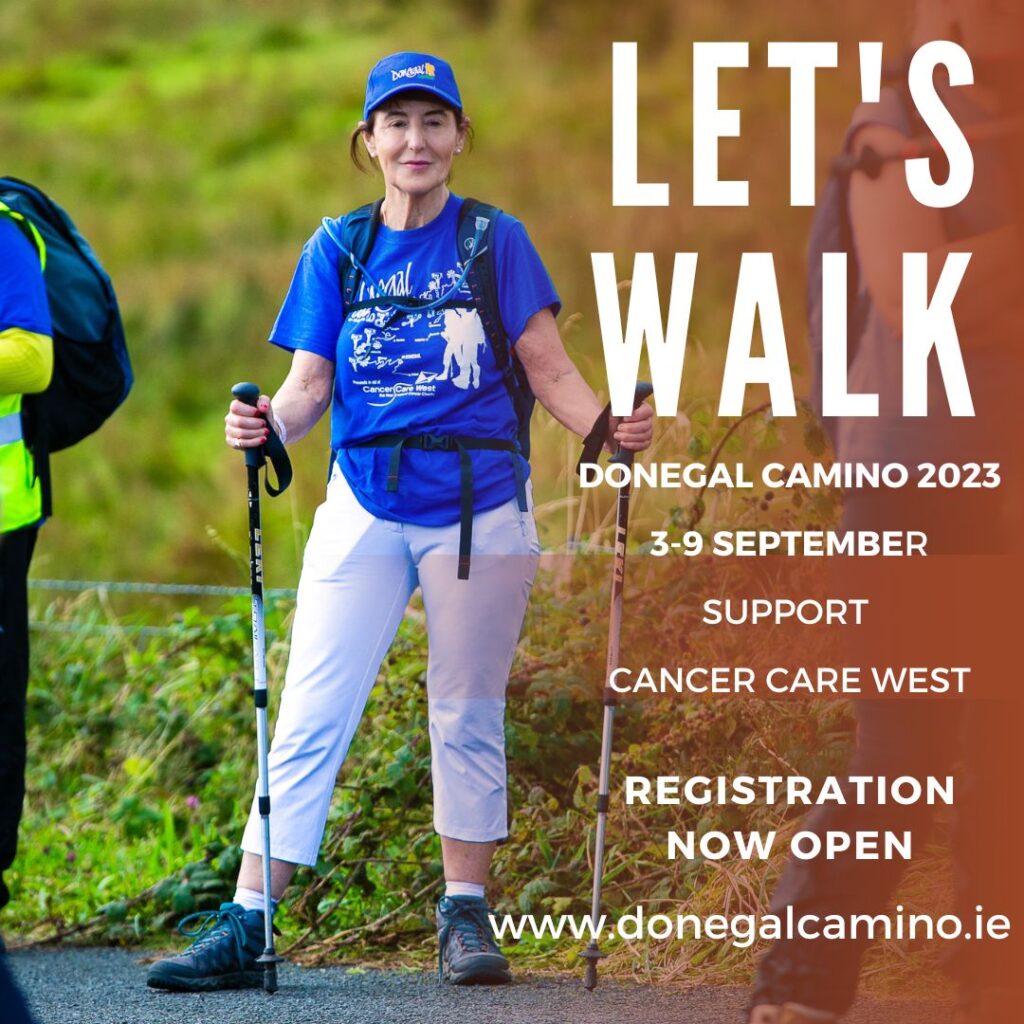 Tags: