Jason Quigley earned the respect of Madison Square Garden in New York and his opponent Edgar Berlanga in the early hours of this morning.
After going 12 rounds for the first time in his pro career, the Ballybofey man was beaten on a points decision in a gruelling encounter.
Big talking Berlanga had Quigley on the floor four times through the encounter, twice in the final round.
But Quigley just wasn't going to allow Berlanga to add him to his tally of 16 KOs from 20 fights.
The Hulu Theatre at the Garden was sold-out for this encounter with many Irish living in the Big Apple turning out to support the Ballybofey man.
Quigley probably knew deep down that he didn't possess the armoury to outpower Berlanga but instead forced the champion to come looking for him leaving him visibly frustrated.

If this was part of Andy Lee's masterplan for Quigley then it certainly worked for much of the bout and at times we were 'On the One Road' as was Quigley's entrance song by the Wolfe Tones.
Quuigley certainly wasn't short of experience in his corner with world super-featherweight and lightweight champion Joey Gamache also joining Lee.
After a cagey first two rounds, Berlango began to up the gears but Quigley went into defensive mode to great effect.
Quigley snatched the sixth round however and the champion knew he was in for a longer night than he might have planned for.
When the 32-year-old began to believe in himself in the seventh round there was genuine belief that perhaps this was the night he had waited for after a lifetime of works on the pads in run-down gyms.
Berlanga suddenly woke up form his slumber thereafter but Quigley seemed to tell himself that he wasn't going to be stopped.
Even when Berlanga had him on the canvass twice in the final round, Quigley found a new resilience during the 11th and 12th round which will stand to him in future.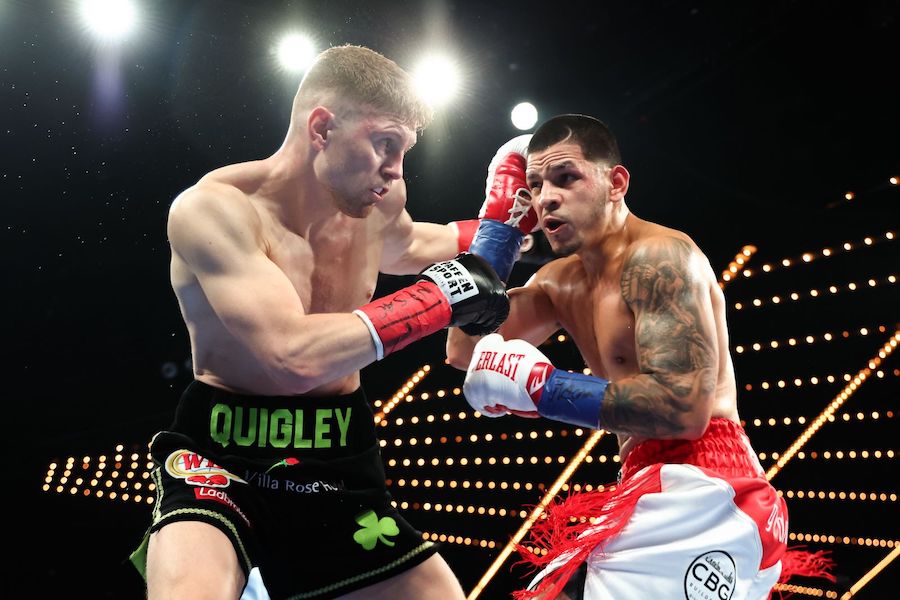 Referee's scorecards are always the subject of much discussion by fight fans after a contest of such contrast.
But even the most neutral of those at The Garden must have wonder where the scores of 116-108, 116-108, and 118-106 came from exactly.
It was probably going to take a knockdown from Quigley to take Berlanga.
But the Donegal man did the next best thing by proving to himself that he is not ready to hang up the gloves just yet.
All pics courtesy of Melina Pizano/Matchroom.