The unsung heroes of Letterkenny's Cara House Family Resource Centre were firmly in the spotlight at the grand opening of its new complex today.
The staff, the volunteers, and every brave individual who steps through the door were celebrated this afternoon as the new Cara House chapter formally began.
The guest of honour was Susan McCauley, Cara House founder and former co-ordinator, who unveiled the plaque at the new complex. Susan's 17 years of care, commitment and sheer grit have brought Cara House to where it is today, with Martina McGinty now at the helm leading the team into an exciting stage of further development.
Now located on the Pearse road, the impressive new complex gives the Cara House community more space to help more local children and adults. The Childrens Centre provides childcare to 100 youngsters every day. Next door, the drop-in adult centre offers a safe haven for all, where people can meet and grow. Courses in languages, fitness, crafts, computers and the men's and women's sheds offer opportunities to people to both learn and form friendships.
Board member Andrew McNulty echoed the hope and enthusiasm that has been created in the new centre.
Speaking at today's opening, Andrew said: "This momentous occasion makes a significant step forward in our ongoing commitment to addressing the needs of those facing disadvantage, social exclusion and the many challenges that life will throw their way. 
"Cara House is not just another building it's a symbol of unity, compassion and the enduring spirit of community. 
"The centre is a beacon of hope, a safe haven a place where individuals and families can find the helping hand they need to upskill or just navigate some of life's challenges."
Louise Chirwa, who is now a board member at Cara House, credits the centre for changing her life.
"Cara House lifted me up," Louise told guests today.
Having moved to Ireland from South Africa in 2016, Louise was warmly welcomed into the drop-in centre one day.
She said: "This was a lifeline for me as I had not made any friends in Letterkenny at that point. I was waiting for neurosurgery and it was difficult for me. Cara House was the huge support I needed."
In 2019, as Louise was enjoying teaching circle dancing classes, Susan identified her as a good addition to the management committee. Louise didn't think she had anything to offer, but Susan saw her value.
"To my surprise, I did and I have been a valued member of the management team ever since."
What makes Cara House shine so brightly, Andrew said, is the staff. Almost 50 staff members work across the various services, supported by passionate volunteers.
For 17 years, the team was led by Susan McCauley, who was the driving force from day one.
Susan was a primary school teacher who took early retirement when she was 52. With time on her hands and a pension behind her, she set out to do more for mental health services in Letterkenny.
Cara House began in 2004 at their 'Red Door' building at Mount Southwell above Market Square. Countless people made their way up the steps and found acceptance in a comfortable and homely setting. As word got out, the demand grew and Cara House expanded all across town. Susan's vision was always to have one base, for the benefit of both service users and staff.
Amidst the countless hurdles and funding challenges, Susan said she never saw her role at Cara House as 'work', but more like a game of endless possibilities. 
Susan also honoured the people who were part of her journey, particularly her family.
"There are still so many people who come in and see what is needed and say 'I can do it'," she said.
"The great characters were the people who made Cara House.
"They are the people who came in, spread the word into the community about what went on."
Susan spoke of the joy she got in seeing newcomers tentatively entering the red door, and in seemingly no time at all, becoming part of the furniture.
"It's not only the people who come in that benefit, it's the whole family that benefits. People don't forget how happy they were for their relatives to have somewhere to go.
"Now with these lovely premises, I'm sure there will be more people coming in. 
"Now, under Martina, this place will go very well." 
Joe Boland, Chairperson of Cara House paid special tribute to Susan and said: "She is so vibrant and so colourful and so animated about Cara House and things that she believes in,  it's fantastic to see the fruition of all of her dreams and thoughts here today in a fantastic building."
Co-ordinator Martina McGinty, who took over the role in 2021, said that she has seen Cara House adapting to the growth and evolution of Letterkenny over the years.
The arrival of new communities, the cost of living crisis and Covid-19 have impacted many people, she said.
"Demand on our services has increased and having state of the art premises allows us to provide support, services and a social outlet to more children, families and individuals in our community," Martina said.
Martina shared the centre's sincere appreciation to all funders who help make the centre grow, including LEADER, Donegal County Council, Tusla, Donegal ETB, LCDC, HSE Older People Services, Donegal ETB and Pobal.
If you would like to join a course or group at Cara House, feel free to get in touch with the team or simply call in for a cuppa. The drop in space is open Monday to Friday 10am to 2pm.
The autumn/winter activity programme is available to view below.
Courses and Interest Groups for Adults: Autumn Winter 2023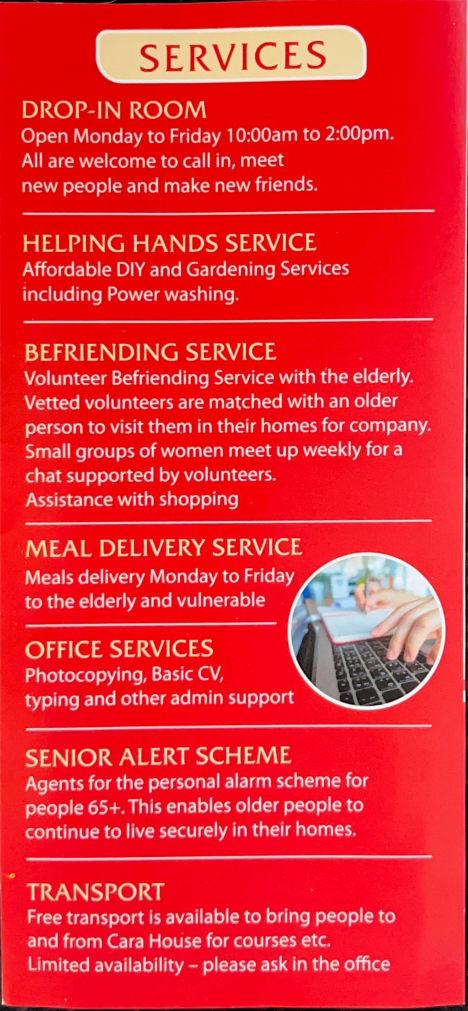 To find out more contact: Cara House, Pearse Road, Letterkenny, Co. Donegal, F92YA21
Landline: 074 9123986
Mobile: 086 122 3029
Email: info@carahouse.ie
www.carahouse.ie
Facebook: www.facebook.com/carahousefrc
OFFICE OPENING TIMES:
Monday – Thursday: 9.30am – 5:00pm
Friday: 9.30am – 4:00pm
Tags: