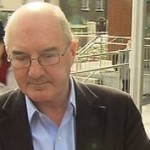 Rathmullan man  and former Anglo Irish Bank executive William McAteer has been found guilty of giving illegal loans to the so-called Maple 10 to buy shares in the bank.
McAteer and co-accused Pat Whelan were also found not guilty of providing unlawful financial assistance six members of Sean Quinn's family to unwind the businessman's secret stake in the bank.
The jury returned the verdicts at the Circuit Criminal Court in Dublin after deliberating for almost 17 hours over five days.
Yesterday, their co-accused Sean FitzPatrick walked free from
...