A Killybegs woman has been voted TV3's oldest working woman.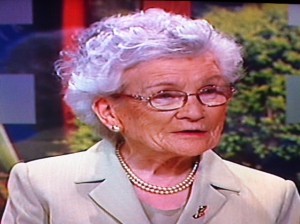 Mary Lafferty may be 89 years old but work is her middle name.
She works on a voluntary basis at Killybegs Community Hospital Day Centre. She works five days a week from Mary works from 9.50 am to 4.30 pm.
Mary can be found putting all the day centre clients, some of whom are many years younger than her, through their daily exercise routines.
Mary works because she wants to work and says he also gets great job satisfaction and a sense of belonging from working in the day centre.
She celebrated her ninth year working at the day centre yesterday.
Mary says she will retire if the day centre decides to let her go and if no else offers her a job.
At the beginning of April, Friends of the Elderly in association with TV3's Midweek and Ireland AM began a nationwide search to find the oldest working man and woman in Ireland.
Members of the public were able to vote for their favourite by a text vote.
Every person that was nominated will receive a Certificate of Merit from Friends of the Elderly.
As part of her prize Mary receive a luxury weekend break for two at Kelly's Resort Hotel & Spa, Rosslare, Co. Wexford. The other four finalists will also receive an overnight stay in Kelly's Resort Hotel and Spa.
The only problem Mary has now is finding the time and getting the weekend off to fit in her prize in her hectic schedule!
Ends
Tags: