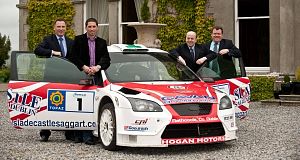 The 40th Donegal International Rally hits the road today for what promises to be one of the best events for many years.
The excitement has been building for a number of days now as drivers and spectators gather across the county for the three day event.
Hotels and B&Bs are reporting a brisk trade with thousand of visitors expected to flock to the county from today onwards.
However with more than 70,000 spectators expected to line the route of the rally form Letterkenny up to Inishowen, Gardai will be out in force to ensure a safety event.
The tragic death of co-driver Thomas Maguire from Cavan will be proof that safety has to be utmost in the minds of people this weekend.
A Garda spokesman told Donegaldaily.com "Everyone wants to have a great rally but the last thing we want is to have a tragedy which would just destroy the weekend.
"Everyone must pull together and observe all the marshals and stewarts directions.
"We will be out in force to ensure that all safety procedures are followed and we would ask people to co-operate for their own safety," he said.
The Donegal Motor Club are also working closely with the Road Safety Authority in driving home their message 'Keep the race in its place.'
Behind the wheels almost 200 drivers are lining up in the various categories hoping to cross the line first.
But for one Donegal man it is a truly special occasion.
The legendary Vincent Bonner is back having become the first Donegal man to win the race in 1983.
Now he is back hoping to celebrate the rally's 40th birthday by winning the event again.
"To be honest I'm just raring to go. I just can't wait to get into the car and get going.
"Myself and McGettigan (co-driver Seamus) will never forget 1983 but the excitement is starting all over again now," he said.
One of Bonner's rivals on the day wasn't even born when Bonner was treated like a hero in Letterkenny all those years ago.
But for Toni Kelly, rallying and cars has been in her blood since the day she was born.
Having competed in her first rally in 2006 when she was just a 17 year old student at Loreto College, Toni is something of a veteran already.
Becoming the first woman driver to win the rally would be the stuff of dreams.
"The dream for me is just getting to do the rally because Donegal is the most special rally in the world – 300 kms of stages that really test you.
"Of course I dream about winning it but I don't like to get too carried away. I just consider myself very lucky to be able to do something that I love," she said.
Ends