Just when he thought things couldn't get worse for him, Conrad Gallagher now has one of Ireland's most notorious criminals on his tail.
Gardai have confirmed that Martin 'The Viper' Foley was looking for the Letterkenny chef when he entered his restaurant La Stampa last week.
Convicted gangster Foley told cops he was working for a former supplier of Gallagher who he claimed was owed €16,000 by the Donegal businessman.
Conrad, who left South Africa after building up €200,000 in debts, has claimed The Viper wasn't after him.
"There are several people he could have been in to see," he said.
But cops say they are satisfied it was Gallagher whom Foley wanted to speak to.
DEBT RECOVERY
The gangster, who runs a debt recovery agency, was held at the restaurant.
The debt allegedly owed by Gallagher does not relate to his new restaurant The Dining Room at La Stampa which is owned by businessman Louis Murray.
Meanwhile Gallagher has until 1pm today to pay a former employee more than €1,400 in wages which he never got.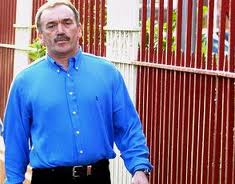 Rishi Mohitpulall from Mauritius worked for Gallagher for more than a month but was never paid.
Last Friday the Restaurant and Catering Workers Forum planned to protest outside Gallagher's restaurant Salon Des Saveurs but called off the protest after he agreed to pay the waiter's wages before 1pm today.
Ends
Tags: