NAVY divers are to be drafted in in the search for missing teenager Sean McNair off the coast of Donegal.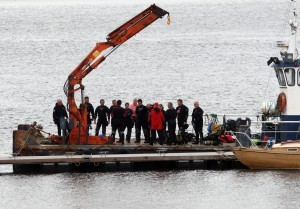 More than 150 volunteers braved stormy weather conditions yesterday for the young Derry teenager who was last seen jumping off Rathmullan Pier on Saturday morning.
The 17 year old had been celebrating an 18th birthday party and a group had decided to go for a late night swim.
Since then his family and friends, including his mother Jackie, have kept a vigil at the small seaside village.
Today's search was confined to the shoreline as storms stopped boats from putting out to sea.
The searches, under the guidance of the Greencastle Coast Guard and the Mulroy Coast Guard, stretched for miles along both sides of Lough Swilly.
The Siorsky search and rescue helicopter from Sligo did manage to take part in the operation for a small window of time during the afternoon.
Irish Coastguard spokesman Derek Flanagan revealed a meeting of all search and rescue teams is to take place tonight in the hope of better weather tomorrow.
"We are hoping for better weather and a concentrated effort can then me made to resolve the situation.
"We are also hopeful of receiving assistance from navy divers," he said.
He appealed to anybody considering taking part in the huge search to make sure they were the proper clothing and to inform people of where they are searching.
Meanwhile local priest Fr Martin Collum has paid tribute to the search and rescue teams who are hoping to find Sean.
"It was an eye opener for me to see all the voluntary services there working away.
"I was fortunate enough to sit in on one of their briefing and to see their professionalism was wonderful and a real inspiration.
"We take these people for granted and we never appreciate what they do and the family really appreciate what they are doing for them. Their work in trying to find Sean has been absolutely fantastic," he said.
Ends