Gardai investigating a spate of arson attacks in Inishowen have arrested five young men aged between 17 to 24.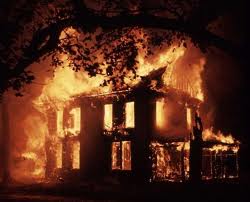 One was detained under Section 30 of the Offences against the State Act 1939 and the other four under Section 4 of the Criminal Justice Act 1984.
A 17 year old male was released from custody at Buncrana last and the other four remain in custody.
Two of those who are in custody are in Buncrana, the other two in Letterkenny.
Gardai say there have been eleven incidents of fires in Buncrana and its environs.
The attacks have been random and some have occurred in isolated rural areas. Properties targeted included unoccupied buildings, farm sheds, vehicles and a health centre.
Acting chief fire officer Bobby McMenamin had appealed to people to stop light fires as panic set across the Inishowen Peninsula.
One young mother told Donegaldaily that she was terrified after her three young children had to be woken from their beds in the early hours of Monday last as a fire raged at the back of her home in Buncrana.
Ends