Dozens of fire hydrants are being checked after two blazes on a housing estate almost ended in tragedy.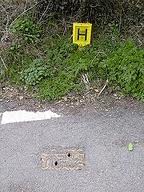 Firemen rushing to the scene of two blazes in Letterkenny were left frustrated when two fire hydrants wouldn't work.
Lord Mayor of the town, Cllr Gerry McMonagle said the situation could have ended in tragedy.
"We could have been talking about people dying because these hydrants were not working. It's a very serious situation which needed to be looked at," he said.
Cllr McMonagle contacted the Water Sanitation Department of Donegal County Council and a full audit of fire hydrants across Letterkenny is now being carried out.
The fire hydrants are either being marked with the erection of new signage or a complete upgrade of the fire hydrant.
Mayor McMonagle said the audit and upgrade of all fire hydrants is a very worthwhile exercise.
"A lot of the time we take these hydrants for granted but the reality is that many have been worn down or people simply don't know where they are.
"So far we have found that just two of the hydrants were not working but that is two too many.
"This is a very worthwhile exercise which could save lives and I think all local authorities should consider it around the country," he said.
Ends
Tags: