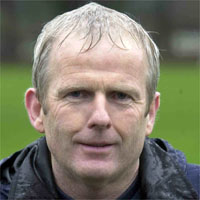 FROM JOHN SMITHSON IN READING: The widow of a man found buried under a pile of sand inside a workvan has told a jury his accused killers – including a Donegal Town man – treated him like family and even called him a son or brother.
Shaleem Amar, 33, died from massive head injuries allegedly suffered in a brutal hammer attack on November 17 last year carried out at a luxury home he was renting through the men charged with his murder.
Donegal Town man Robert Derek Johnston, 57, known as Derek (right), and his sons Ben, 27, Tom, 25, and their employee Shaun Matthews, 56, all deny the murder charge.
The victim's widow, Shajiba Amar, 32, told Reading Crown Court that she met the entire Johnston family in the summer of last year at a central London restaurant where the birthday party of Derek's son Jamie Johnston, who is not involved in the case, was taking place.
She described the men's relationship with her husband as being "very close."
"They were laughing, joking and hugging each other," she said from behind a screen, shielding her from the four men standing in the dock flanked by prison officers. "They were very jovial. Derek hugged my husband and said he was like a son to him.
"They were fond of him and my husband was fond of them."
She said Jamie Johnston had also described her husband as being a brother to him. They had also nicknamed him Max, she added.
Prosecutor Noel Lucas QC told the court that Mr Amar had been at large right up to his death.
Mrs Amar said her husband had absconded for three years after he was arrested in 2004 for possessing a firearm.
He was arrested and sentenced to four and half years in prison in 2007, but three years later he did not return to prison while on day release.
Mrs Amar said she had their third child while he was in jail and her husband had regretted not being there for the family.
She said her husband wanted to make it up to them and asked them to move into a gated luxury property with a pool called Tresanton that he was renting in Sunningdale, Berkshire.
"I disagreed and said 'I don't want a big house with a pool, I just want to be a family'," she said.
"He saw how I struggled financially while he was in prison."
She said six weeks prior to his death the family had moved in but she was still renting an apartment in east London.
A week before her husband's death, she said the Johnstons told them social services were asking questions.
She said she had intentions of dropping social benefits she received as it became apparent her husband could support them.
"We were working on our marriage," she said.
She said during their final six weeks together they had "become very close" and added: "We had rediscovered each other."
She said her husband trusted the Johnstons and asked them what to do when he was told social services were on to them.
"Derek suggested that I go back (to her apartment) just for a week," she said.
She said she and the children moved out that Friday but visited him at the weekend and she had also visited Tresanton on the day of his death.
She dropped her children off at school and her youngest daughter at nursery and arrived at her husband's home just before 1pm.
But she said there was a white van parked in the driveway behind the gates, blocking her from entering.
She said she hit the buzzer and after several minutes Derek Johnston came out of the house.
"He shut the back door of the van. He was ignoring me," she said.
"When I greeted him he didn't look at my face. I thought he was being rude but didn't say anything."
She said when she asked where her husband was, he told her he'd gone to the airport to pick someone up and called out to his sons telling them she was here.
"He said my husband had left him to lock up after he dropped off the tumble drier," she said.
"I had no reason to doubt him."
She said she walked up to the front patio and entered the front door, when she saw Tom and Ben to her left facing the swimming pool.
Mrs Amar said she never saw anything in the van.
She said her husband forged a business relationship with the Johnstons in 2009 in what he described as "investments".
Pausing and breathing heavily, the emotional Mrs Amar said her husband only had good things to say about the men.
"I thought it was investments as far as I know," she said.
"He said they were a good family, honest and well respected."
The trial of Johnston senior, 57, and his two sons, all from Pampisford, Cambridgeshire, and Matthews, from Whittlesford, Cambridgeshire, is expected to run until mid-December.
© 2011 donegaldaily.com, all Rights Reserved
The copying, republication or redistribution of donegaldaily.com Content and Ideas including by framing or similar means, is expressly prohibited by law.
Follow us on www.twitter.com/donegaldaily
Follow us on www.facebook.com/donegaldaily
Sell anything on www.donegaldailyclassifieds.com