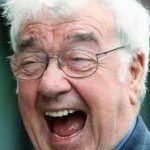 FAREWELL FRANK: The funeral mass has taken place in Belfast of comedian Frank Carson who died from stomach cancer last week at the age of 85. In his homily, close freind Bishop Edward Daly, recounted telling Mr Carson a joke only to be told he would never make a comic. The bishop promised not to make jokes or try to be witty but just remember the 85-year-old as he was. "Frank made millions of people smile and laugh. He brightened up their lives. He was a Prime Minister of fun. That was his mission in life. In his live performances, he could light up an audience and make them laugh and laugh. That is surely a great service to humanity." Frank had lived for a number of years in Dunfanaghy.
METAL MANIA: Donegal TD Joe McHugh says the economy could benefit if we were to regulate the recovery of metals from the sea off Ireland's coast. He wants the  Government to work with private investors to salvage valuable items like disused copper cabling for recycling.
SLEIGH WAY: Co Donegal man Colm Burns from Letterkenny is set to represent Ireland at the Canadian International Sled Dog Championships later this month. The Letterkenny man said: "I can't wait to get there. I've wanted to do this since I was a kid." Colm is looking for sponsorship. If you can help email him on frostylakehusky@hotmail.com.
IRISH FACEBOOK: Abair Leat!, the world's first social network exclusively dedicated to Gaeilge has been officially launched by comedian and Irish language enthusiast, Des Bishop along with TG4's Maire Treasa Ní Dhubhghaill and Síle Ní Bhraonáin. Abair Leat! – which is aimed at anyone with an interest in the Irish language or interested in learning Irish – is first user generated content application of its kind.
ANCIENT GRAVESTONE: The Irish Times carried a lovely feature today on the Inishowen ancient gravestone of Magnas MacMhoireasdain "of the Isles". More can be read about it here http://www.irishtimes.com/newspaper/weekend/2012/0303/1224312677032.htm
l
Tags: