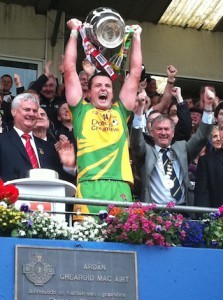 Donegal finally got their league campaign up and running and not for the first time it was down to one man – Michael Murphy. Making his first appearance in his county jersey since the defeat in Croke Park in August, the maestro looked fit and sharp despite his lay off after a groin surgery.
And he didn't take long to make his presence felt – 11 seconds to be precise.
After Neil Gallagher won the throw in, Karl Lacey made the first of several bursts from his centre back berth to get on the ball. The All Star drove it towards Murphy on the edge of the square and just as he did against Derry in Celtic Park last year, it was catch-pivot-bang in one beautiful movement. Quite a way to announce his return and he kept it up throughout the game, finishing with 1-3 and was instrumental in many of Donegal's better movements.
Reports earlier in the year suggested that young Michael was spending considerable time practising with his weaker left foot and judging by his score early in the second half it seems to be paying off, as he posted a beauty off his ciotog while under pressure from two Cork defenders.
Cork will be disappointed that they didn't have their defensive alignment sorted out at the throw in for the early goal but if anyone can capitalise on such situations it's Jim McGuinness. As usually happens with Donegal the third full forward, in today's case David Walsh, comes out to midfield from their original corner forward position but this doesn't happen until after the throw in. This denies the opposition the opportunity to use the extra corner back as a sweeper straight away as they await to see how the forward line assembles itself. Today it worked perfectly, leaving Murphy with one-on-one with his man, Eoin O'Mahony, and there's only one result when that happens.
Its an interesting insight into the McGuinness mind, similar in a way to how he famously told Christy Toye to run straight for goal when coming on as a substitute against Kildare last year in the hope that he wouldn't be picked up – seconds later he rattled the net. He devises many little snippets of tactics such as this, the opportunity may not always present itself but if it does, his boys are ready.
Walsh did come out to the middle third soon after and Cork boss Conor Counihan instructed the spare man, Ray Carey, not to follow him and instead act as a screen in front of Murphy and Colm McFadden. This didn't really work as the hosts played the ball down the channels instead of down on top of the deadly duo as the sweeper would have been anticipating.
Even with Walsh around the middle Cork got to grips at midfield as the first half wore on, David's namesake Aidan doing particularly well, and this was cue for Murphy to come a little deeper. Immediately the sweeper was abandoned as Cork went man for man around the middle. This shows the impact Murphy has not only on Donegal but on our opponents; wherever he is positioned dictates how the opponents set up their defence and what match ups they employ. If Cork thought they might get a breather with the big man out the field though thats not how it panned out – the Glenswilly man was involved in everything, and at one stage even caught a ball over his head in the full back position and set the team on their way again.
Much of Cork's success in recent years has been built on their physical presence and ball winning ability at centre field and any game against them will largely depend on the amount of ball a team can win in this sector. In spite of Walsh (the Cork version) and to a lesser extent Graham Canty doing well to manufacture breaks and win possession, Donegal's pairing of Neil Gallagher and Rory Kavanagh bossed the area overall and they can be satisfied with a good day's work.
Kavanagh though was fortunate early in the game that the referee missed a right handed jab he landed on Canty although it wasn't the only thing man in the middle, Padraig O'Sullivan, overlooked. He brandished five yellow cards in the first half alone in a game where in truth there was no need to stop the game as much as he did let alone book players, Kavanagh's indiscretion apart. Two of the top teams in the country went toe to toe and unfortunately O'Sullivan prevented a decent game from being a very good one.
The Kerry whistler was a late replacement because the match was actually due to be overseen by our old friend Marty Duffy, so maybe it could have been worse.
On numerous occasions the Donegal forwards were being fouled when running for the ball but these misdemeanours went unpunished. One particular example saw Murphy running towards the ball with both his arms spread out to illustrate to the ref that he was being held; he still won the ball, turned his man and after being tugged back again, Cork came away with possession – yet no free.
In the end thankfully the referee had no outcome on the result and Donegal now sit on two league points, in 5th place in the table. Only two points separate top and bottom in the division so relegation and qualification for a league semi final are both possible scenarios at this stage. A league semi final looked a long way away after the display against Laois but with the cavalry returning today there was a very obvious lift in performance.
The low score line will no doubt lead to the national media assuming that this was a Donegal defence-fest but in truth had the those up front been a bit sharper they could have posted a huge score. McFadden, Lacey and Paddy McBreaty all had second half goal chances while there could have been at least a further ten points added if the wides and shots dropped short had been turned into scores.
Full back Neil McGee had a fine game on one of the country's leading marksmen Donncha O'Connor, restricting him to just a single point. McGee's brother Eamon was taken off in the first half along with Creeslough's Christy Toye which suggests that these two aren't quite up to speed yet after their injury lay offs.
Lacey was at his superb best yet again, it seems to be that every day with him over the past while – he just cant seem to play anything but brilliantly. He hit his customary score from half back to put Donegal three points up near the end and the home crowd raised a big cheer from the stand at MacCumhaill Park when local lad Martin Reilly sealed the win with a fine point on the run soon after.
There was certainly a spring back in the step of the Donegal faithful as they left the ground today; that was the team's first win since that epic against Kildare. A performance like today's against one the country's 'big three' bodes well for more days like that come the Summer. Another giant awaits next week….bring on the Kingdom.
Tags: