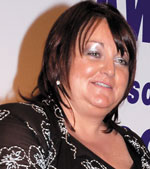 HUNDREDS of people have attended the Donegal Association's annual dinner in Dublin – where presentations were made to the Donegal Person of the Year – two of them!
They splashed out €60-a-head for dinner at the Regency Hotel in the capital.
It was a superb occasion for Ann Marie Ward and Hugh Green made history as the first people to be jointly given the award.
What the Association said:
ANN  MARIE  WARD was born in Port na Blagh but now resides in Creeslough. A nurse by profession, she is employed by the HSE as a Disability Service Manager.  One of our Super Sportspersons,  not alone did she swim the English Channel but in 2010 she was the first woman ever to swim the North Channel between Ireland and Scotland. A World Record!  She was part of the team who completed the 'Round Ireland Swim' in 2006. When she swam from Tory island to Maheraroarty she raised  €20,000 for charity but her biggest challenge will take place next Summer when she will be part of a relay of international swimmers to swim the 87 km of The Bering Strait. For that the swimmers will  fly to the USA, from there to Alaska and finally sail to Siberia. A few days later they swim back to Alaska. To date she has raised over €100,000 for Charity. Last year she was named World Open Water Swimming Woman of the Year. If there was an Open Water Swimming event for women in The Olympic Games, Ann Marie would be favourite to win the  gold medal.
HUGH  GREEN  was born in Raphoe and at the age of 20 emigrated to New Zealand via Australia. With his friend Barney Mc Cahill he set up the very successful Green and Mc Cahill Contractors.  They went their separate ways in the 1980's but Hugh Green continued to expand his business interests.  Although he received very little formal education he possessed a very keen intellect and business acumen. This helped him to become one of the largest building contractors in New Zealand. His other businesses include land and property development, farming and trading in livestock, oil and gas exploration and shrewd investments in the stockmarket. Hugh Green has given away millions of dollars to charity, including €200,000 to Letterkenny Hospital and to other projects in Donegal. In 2006 The National University of Ireland (NUIG) honoured his Lifetime Achievments with a Doctorate of Laws.
Tags: