Donegal, inspired by Michael Murphy and Colm McFadden, deservedly claimed a vital Allianz League win against Cork this afternoon in Ballybfoey.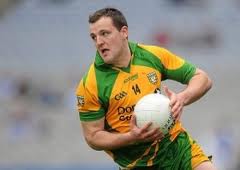 A cagey opening half saw Donegal go in a point ahead on a scoreline of 1-2 to 0-4 at half time thanks mainly to a Murphy goal after just a minute.
Cork came out the stronger in the second half and went ahead.
But Jim McGuinness, who started with five changes from the team named in the team-sheet, saw his men buckle down and grind out an impressive win.
Despite even a hail storm in the second half, the 'older' players including Neil Gallagher and Karl Lacey picked out the gaps for the likes of Murphy and McFadden to pick off the points.
Murphy's move from the full-forward line back into the half-forward line gave Donegal more support in midfield.
McFadden missed what looked like a couple of very kickable chances but was solid throughout.
Building upon their late midfield domination, Donegal were credit for their four point win on a ascoreline of 1-7 to 0-6 which could have easily been more.
Jim McGuinness will be pleased by his side's display which saw them grind out scores and take control in midfield.
It will stand them in good stead when they travel to Killarney in two weeks time to face Kerry.
Allianz Football League Division 1

Donegal 1-07 Cork 0-06, Ballybofey, Result

Down 0-08 Kerry 0-14, Páirc Esler, Result
Allianz Football League Division 2

Westmeath 0-14 Galway 0-13, Cusack Park, Result
Louth 0-13 Tyrone 2-13, Drogheda, Result
Allianz Football League Division 3

Longford 0-16 Roscommon 2-08, Pearse Park, Result

Wexford 2-20 Tipperary 1-08, Wexford Park, Result
Allianz Football League Division 4

London 0-04 Carlow 2-06, Ruislip, Result

Clare 0-10 Limerick 0-09, Cusack Park, Result

Wicklow 1-12 Waterford 4-07, Aughrim, Result

Kilkenny 0-04 Fermanagh 9-23, Freshford, Result
Tags: