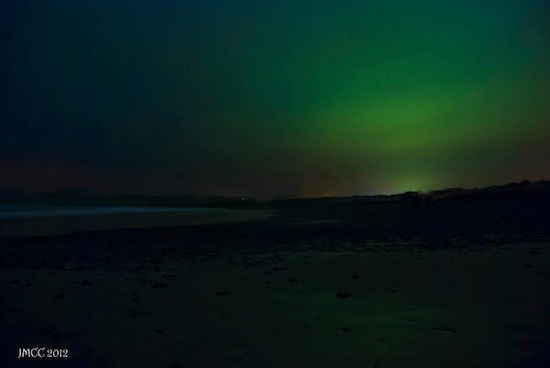 UPDATED: THIS is the latest incredible scene over Inishowen tonight – as the Northern Lights displays continue.
Despite Met Eireann forecasts, the clouds parted as the Aurora lit up the night sky.
The picture – taken by John McCandless – was over Ballyliffin.
Solar storms which cause the Northern Lights are offering the best chance in five years for viewings – but Met Eireann is predicting cloud and mizzle overnight for Donegal, hitting the chances for viewing them.
As donegaldaily.com reported three days ago after an Aurora Alert from Donegal Skies, this particular solar storm would make viewing the lights at lower latitudes here in Ireland much more likely.
The powerful solar storm is bombarding Earth's magnetic field, say scientists.
Two solar flares (explosions) on the Sun's surface have sparked the biggest magnetic storm the Earth has experienced in five years.
A huge cloud of solar particles is speeding through space towards us and could disrupt power grids, and some planes may have to change their routes around the polar regions.
It might affect satellites too, sending sat nav systems haywire!
The storm is not harmful to humans though.
Send your pix to info@donegaldaily.com
Tags: