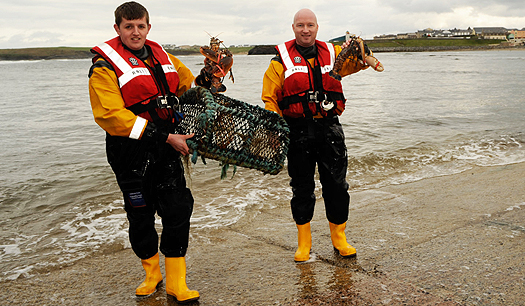 Crew members of Bundoran RNLI Lifeboat were on hand recently to help launch the newly established Bundoran Lobsters and Lettuce Festival which will take place this July.
Volunteer crew members Brian Faulkner and Daimon Fergus kept the live lobsters under control as local chefs, dignitaries, secondary school students and surfers gathered to officially launch the festival which will take happen from July 4th to 6th.
As part of the community oriented festival, Bundoran RNLI will stage a demonstration with the rescue helicopter from Sligo which will display the cooperation between the two rescue services.
Volunteer Lifeboat Press Officer for Bundoran RNLI Shane Smyth said: "It's great to see a community festival like this happening in the town – the RNLI is a big part of the community here and we are delighted to be asked to participate in this event.
"Letting the general public see how the lifeboat works under controlled conditions is a vital part of sea safety education. No doubt our volunteer crew will be looking forward to sampling the delights that the Lobsters and Lettuce Festival has to offer."
Tags: