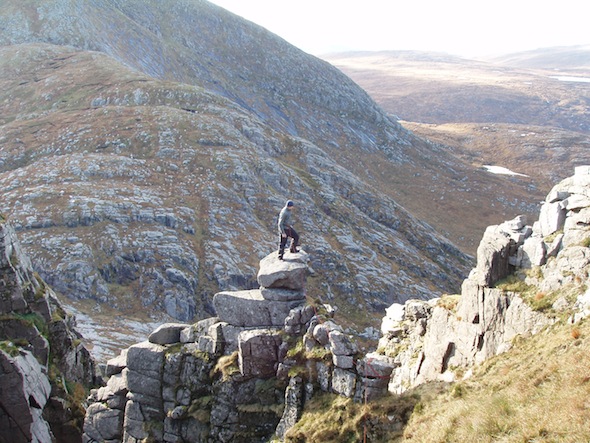 NEW! Donegal's great outdoors attracts visitors from far and near. Explorer, mountaineer and all-round great outdoors guy Bren Whelan has joined the donegaldaily.com team to give you a new insight into just what we have on our doorsteps. Here's the first of his columns today. With a sunny weekend ahead, there's no better time to get out and about. Enjoy.
By Bren Whelan: Donegal offers both vast scope and an unparalleled variety for outdoor adventures. The counties rugged landscape and deeply indented coast line provides a rich tapestry for the outdoor adventurer to feast upon.
The 'Hills of Donegal' are remote, wild, moody and seductive. From the ridgelines of the Urris of Inishowen, to the craggy wilderness of the Blue Stack Mountains, through to the depths of the Poisoned Glen and the sheer beauty of Sliabh Laig, we certainly live in a county which has been granted a serious amount of geological goodness!
For the next year, in conjunction with Donegal Daily, my mission is to help raise awareness of just what's out there and how you can get involved in your own wee adventure at the weekend.
We hope to present, initially on a fortnightly basis, a range of walking, climbing and mountaineering adventures, which you and others will hopefully be keen to embark upon.
Generally speaking, a journey into the great outdoors should involve elements of planning, be it the gathering of suitable equipment, selecting the right clothing, consultation with the correct map or maps, the possible use of a compass and it should always involve the obtaining of a suitable weather forecast.
This is what I plan to bring together for you right here on Donegal Daily and I hope to do so in a simple user friendly format. We will help guide you to the top (and bottom!) of well known, yet often unclimbed peaks, we will explore the counties abundant coastal walk ways, lush forests, its ever expanding way marked way trail network, which is growing each year and for those of you with a need for something steeper, we will take a look at some of Donegal's superb rock climbing areas, of which there is an ever increasing amount!
For my own part in this, I work as a Mountaineering Instructor (see www.mountaintraining.ie) and I've been exploring the Donegal Mountains for 20 years now, over that time I've stood on most of the counties mountains, rock climbed in many areas, made first ascents of some of its many sea stacks and enjoyed some fantastic first descents on skis from some of the county's highest peaks.
So I am certainly a believer in the idea that 'Donegal is Ireland's Adventure Sports Capital' and hopefully over the next year through route guides, videos and photography, I can make you believe that too!
Next time – we take a look at the stunning coastal ridges of the Urris Hills in Inishowen.
* Pictures, top, Derryveagh Mountains, inset, sea stack climbing, and below Sliabh Liag.
* Bren Whelan is a self employed Mountain Instructor & International Mountain Leader (MIC & IML), he is based in Inishowen and is the owner operator of www.mountaintraining.ie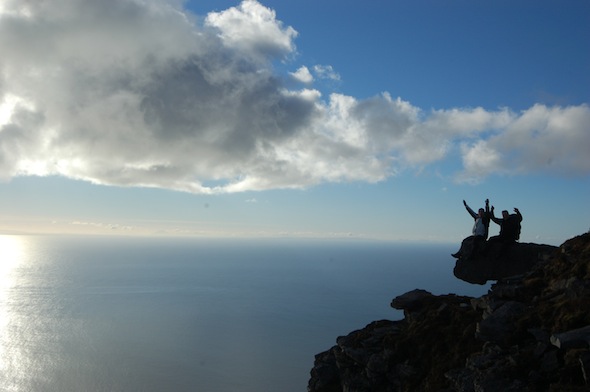 GOT A QUESTION? ASK BREN BY LEAVING YOUR COMMENT BELOW
© 2012 donegaldaily.com, all Rights Reserved
The copying, republication or redistribution of donegaldaily.com Content, including by framing or similar means, is expressly prohibited by law.
Follow us on www.twitter.com/donegaldaily
Follow us on www.facebook.com/donegaldaily
Tags: