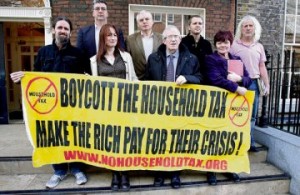 HOPES from the Government that there would be a rush of late payments from householders have failed to materialise as Ministers and campaigners clashed over the latest statistics.
The Government says that 888,751 householders have paid as of yesterday out of 1.5M.
However campaigners claim that 1.8M are liable to pay – meaning that less than half the country have paid the €100 tax, which is expected to rise substantially next year.
Donegaldaily.com has learned that the number of people who have paid in Co Donegal has been estimated at just 25% "with no great rush since the deadline last week" said one source.
This means that if the Government goes ahead with its threat to withdraw funds from county councils, Donegal County Council will face a €6 million shortfall in its funds this year.
Sinn Fein says that's why it voted against the budget for 2012 when it came before councillors.
Cllr Jack Murray said: "The reality is that during the budget negations, Cllr Mick Quinn warned the council that the budget was untenable as people were unwilling to pay the regressive household charge. Sinn Féin stated that the budget would not work and voted against it.
"It was reckless to pass a budget, containing massive cuts, based on an income from the household charge that was never going to be realised.
"The government now needs to quit these bullyboy tactics and replace the household charge with a fair form of taxation – a tax on the wealthiest in society and not those who can least afford it."
The household tax contribution to this year's budget is €8M; with just €2M paid, it will force a €6M cut to services.
Tags: