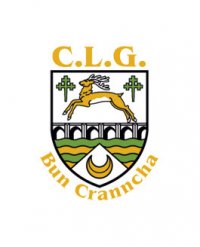 Buncrana GAA Notes For Week Ending Sunday 6th May 2012
Condolences: The Club wishes to express sincere sympathies to the McBrearty family and the Carndonagh Club on the death of President Tom McBrearty.  He is one of the main reasons there is a GAA Club in Carndonagh and a true GAA legend.
Sincere sympathies also to the McKinney family, Ballymagan on the passing of Danny. Son Edward is a former senior footballer with the Club.
U14 Hurling: Well done to the U14 Hurlers who played in the Division 1 Ulster Feile on Saturday 28th April. They had two great wins against Lougheil Shamrocks and St. Brendans Cushendun and were beaten by a very good St. Johns Belfast team. It was a great step up in Hurling which proves how good the squad is, and how much our hurling has come on. Well done to all the lads.
Minor Football: Buncrana 5-10 Malin 2-5
Buncrana overcame a gallant Malin team in the Scarvey on Friday evening. In perfect conditions Buncrana started in blistering fashion with Kevin O'Lochlain and Peter McLaughlin dominating midfield, supplying the inside forwards Darach O'Connor and James Wallace to whom the Malin defence had no answer. Three O'Connor goals, one from the penalty spot and one from a great Joseph McGrory pass. Simon Cuffe scored a fine solo goal after a driving run through which left the h/t score 4-5 to 0-3.
Malin battled hard to rally in the second half. Two goals from Matthew McLaughlin gave them some chance before corner back Connor Grant sealed victory for the home side when he smashed the ball to roof of the net with 5 minutes left on the clock.
Best for the home side were Peter McLaughlin and James Wallace who were outstanding, as well as Calvin Jones and Darach O'Connor who were Phenomenal.
Scorers: Buncrana: Darach O'Conor 3-1 Peter McLaughlin 0-2 Simon Cuffe 1-1 Mark O'Connell 0-3 Conor Grant 1-0 Calvin Jones 0-1 James Wallace 0-1 Caolan McLaughlin 0-1
Sale of Club Gear: A sale of club gear will take place on Tuesday 1st May at the Scarvey Clubhouse from 8.00pm. New Under Armour with club crest now available in all colours. Polo shirts and Wind-sheeters also available. Please be prepared to pay on ordering.
Senior Men Football: St. Naul's 2-10 Buncrana 1-8
The senior side travelled to Mountcharles on Saturday evening to take on St. Naul's in the Divison 3 league. After an excellent result last week against Aodh Ruadh, the team struggled to find similar form against last years Intermediate Championship winners. Despite a lacklustre performance in the first half, Buncrana only went in at half time with a one point deficit, thanks to a goal by corner forward Stephen Dean McFadden and points from Ryan Bradley and Rónán and Odhrán Doherty. An early goal by St. Naul's five minutes after the restart put an end to Buncrana's hopes of a second half revival. The lads will be aiming to return to winning ways following a free weekend over the bank holiday. Training continues Tuesday and Thursday night at 7.30pm.
Senior Reserve Football: St. Naul's 2-14 Buncrana 1-9
In the Senior Reserve game a depleted Buncrana side put in a good performance in the first half, however the performance faded slightly in the second half resulting in a 2-14 to 1-9 defeat. However there were some positives to be taken from the game with some excellent performances from youthful members of the squad and an excellent goal from Peter McLaughlin. Best for Buncrana were the 'Boss' brothers, Peter and Pauric, and Stephen Nelson.
Senior Ladies Football: Training sessions continue as follows, Wednesday night at 7.15pm and Friday night at 8pm.
Gaelic4Girls: Gaelic football for girls under 10, 12, 14, 16 and 18's every Monday night from 7.00pm – 8.30pm in the Scarvey. As always everybody is welcome. Please remember to bring boots, your own water bottle and warm clothing.
U6 FUNdamentals: FUNdamentals for boys and girls aged 5 & 6 years (or turning 5 during 2012) will continue on Fridays at Scoil Mhuire between 6.15pm and 7.00pm. It will also take place on Sundays at the Scarvey from 11.00am until 11.45am.
U8 Football: U8 Football Training continues every Friday and will now take place at the Scarvey from 6.30pm – 7.30pm. Parents, if your child is interested in having fun whilst learning the basic skills of gaelic football please come down and try it out.
U10 Football: Training continues every Friday at 7.00pm at the Scarvey and new players are always welcome.
Boys U14 Hurling: Boys U14 Hurling training takes place at the Scarvey every Tuesday and Thursday evening at 7.00pm. If you haven't played before and are interested in playing Hurling please feel free to come along.
Boys U14 Football: Training for the boys U14 team will take place on Monday evening at 5.00pm. Competitive games are due to begin in 6 weeks so all players are asked to attend. New and returnig players are always welcome.
Boys U14 & U18 Hurling: Hurling training for boys aged 14 to 18 years takes place every Saturday at the Scarvey at 3.00pm-5.00pm. New players are always welcome.
U8 and U10 Hurling: Hurling training for children under 8 and under 10 years takes place each Sunday at 11.00am. If your child would like to learn the basic skills of hurling in a safe and fun environment please come down and try it out, new players are always welcome.
Boys U16 Football: Training continues every Wednesday at 7.30pm sharp in at the Scarvey, please bring boots and trainers and own water bottle. New and returning players are welcome.
Lotto: The winning numbers in the €2,680 jackpot lotto draw, which took place on Tuesday 24th April in O'Flaherty's Bar on the Main Street, are as follows: 3-16-23-32. There was no jackpot winner that week, however there were five €20 prizes which went to the following lucky participants:
Stephen McConnell & The Boys, c/o O'Flaherty's
Gary Duffy, Oakfield Court
Dermot Durnin, Bank End, Inch
Eoin McGonigle, Aghilly
John Kerr, 37 Marion Park
Congratulations to our winners and thank you to all for your continued support, it is very much appreciated.
Club Notes: Anyone who would like to receive a copy of the weekly club notes should email Oisín at buncrana.pro@gmail.com to be included on the mailing list. If you have any items which you think should be included in the club's weekly notes, please email Oisín atbuncrana.pro@gmail.com by 6pm on each Sunday for consideration. To keep up to date with all the latest goings-on, please join us on www.facebook.com/buncranagaa or www.twitter.com/buncranagaa
Tags: