In response to increased interest and a large number of requests from persons concerned at the targeting of Glenties for industrial windfarm development, the Glenties Windfarm Information Group have launched a website www.gwig.net.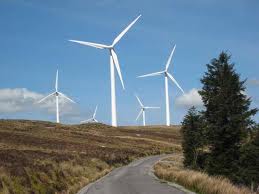 The site initially contains information and details regarding the proposed windfarm at Straboy which proposes siting 25 turbines, each in excess of 325 feet tall, just 1.5km from the town.
A spokesperson for the group advised that the website was established arising from "the urgent and increasing concern of local people who would have views of the turbines and who would be immediately affected by them in the Glenties, Fintown, Doochary, Maas and Lettermacaward areas."
The group say they were asked, on numerous occasions, where can we get details and how can we prevent this area from becoming an industrial zone littered with turbines."
Contrary to local and national guidelines, the Dublin and Louth, owned and directed, Straboy Wind Energy Ltd have not engaged in any public consultation with the affected people of Glenties and surrounding areas.
The new website provides access to photomontages which demonstrate how Glenties and the surrounding areas would be drastically transformed if the development goes ahead.
The planning decision now rests with An Bord Pleanála who will deliberate on the appeals against the planning permission granted by Donegal County Council.
This process will include an Oral Hearing which is expected to be held in the Glenties region in the coming weeks; no date has yet been announced.
The montages on the new website are those which form part of the planning application to Donegal Co Council (planning ref 11/30127) and are also available to view at the area Planning Office.
A total of 20 viewpoints have been submitted showing how the environment of Glenties – Maas – Leitir – Doochary and Fintown would be changed in a way that is unprecedented and unimaginable.
A number of these montages can be viewed currently on www.gwig.net and others will be uploaded shortly. Some of these montages are also on display in various business premises in Glenties.
The positive response from the Glenties business community to our information campaign reflects the growing awareness of the threat that this proposal poses to tourism and other interests of the town.
Further concerns relate to the negative impact the development will have on the attractiveness of the area for local families to live and rear their children and the knock on effect this may have on property and business values in the town. The proximity of the proposed development site to local amenities, including the Comprehensive School, is also a growing concern among local parents.
The Glenties group continue to appeal for funding to assist with the cost of legal advice and expertise for the forthcoming oral hearing. The date of the hearing is not as yet publicised by An Bord Pleanála but is expected to be within the next few weeks. Donations can be made directly to group members or to:
Account Name: Glenties Windfarm Information Group
Bank Address Bank of Ireland, Main Street, Glenties
Account No: 97730412 Sort Code 90-48-94
Tags: