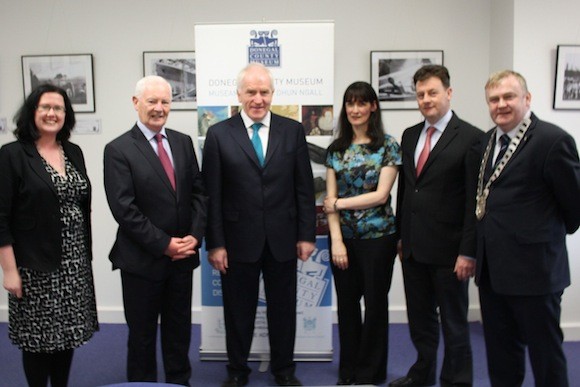 A CABINET Minister has described the Donegal County Museum as 'the best in Ireland' during a speech to politicians.
Gaeltacht and Arts Minister Jimmy Deenihan was speaking to members of the British Irish Parliamentary Assembly at a dinner function at the Rosapenna Hotel on Monday night.
Politicians from throughout the islands were holding their bi-annual convention and body chairman and local TD Joe McHugh hosted dinner at the Downings hotel, a dinner paid for entirely through sponsorship.
Mr Deenihan was speaking to the guests about the peace process and building relationships between all the residents on these islands.
"I was at the Donegal County Museum today where they have the most wonderful exhibition on both the county's role in the Great War and on the 17,000 people in Donegal who signed the Ulster Covenant," said the Minister.
"It was a fantastic display and I would recommend that everyone goes to Letterkenny to see it.
"Donegal is years ahead of everyone else when it comes to diversity, dealing with the past and recognising all traditions.
"The work of the county museum is the best in Ireland when it comes to that," he added.
Tags: