Callaghan's Electrical has been dealing in the home appliance electrical business since the early 1970s, with Fintan Callaghan starting the business in Burt with just a few models of gas cookers, washing machines, and fridges. Fintan's people skills and honesty quickly give him a trusted reputation and the business grew.
The Callaghan name became synonymous with home appliances and the Callaghan philosophy.
Product-Price-Commitment!
1. Product… Selling their customers the products that suits their needs and lifestyle.
2. Price… Continuingly working hard with manufacturers to ensure as an independent retailer that customers are the getting the best possible prices at all times.
3. Commitment… As time went on, customers knew that buying from Callaghan's Electrical meant that they were getting a commitment that they could rely on and customer service that's second to none.
It's these three simple philosophies that have stood Callaghan's well over the last forty years, and which has resulted in them becoming the major name associated with home appliances in Donegal.
Twelve years ago, Callaghan's joined forces with Europe's largest Electrical buying group Euronics.
This partnership allowed them to expand their product range for their customers, now being able to also offer the TVs and Laptops which previously they didn't offer.
This has also led to the expansion of the premises in Burt to a 6000 sq ft showroom.
As their name, business and reputation of providing great products, price, and customer service grew they have now set up a 10,000 square foot showroom next door to Smiths and Halfords in Letterkenny's Forte Retail Park.
With a total of 16000 square foot Retail Show Room displays offering all the latest brands in home appliances from Bosch, Beko, Hoover, Electrolux and also being Donegal's only Neff and Rangemaster design centres you're sure to find what you're looking for.
They are also stockists of Trust Gaming Accessories.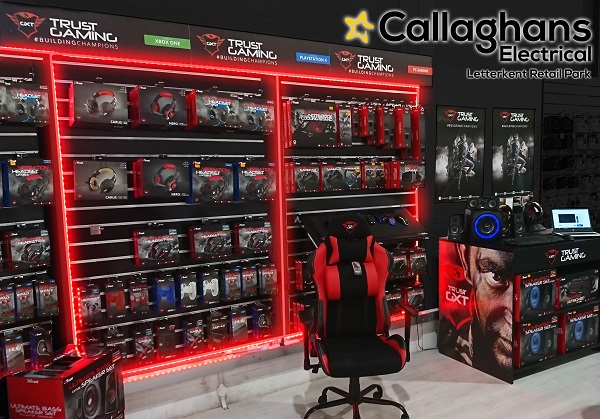 Even with being Donegal's largest home appliance centres, Fintan's same three philosophies remain the most important attributes Callaghan's Euronics have to offer.
To celebrate the opening of the Letterkenny Showroom Callaghan's are holding a massive opening sale in Letterkenny starting tomorrow, Friday 13th at 10am ending Sunday 15th October.
Whether it's an Apple iPad or Phone, or a Washing Machine you're after, call in and their expert friendly staff will help guide you through your shopping experience.
Fintan and Dermot would like to congratulate Shaun McGee on his appointment of new manager of the Burt showroom and he looks forward to greeting all customers old and new.
They would also like to welcome new member of staff Andrew Curran who has 15 years of experience in the home appliance retail industry and he is really looking forward to exciting times ahead with Donegal's leading home appliance retailer.
Fintan and Dermot would also like to take this opportunity to thank all their customers over the last forty years who without them their success would not be possible
To get in touch, give the Letterkenny showroom a buzz on 07491 28631/28632, or to call the Burt showroom dial 07491 5615 / 07491 56059.
Tags: