The countdown is on until Letterkenny Chamber of Commerce and Shop LK light up Letterkenny for Christmas on Friday November 24th. 
Friends and families are all invited to gather in the town centre, where there will be hot drinks, mulled wine, mince pies and music all before Santa arrives.
This year Mayor of the Letterkenny will once again accompany a young person from a local national school to turn on the switch for the Letterkenny Christmas lights.
The lucky winner of the School Art Competition "Christmas in Letterkenny" will join the Mayor, at the Market Square to turn on the lights. As well as turning on the lights the winner and runners up will all receive a prize donated by ShopLK.
Jimmy Kavanagh remarked; "The turning on of the Christmas lights is a lovely family event and I look forward to turning them on with the competition winner. Judging by last year's event there will be a great Christmas atmosphere on the night and I hope we manage to spread lots of Christmas cheer!"
From 5.45pm businesses on the Main Street and surrounding area will be staying open a little later and giving out sweets, hot chocolate, mulled wine, and other Christmas treats. Some businesses will have stalls outside with goodies to keep you warm.
At 6.30pm there is also the big switch on at McGettigan's Hotel. They have a fabulous display this year and will have a children's choir, mince pies and mulled wine to give away. After that the Bandstand is the place to be for dancing with Pinehill Studios and the actual switch on.
The official switch on is at 7.00pm and shortly after that Santa will make his way Market Square on Main Street in a vintage van from Tinney's Agri-Sales.
Gerard McCormick President of the Chamber commented; "Turning on the Christmas lights in Letterkenny has become a very popular event getting families into the Christmas spirit. Switching on the Letterkenny Christmas lights kick starts the wonderful Christmas season and I hope there will a large crowd in attendance to watch the Mayor and the art competition winner switch on the lights in Letterkenny."
The Letterkenny Chamber urges everyone to come and share in the fun and goodwill of a festive night. For more information check out the ShopLK Facebook page www.facebook.com/shoplk .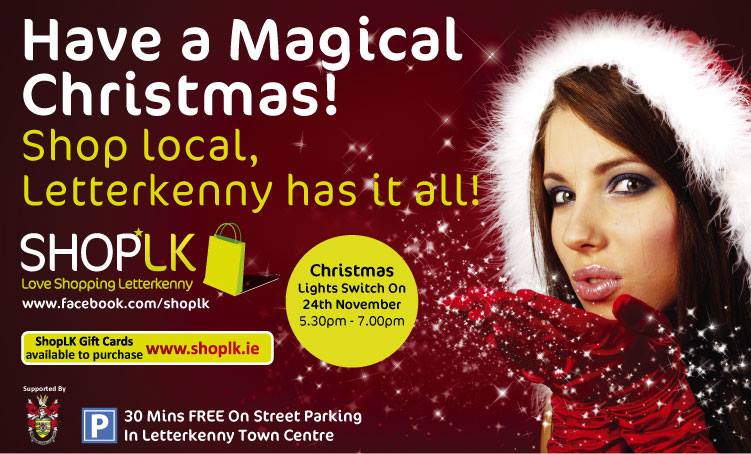 Tags: